A MIXER'S BIBLE
The Craft of the Cocktail
By Dale DeGroff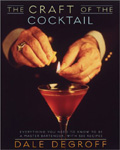 Cocktails are more than the sum of their parts. A choice of drink is culturally and even more important in certain circles, sub culturally defining. For instance, ordering a Cosmo a year or so after it was de rigueur will definitely out you as lagging a bit behind as far as the hipoiserie goes. Then, of course, there are signatures drinks that don't change with the fashion. When in doubt or the selection is sparse a good aged scotch, served neat, will fit the bill. L.A. fashionistas these days are apt to go for the simple Vodka Tonic, preferably with Grey Goose or Belvedere or maybe a Vodka Gimlet. A Mojito is also perfectly acceptable, provided there are fresh mint leaves at hand. A newcomer on the scene is the Beautiful, which people think is very "now," but Dale DeGroff, "the Billy Graham of the holy spirits" would probably scoff at the idea.
People should really order whatever suits their taste or mood of the moment, regardless of space, time, social circle and fashion. There are, however, a few important factors to take into consideration. Key techniques should be followed and classics should be mixed to the T. Case in point: a Gimlet with fresh lime juice is really no longer a gimlet but becomes a Rickey.
DeGroff, premier mixologist, former master mind at New York City's Rainbow Room and consultant for top restaurants, has compiled a great handbook with The Craft of the Cocktail. Beyond just listing recipes and ingredients, this mixer bible contains "the full party, conversation and all," rich stories, vintage recipes, fast facts and entertaining bits. He writes: "The cocktail is a metaphor for the American people: it is a composite beverage, and we are a composite people," Anybody interested in the art of the cocktail will find this book utterly useful and delighting.