THE NOSE KNOWS BEST
Le Nez du Vin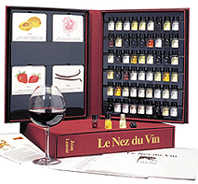 As any wine connoisseur will reiterate, the most essential factor in wine tasting is not the taste, but the smell. When judging wine, tasters can detect even the slightest scents that make the wine bad or extraordinary. Whether it's that hint of vanillin or fresh-cut grass, or even a pinch of shoe leather and cinnamon, the fragrance is key. But the best sommeliers of the world aren't just born with an amazing nose. Much like athletes and musicians, sommeliers and professional wine tasters must practice and "train" their nose to discern the various bouquets found in wine and Champagne.
For more than 25 years, this is why wine expert Jean Lenoir has been working to develop and perfect the ultimate wine smelling kit: Le Nez du Vin. A complete book contains 54 different bottled aromas typically found in the world's best wines and Champagnes. The aromas, divided into multiple categories like fruity, vegetal or animal, also include info sheets describing the types of grape varieties and winemaking techniques specific to the scent. Designed to last at least 10 years, the bottles are used to train the nose to develop a "scent memory." Tasters can exercise their olfactory senses by trying to guess the aromas in a glass of wine, or even by reversing the role and trying to guess the wine based on several scents.
The setback, however, is that a full kit can cost upwards of $325. Price aside, both experts and amateurs will find Le Nez du Vin both helpful and entertaining—and a great gift for wine lovers everywhere. For more information, visit www.lenez.com.