PARKER'S WINE BUYER'S GUIDE
The Complete, Easy-to-Use Reference
By Robert M. Parker (Author)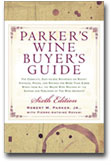 Here's another consumer bible, this one by wine expert and best-selling author Robert Parker, author and publisher of The Wine Advocate for more than 24 years. Parker is the first wine writer (and one of only a few foreigners) to receive both of France's highest honors, knighthoods in the National Order of Merit and the Legion of Honor. With his credentials out of the way, here's the meat of the book: Parker rates more than 8,000 wines from all the major wine-producing regions in the world via his (in) famous 100-point rating system. Included are sections on the popular wines of California and Italy. You will also find on how to buy and store wine, how to spot a poor wine and how to find deals under $10—all-in-all an enormous amount of good, honest information.