Bollinger Champagne
The Champagne of James Bond 007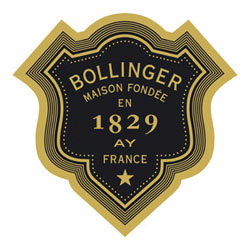 It took a quick lunch at the idyllic Hotel Bel-Air to refresh our minds about the delicate craftsmanship at the house of Bollinger Champagne. The soft-spoken president Ghislain de Montgolfier—great-grandson of Jacques Bollinger, nephew of Lily Bollinger and also related to the Mongofier brothers who pioneered lighter-than-air aviation—reminded us that there is heavy use of pinot noir in the blends.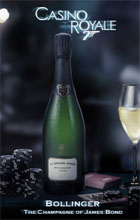 Pinot chardonnay is usually associated with prestige cuvées and many cuvées boast that they are made of 100 percent of the white varietal. Thanks to General Patton, who saved the town of Ay and prevented the Germans from blowing up the caves of Bollinger in 1944, today we can enjoy marvels like a recently disgorged 1990 Grande Année.
There is plenty of other good stuff put out by Bollinger and if it's good enough for 007, it is probably good enough for you. Bollinger is the official Champagne of the James Bond movies. Thanks to the tightly controlled family firm, Bollinger excels in quality. Quantity is another question, and when we asked Ghislain his answer was invariably "On a et on n'a pas," meaning "We have and we don't have any."
If you are looking for something special, check them out at www.champagne-bollinger.com
Also see our Tasting Notes on Bollinger NV Brut Rosé
La Grande Année Rosé
Varietal/Style: Champagne
Origin: Champagne, France
Vintage: 2002
Winemaker: n/a
Rating: 16.5/20
Retail Price: $160
Tasting Notes: The 2002 Grande Année Rosé is made from the wine used in the regular Grande Année combined with 5% red wine from a very special vineyard in Champagne's Aÿ region. The result is a rich and full-bodied rosé with subtle bubbles and a complex array of flavors. On the nose, there are hints of strawberry, cherry, bread dough and spice. In the mouth there are the typical berry flavors up front, but toward the back it evolves to offer baked apples, almonds and the tartness of pomegranate and citrus. (Date tasted: 12/27/10)
Wine of the Week December 27, 2010:
Bollinger 2002 La Grande Année Rosé
| | |
| --- | --- |
| PJC122710 | (Updated: 02/14/11 JC) |