A Brighter Outlook

Fairer weather brings about a sense of optimism, and we can't help but be excited for spring's arrival. This issue of our wine newsletter is dedicated to the enjoyment of the season, with wine, spirits and beer recommendations (and more). So perk up; things are looking brighter!

Swirl, Sip, Save

Tax season is a drag, to say the least, but that won't stop us from enjoying wines as usual. Our Top 10 Wines Under $10 features ridiculously affordable and quaffable wines. We've also chosen vinos that offer the biggest bang for your buck on our list of the Top 10 Value Wines. What can we say? We prefer the glass to be half full rather than half empty.

Wine and Dine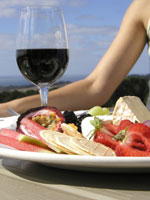 With the arrival of spring, outdoor brunches will certainly be on many agendas. We've picked the perfect wines to accompany the lazy weekend meal on our Top 10 Brunch Wines list. Pair these scrumptious wines with your springtime brunch to welcome sunnier days, or check out our latest Sake and Port picks.

Cheers for Beers

As spring buds start to bloom, why not let your taste buds blossom as well? Some beers are meant to be savored, not chugged. The ales, lagers and stouts on our Top 10 Sipping Beers list include a potent Belgian ale with scents of preserved lemons and pine, and a chocolate-infused brew with seductive flavors. Want to try a good spring beer? Check out our Top Maibocks.

Spring Spirit

To celebrate Cinco de Mayo, we'll be serving El Grado Anejo Tequila, a smooth agave blend created in the highlands of Jalisco, Mexico. It's rich enough for sipping, and its smokey-honey finish makes it perfect for handcrafted margaritas or artisanal cocktails such as the Prickly Pear Crown Jewel (see our review for the recipe). For the Kentucky Derby, we recommend the bold and complex limited edition Woodford Reserve Seasoned Oak Finish Bourbon. And our Top 10 Spirits and Top 10 Vodkas lists are worth checking out year-round!

Take it Outside

A perfect way to take advantage of spring in all its glory is an outdoor picnic with good wines, cheeses—and good company. But carrying all of the fixings can be a bit challenging, so we're glad to have discovered the Picnic Time Meritage Wine and Cheese Tote. With organized compartments, a durable outer shell and comfortable shoulder strap, it's an ideal carryall for a picnic on the go.

Be Prepared to Pair

If you plan on doing some reading this spring, we suggest two of our recently reviewed books: Continued Surveillance, a behind-the-scenes look at the wine industry, and Hugh Johnson's Pocket Wine Book 2010, a portable reference tome for wine knowledge at your fingertips. With these educational wine books and our Top 10 Wines, Spirits and Beers lists, consider yourself in-the-know.

You'll find many more resources on our website, such as Wine Dinners and Tastings, Wine of the Week Reviews, Wine News, and Wine New Releases.

Sign up now to receive our summer 2010 newsletter, with all things wine, beer, and spirit-related.
Click to subscribe or unsubscribe Please send comments here; mailing address
© 1996-2010 GAYOT.com ® Privacy Policy