POWER FROM DOWN UNDER
Australian Wines Deliver Big Flavor in Affordable Bottles
By Bryan Miller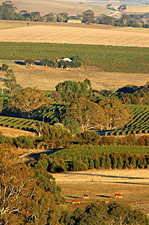 Barossa Valley
David Powell, a former lumberjack, is a big guy with an outsize personality and fervent opinions about South Australian wine—not the kind of bloke you want to aggravate in a wine debate. The selections at his Torbreck Vintners in the Barossa Valley, the country's prime winemaking region, match his gutsy, down-to-earth character, and are classic examples of the Southern Australia style: lush with fruit, well balanced, and with a delightful finish that is light on tannin, thus easy drinking. His boutique winery and its handcrafted vintages are but one success story among the 1,700 wineries now operating in Australia, part of the staggering escalation of Aussie wine production and exports.
Since 1985, Australian exports have increased sevenfold, and now exceed 261 million gallons annually. More impressive, reports Wine Business Magazine, Australia has now surpassed Italy as the major supplier to the U.S. market by value, or total dollars wholesale. A large part of the country's success is due to its populist approach: offering fruit-saturated wines at affordable prices—and in innovative ways, as pioneers of quality wines in boxes and with screw caps.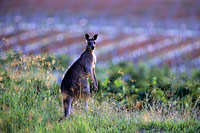 A kangaroo visits a vineyard
The innovation hasn't stopped there. Traditionally known for its Shiraz and Chardonnay, Australia has evolved into a vinous petri dish of grape blendings, utilizing Pinot Noir, Merlot, Grenache, Mourvèdre and a variety of European whites. Many of the best new offerings come from the vineyard-carpeted Barossa Valley and, farther south, the Adelaide Hills and the sea-scented expanse of McLaren Vale. Anchored by the flourishing city of Adelaide and located 850 miles southwest of Sydney, Barossa is among the oldest wine areas in the country, first tilled by stout German immigrants in the mid-19th century, followed by dissident (and wine-loving) Polish Lutherans fleeing persecution in Brandenburg and Posen.
Greater Barossa embraces 180 wineries, most of which have tasting rooms open to the public. We went calling at as many as we could until our palate staged a mutiny—about nine days. What follows are some highlights of this bibulous expedition.
SIPPING AND SWIRLING

2004 Woodcutters Shiraz
From behind a small tasting bar in a stucco-and-beam cabin at Torbreck Vintners, David Powell proffered his 2004 Woodcutters Semillon white ($14), which is exceptionally vivid and refreshing, one of our favorite whites of the trip.
Among reds, the winner was a 2004 Woodcutters Shiraz ($19)—again, a big, assertive Barossa wine, yet supple and easy drinking. Others worth considering are the 2003 Woodcutters Shiraz ($19), a blend of Grenache, Shiraz and Mataro (it's the stage name for Mourvèdre), and "The Steading," its premier label, which unconventionally marries Shiraz and Viognier ($30). The "Descendant" ($90) is a two-fisted Shiraz-Viognier that is aromatic of dried fruits and vanilla, and with enough tannin that you could hide it in the closet for a decade and it would be even better.
Peter Lehmann, also in Barossa, is a tireless promoter of his region's wines. His handsome, brick tasting bar in the winery that bears his name usually has on hand the light and flowery 2002 Semillon ($13; get as recent a vintage as you can), and the subtle and elegant 2001 Cabernet ($14).
Then there is Penfolds, the General Motors of Australian wines. As the flagship of a winery group that includes the renowned Rosemount, it is the largest vineyard owner in the country. Penfolds wines are known for their quality and consistency even in less than ideal vintages. The concentrated 2002 "BIN 389," a blend of Shiraz and Cabernet Sauvignon, is a steal at ($21); however, its iconic "Grange," albeit a wine of great depth and finesse ($165), could be overpriced.

Coriole 2003 Chenin Blanc
Coriole Vineyards, in McLaren Vale, is a must-visit both for its first-class wines and for its stunning setting, high on a ridge offering a view of the Gulf of St. Vincent. The circa-1860 fieldstone "tasting" cottage has a lovely trellised outdoor cafe. One of the older wineries in the region, dating to 1920, Coriole produces a wide range of wines employing a variety of grapes.
The 2004 Sangiovese we tasted there is an agreeable wine that is layered with flavors of cherries and vanilla. It is dry and somewhat tannic, best paired with food. A bigger, more generous wine is the 1999 Coriole Lloyd Reserve Shiraz, elegant and rich on the palate, and with a lingering finish. Of the whites sampled, we liked the dry 2003 Chenin Blanc (ask for the more recent vintages, which will be brighter), especially for the price (under $15).
If you are a fan of the full-bodied, hold-your-hat style, pull into Fox Creek Wineries, in McLaren Vale. Relatively new on the block, the winery specializes in Shiraz, although other grapes like Cabernet Sauvignon and Zinfandel show up alone or in blends.
It did not take long for us to appreciate how Australian winemakers are so enthusiastic about their products that they can't wait to pour you one selection after another in quick succession until you cry, "Hey, mate—enough!"
Fox Creek
JSM Shiraz Cabernet Franc
At Fox Creek, the upbeat barman commenced with a 2000 Cabernet Franc ($20), followed by a 2000 and a 1999 Villa Mount Eden Grand Reserve Zinfandel ($16). Surprisingly, this Native American grape thrives here and is increasingly popular. The Cabernet Franc was delightful, stratified with ripe fruit flavors, full-bodied but not overpowering, and definitely a red-meat wine. You get a lot of bang for the buck with the 2000 Fox Creek JSM Shiraz Cabernet Franc, a lively, high-acid wine with rich berry flavors and a smooth finish ($20). Too bad other Shirazes are not available in the United States.
Two Zinfandels available are commendable, both the 1999 and 2000 Villa Mount Eden Grand Reserves ($16). We have rarely seen a grand reserve, which is traditionally a winemaker's "ne plus ultra" and aged for a number of years, for less than $20 (both are $16). We wouldn't call either characteristic reserves, but they are charming and ready for drinking.
One novelty from Barossa/McLaren Vale that may soon sail up the Delaware is the sparkling Shiraz, or in the case of Fox Creek, a sparkling Shiraz-Cabernet Franc. These are love-it-or-leave-it confections, grapey and light, faintly sweet and big on the bubbles. They may take a bit of time to grow on you.
We were offered a sampling of the 1999 Coriole Lloyd Reserve Shiraz, elegant and rich on the palate, and with a lingering finish ($60).
If you continue south of McLaren Vale along the Fleurieu Peninsula, and you should, you'll end up at a speck of a fishing village called Cape Jervis. From there is a distant view of the fabled Kangaroo Island. Next stop, Antarctica.
Food Pairing for Aussie Wines

Turkey
Penfolds "BIN 389," 1999 Coriole Lloyd Reserve Shiraz; 2000 Fox Creek JSM Shiraz-Cabernet Franc.
Lamb
2004 Torbreck Woodcutters Shiraz; Torbreck "The Steading"; Penfolds "Grange"; 1999 Coriole Lloyd reserve Shiraz.
Ham
2000 and 1999 Villa Mount Eden Grand Reserve Zinfandel.
Roast beef
Torbreck "The Steading"; Torbreck "Descendant"; 1999 Coriole Lloyd Reserve Shiraz.
Pates, finger food
2004 Torbreck Woodcutters Semillon; 2003 Coriole Chenin Blanc; Fox Creek sparkling Shiraz-Cabernet franc; Fox Creek Chenin Blanc.
Sweet potatoes
Burge Family Winemakers Shiraz; Fox Creek sparkling Shiraz-Cabernet franc.
Fresh cheeses
(goat, feta)
Penfolds "BIN 389"; 1999 Coriole Lloyd Reserve Shiraz.
Aged cheeses
Torbreck "The Steading"; 2004 Coriole Vineyards Sangiovese; Burge Family Winemakers Shiraz.
Cranberries or apple pie
Fox Creek sparkling Shiraz-Cabernet Franc.

Food and Wine Pairing


Travel Guide to Australia


72 Hours in Adelaide


World Wine Map
(Published: 1/12/06)
Top photos courtesy of Australian Wine Export Council