Better Red
Educating Vietnamese Palates One Glass at a Time
By Kim Fay
When we say that Vietnam is swarming with reds these days, we aren't making a political statement. We're talking about wine. With the easing of government restrictions, both commercial and cultural, the past ten years have seen a welcome increase in wine importing and awareness. You can now find a good quality Bordeaux in most upscale and many mid-range restaurants, and there are chic wine bars and shops in Hanoi and Ho Chi Minh City. But while international wines are making headway, the most interesting vintner we find on the market is a local contender: Vang Dalat.
As with most other Asian countries, wine is not the first commodity that comes to mind when thinking about Vietnam. But Dalat, with its cool central highland climate and strong French heritage, is an anomaly, producing artichokes, asparagus, strawberries and, most recently, wine. In 1999, Vietnam had one state-run wine producer in Hanoi. As domestic demand increased, this company could not meet it, and Vang Dalat—which previously churned out beer and liquor made from Dalat fruits—turned its attention to Bordeaux-style wines.
Unlike its more sophisticated brethren in France, Northern California and South Africa, Vang Dalat uses table grapes from nearby Phan Rang, Vietnam's main grape-growing region. As an uncompromising oenophile, you may find this offensive. But we think you should first consider the argument made by Nguyen Van Viet, who has been with the company since 1999 and is the driving force behind its new path. Self-educated in the making, storing and drinking of wine—he spent a month in France for harvest and post-harvest, but everything else he learned from books or the Internet—Nguyen understands that winemaking in Vietnam is about more than just technique. It is about understanding the needs, and tastes, of his countrymen.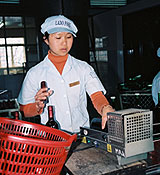 Nguyen explains that his country has a limited history with wine. The French introduced an elite wine culture pre-1954, and during the past decade, living standards have improved and more people are traveling overseas and being exposed to foreign wines. But they can't afford to drink these wines at home on a regular basis. Even if they could afford it, according to Nguyen, the average consumer isn't ready, since the Vietnamese palate is accustomed to cruder alcohols: rice whiskey, Russian vodka, and homemade liquors used for digestive and medicinal purposes. Appreciating fine wine, he believes, is an evolutionary process.
With this in mind, Nguyen considered how Vang Dalat could produce a European-style wine similar to traditional Vietnamese wines that any family could afford. Because the Vietnamese have acquired a taste for table grapes (production in Phan Rang dates back to 1985), he knew they would like wines made from such grapes. Today, the company produces 1.5 million liters of wine a year, which includes a Superior Red (all grape, 11% alcohol), Strong Red (grape/mulberry blend, 16% alcohol, a favorite with foreigners) and even a sparkling white. Up next is a wine cooler for young Vietnamese women, a rapidly growing market. We tried the peach cooler and were impressed. It is refreshing and tastes like Champagne with a splash of fresh peach juice.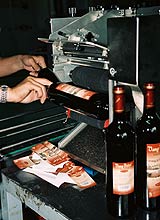 Nguyen knows that because Vang Dalat uses table grapes, its wines won't meet international standards and are out of the running for export. But that's not his principal goal. He hopes to gradually educate Vietnam. The company has signed contracts with French wine producers to import wine grapes, and it plans to eventually upgrade techniques and quality. Slowly, it will adapt to the world market, and in the process acclimatize the tastes and attitudes of the Vietnamese people.
In the meantime, Vang Dalat is just one more good reason to visit Vietnam. If you make it to Dalat, we recommend dinner at Maison Long Hoa, a genteel establishment run by a Vietnamese Francophile. Classical rather than tinny pop plays over the stereo, hearty Vietnamese food offers comfort against the chill outside, and—along with the strawberry wine made by the owner's wife—Vang Dalat vintages top the wine list.

For more information on Vang Dalat winery, visit www.dalatwine.com.
(Published: 03/13/06
Images by Julie Fay)