Happiness Comes in Small Packages
Dieulele is Returned to Life
by Jacques Vignes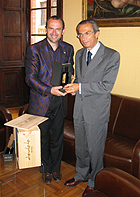 Piero Tosi accepts the first bottling of Dieulele
More than 915 years after sharecroppers in Tuscany started producing wine, Mario di Dievole had one of the most important days of his life. He met with Magnifico Rettore Piero Tosi, the Dean of the University of Siena as well as the Dean of Deans of Italian Universities, to deliver a case of the 2001 Dieulele from Dievole, along with three bottles of the 2004 Pontignano's first harvest. The wine was produced by the Dievole winery as part of a joint venture with the University of Siena, which has jurisdiction over the Cartusia Pontiniani monastery. There, Mario di Dievole and his team of master vintners are responsible (for the next 25 years) for maintaining the restored estate grounds, and for producing wine and olive oil the way monks did in the 12th century. "After 20 years at Dievole, and thanks to the experience carried from generation to generation, I am proud to present to you these early fruits of our labor," said the emotional Mario di Dievole to the Dean.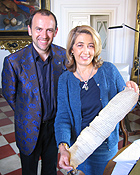 Carla Zarrilli unveils the ancient scroll
As if this was not enough, Mario di Dievole then met with the Siena State Archives Director Carla Zarrilli, who presented him with the sheepskin parchment dating back to 1090, showcasing evidence of wine being produced by sharecroppers even before that date. "Truly, this is an incredible moment for me. I have been waiting to see this document for so many years. I can't believe it's finally in my hands and I can see it with my own eyes," pronounced Mario di Dievole. In fact, it was just for a few moments as the document will be returned to the archive. However, Mario di Dievole hopes to get permission to display the document from time to time in the chapel at his winery estate in Vagliagli near Siena. Despite all this excitement, he later confessed he was disappointed the 6x17-inch scroll seemed so small.

Dievole Fourplay No. 1 featured as a Wine of the Week


For more information on the Dievole winery, see the winery profile
---