Fetzer of Yesteryear
1973 Fetzer Vineyards Cabernet Sauvignon-Mendocino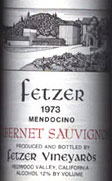 Our life revolves around friends, food and wine ... and a few other things as you can see on our website. A few days ago we had the chance to break bread with Tony Princiotta of the Cheese Store of Beverly Hills. It was for an impromptu simple meal of sausage sandwich and a few delicacies on the side, all washed down with a delicious sparkling wine from South Africa and a friendly red blend from Italy.

Here we were talking about automobiles, travel, history (to name a few of our favorite subjects) but constantly reverting back to wine. The question came up: "When was the last time we had an "old" California wine?" Stories of 1960's BV's, 1970's Heitz and Clos du Val went flying. Next thing we know Tony pulls out a 1973 Fetzer Cab from Mendocino. And what a treat it was.

We always refer to such wines as experiments. Believe us, this one was rather successful. It was still there with a light red color but only slightly brick hued on the edge with a fresh perfumy nose a and wonderful mid palate. It stayed well composed after a quick decantation during the half hour it took us to test. It drank so well just by itself.

Intriguing little detail: the glass (used for the bottle) was labeled as "4/5 Quart". When you figure this bottle retailed for $5 at most, what a deal! The moral of the story: Hold your wines from time to time; quite a few do improve with age.

Visit Fetzer Vineyards' website
(Date tasted: 01/07/2004)

(Updated: 02/27/09 SV)