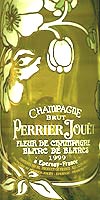 Champagne Perrier-Jouët
1999 Fleur de Champagne Blanc de Blancs
Only a couple of countries (the U.S. being one) are lucky enough to get this new offering from the folks of the Maison Belle Epoque. It is a rare treat, and as a result, quite pricey. In vintage years, you will get 100 percent Chardonnay from the Côte des Blancs—specifically from the village of Cramant. Among the best, there is no doubt that you will experience a sublime wine when you pop this one open. As recently tasted, the wine is crisp and fresh with a light gold color. You might sniff flowering lilacs, ruby grapefruits and other citrus-based scents. Behind an even mousse, you will discover flavors of honey, vanilla and apples. Thanks to a great balance, the layering and complexity deliver an outstanding wine in a few years (yes, it's okay to age Champagne). Osetra caviar and lobster anyone? These are the things reserved for elegant and rare occasions.
Rating: 17/20
Price: $220
Other Sparklers & Champagnes we've tasted
For more information, visit www.perrier-jouet.com

Going to France? See our 72 Hours in Champagne guide.