Joseph Phelps 2003 Insignia - Wine Review
Tasting notes and reviews of Joseph Phelps Vineyards wines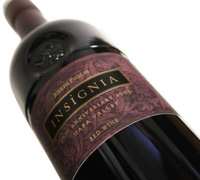 In the spring of 1978, Joseph Phelps Vineyards released its 1974 Insignia, becoming the first California winery to produce a blend of traditional Bordeaux varietals under a proprietary name. The Napa Valley winery released the 2003 Insignia, marking the 30th vintage of this highly acclaimed series.
The wine — 84 percent Cabernet Sauvignon, 10 percent Petit Verdot, 3 percent Merlot and 3 percent Malbec — was bottled and blended in February 2006, after being fermented in stainless steel tanks and aged 24 months in new French oak barrels. An impressive 87 percent of the fruit came from estate-owned vineyards in Stag's Leap, Rutherford and St. Helena, with the rest from independent growers. (Prior to the 1990 vintage, Insignia was sourced from the best available grower fruit.)
The 2003 Insignia is layered with aromas of blackberries, black cherries, anise, dark chocolate and coffee, and has an extremely long finish. It should pair well with steak, beef tenderloin and lamb loin.
Joseph Phelps founded his eponymous winery in Spring Valley, east of St. Helena, in 1972, and still lives on the property. The Vineyard produces from 65,000 to 80,000 cases annually with 90 percent of the wine produced from estate-owned vineyards.
by Jeff Hoyt

Other Meritages we've tasted


Check out our guide to California


For more information, visit www.jpvwines.com

More Joseph Phelps wine tasting notes and reviews:

Joseph Phelps 2005 Insignia


Joseph Phelps 2004 Insignia


Joseph Phelps 2007 Eisrébe (Featured on Top 10 Wines for Thanksgiving 2008)


Joseph Phelps 2007 Sauvignon Blanc


Joseph Phelps 2006 Sauvignon Blanc


Joseph Phelps 2005 Cabernet Sauvignon


Joseph Phelps 2003 Cabernet Sauvignon


Joseph Phelps 2006 Viognier


Joseph Phelps 2005 Syrah (Featured on Top 10 Wines for Father's Day 2008)


Joseph Phelps 2002 Syrah


Joseph Phelps 2004 Sonoma-Napa Chardonnay


Joseph Phelps 2004 Le Mistral