The Sideways Sensation
Changing the Ways of Average Joe cum Connoisseurs
A tsunami hits the Maldives. A nightclub is bombed in Bali. A dumpy, middle-aged man slurps Pinot Noir. If the third description sounds as if it has nothing to do with the first two, then perhaps you're not a follower of the tourism industry. Ever since the success of "Sideways," dumpy, middle-aged Miles (Paul Giamatti)—the movie's main character—has joined the ranks of phenomena that have had a significant effect on where people choose to travel.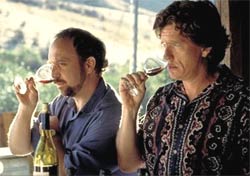 Miles (left) Slurps Pinot Noir with Jack
Based on a quiet little novel by Rex Picket, "Sideways" is a seemingly simple movie. Miles and his buddy, Jack (Thomas Hayden Church), head to the Santa Barbara wine country for a week of golfing, vintage sipping and ruminating on life as a precursor to Jack's impending wedding. Hardly the stuff to lure you away from a holiday in Paris or Tibet. Yet for many travelers, it has done just that. How? By showing regular people behaving regularly (and sometimes abominably) in a realm commonly perceived as being snobbish, exclusive and essentially off-limits to the mortal man. Suddenly that realm is accessible, and as a result—take note, travel marketers—it is desirable. J. Walter Thompson couldn't have come up with a better campaign.
Of course, the Santa Barbara wine region—and its laid-back attitude—deserves a little credit, too. Take the Days Inn Solvang/Buellton, for example. If you saw the movie, you'll know this place immediately. It's where Miles and Jack bunked during their week of soul-searching and hangovers. But for years before "Sideways" came out, it played another significant role. It served as an Interstate 101 landmark, with its windmill architecture and giant sign announcing Pea Soup Anderson's restaurant. If you want to understand how unpretentious this area actually is—despite the influx of "Sideways" influenced events—simply hop on the Days Inn website. You'll see not a single mention of the movie. But you will see the property's claim as being the "world-famous" birthplace of split pea soup. You have to love a destination for eschewing Hollywood in favor of its more—how shall we put it?—humble attributes. And this is no doubt another reason why so many travelers do.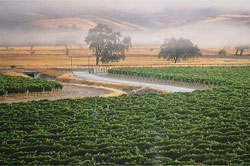 Fess Parker Vineyards
Less than a year after the movie came out, you could plug "Santa Barbara" and "Sideways" into your Google search engine and come up with more than one site offering a downloadable map to Miles and Jack's road trip—visit the Hitching Post, where Miles meets love interest Maya (Virginia Madsen), or the Fess Parker Winery, where a despondent Miles drinks from the spit bucket. Local hotels boast "Sideways" specials, wineries have "Sideways" tastings and the annual Santa Barbara County Vintner's Festival is even capitalizing on the movie during its weekend tasting spree. As a byproduct, "Sideways" is also affecting the wine drinking habits of the Average Joe cum connoisseur. National Public Radio reports that the Hitching Post is having a hard time keeping up with the demand for the Highliner Pinot Noir favored by snooty Miles, and further afield, the last time we were in Bristol Farms in Newport Beach in search of a Pinot Noir, we were told that the store could scarcely keep this new favorite varietal in stock. There is no doubt in our minds—"Sideways" is destined to become a bellwether for chambers of commerce around the country.
by Kim Fay