Value Merlots
by Frank Sutherland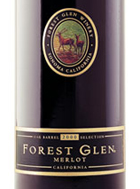 While Cabernet Sauvignon continues to be the most popular red wine in this country, Merlot is usually easier to drink before a meal.

Cabernet is often full of tannins, those chemicals in grapes that give wine structure but can make your mouth pucker, while most Merlots are low in tannins.

Tannins soften with aging in the bottle or when you eat rare beef, but a tannic wine is not necessarily a good before-dinner wine.

Enter Merlot, which tends to have full body, a good bit of alcohol and a taste of plums. Merlot is not known for its long finishes.

Merlot can go well with foods, such as lamb. If you want to serve a red wine as a party aperitif, try Merlot.
2002 McManis Merlot at $10.99: This wine was "fruit forward," meaning the first dominant impression was fruit. It had a good bit of alcohol in the aroma along with hints of eucalyptus. In the mouth, we tasted spice, chocolate and mint, along with a good bit of oak.

2002 Forest Glen Merlot at $9.99: This wine had a creamy aroma of roses and nice fruit. It was leaner (less fruit) than many of the others, but it was very elegant. It had a lovely texture with layers of flavors in the mouth. It had a very nice finish for a merlot. The Forest Glen rated first in our tasting.

2000 Red Diamond Merlot at $11.99: This Washington state merlot had a weaker aroma, that left a watery impression. However, on the palate, it performed much better with a cherry Coke sensation. It had a light body with sweet fruit and a pleasant taste. The Red Diamond finished second in our tasting.

2001 Blackstone Merlot at $11.99: This wine had a muted, simple aroma that was lighter than the others. It was slightly heavy on the acids but nothing offensive. This was wine first-time drinkers of reds might try.
Surfing the Wine Shelves for Value
2002 Fremark Abbey Merlot at $27: Aromas of cherry and plum wafted from the glass of this wine. In the mouth they merged with lush, mellow raspberry, cinnamon and oak flavors. It had a medium body with soft tannins and a lingering finish.

2002 Chateau St. Jean Chardonnay at $14: This wine smelled of apples. It had a medium body with flavors of the apples mingling with butter and wood with citrus on the end.

2001 Gallo of Sonoma Merlot at $11: The aroma is of ripe berries and red cherries. Blackberry, plum accent the flavor with a hint of mint on the end. It has a short finish.

2001 Jordan Chardonnay at $26: You'll find scents of apples and pineapple in the aroma and soft buttery notes with melon, pineapple and tropical fruits on the palate.