Wine Country Caves: Bigger, Badder, Deeper
The Cave's the Thing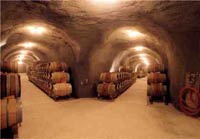 Robert Sinskey Vineyards built by Nordby Wine Caves
Good wines love a well-built cave, and who could blame them? Damp, cool, safe and still—they're an unmatched recipe for aging toward perfection. But wait, the scene has shifted—mankind is taking vino-culture underground.
Today, new world wine caves are all the rage. More than one hundred exist throughout Napa and Sonoma counties, making the California Wine Country the most densely "tunneled" place on earth. Wine caves come in all shapes, sizes, and ages from cavernous to downright snug, from linear to spoked, from over-the-top ornate to simple and utilitarian. Winemakers agree that caves are the ultimate in wine storage. The constant cool temperature, high humidity, relatively still air and darkness make for happy, profitable wines down the road.
In addition , a growing number of wineries are constructing entire winemaking facilities underground, not just for aging barrels and bottles, but as offices, tasting rooms, banqueting halls, laboratories, bottling lines! "Wine-cave envy," may be surpassing Wine Spectator ratings; some wineries seem to be trying to outdo their competitors by creating larger, lower, deeper and more opulent spaces than ever before.
Why Wine Caves?
New cave construction has become very popular for a variety of reasons. "Caves make good economic sense," says Glen Ragsdale, one of the leading building contractors, whose company has built many of the wine caves throughout the wine country. "There are vastly reduced energy costs, no heating, no air conditioning, and the constant temperature and humidity saves between three to six percent of wine evaporation per year." This amount can add up to substantial savings. Wine caves retain an average temperature of between 55 and 60 degrees, and an average relative humidity of 75 percent, which assists with winemaking quality control. The interior of a cave presents absolutely perfect conditions for the creation and preservation of wine. It is estimated that within seven years, wine cave owners will realize a return on their investment due, as compared to owners of above-ground facilities.
There are many non-wine reasons wineries are constructing new facilities below ground. "The county likes caves," says Paul Frommel, former Director of New Project Development for Nordby Wine Caves, speaking about Napa. "There are no view-shed problems, and they'd rather have you go subterranean than build a new above ground structure." Furthermore, agricultural land is preserved, and a minimal footprint left on the land is a huge advantage caves have over above-ground facilities. In fact, many wineries have grape vines growing directly on top of caves. Neighbors rarely complain about new caves, because little is visible to the public, after the construction phase is completed. Another plus is that caves virtually last forever, using extremely durable materials including concrete, stone, no wood, and have constant temperatures and humidity.
---
DEL DOTTO: Barrels, Candles and Music
Del Dotto Winery cave
Some of the original wine caves in California date back to the 1880s, with venerable Schramsberg and Beringer wineries boasting the oldest. They were actually dug like mines, using picks, shovels and copious amounts of human labor. These caves display a timelessness unlike most contemporary facilities. The Del Dotto Winery, originally called the Hedgeside Winery, also had caves dug in the 1880s. Located at the foot of Atlas Peak Road, these caves provide one of the most enjoyable cave experiences in the Napa Valley. Romantically candle-lit on weekends, with soft music flowing through the irregularly chiseled walls, Del Dotto Winery offers an idyllic setting. This facility is also "barrel crazed," featuring a huge array of oaken barrels from various regions. Their barrel tasting permits visitors to not only sample but purchase wines directly from a specific barrel. "This is awesome, the best personal tour in the valley," says Tracee Tulloh, visiting with friends from Los Gatos.
---
CLIFF LEDE: (S. ANDERSON)—A Combination of Old and New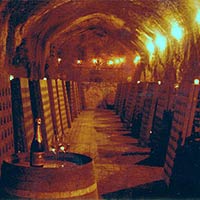 Cliff Lede Winery cave
On the Yountville Cross Road, near the Silverado Trail, sits Cliff Lede (pronounce Cliff Lady) Winery, formerly the S. Anderson Vineyard. Known for sparkling wines, the S. Anderson caves are among the oldest of the modern-era caves in Napa. Fresh from his experiences constructing BART, tunneler extraordinaire, Alf Burtleson, dug the S. Anderson caves.
"People have an emotional response to all caves, especially ours," says Michael Updegraff, General Manager at Cliff Lede. Indeed, these caves have a tranquil quality, originally created for riddling bottles, not barrels. There's even a small subterranean stage. "Alf was a pioneer in going underground," said Updegraff. The Cliff Lede caves are open every day, but are presently undergoing renovations to install new lighting, drainage, and another portal.
---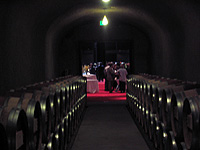 Quintessa: The most modern cave in Napa
Quintessa Winery is clearly the most modern cave in the Napa Valley. This magnificent low-slung curved edifice can be seen on the Silverado Trail, just across from Auberge du Soleil. A self contained, gravity-fed facility, Quintessa brings together an exquisite amalgam of form and function. And they make some impressive wine, too.
The entranceway's 20-foot glass doors reveal an efficient functioning winery, while providing far more natural light than found elsewhere. "This entire facility is very site specific," says Quintessa architect Greg Warner, of San Francisco based Walker, Warner Architects. "We used context to drive the form, but at the same time, the profile was determined by how they wanted to store their wine." The interior of the cave is slightly curved, barrels lining the walls grace interior site lines. The elegant "enoteca" is a smart stop for wine tasting. Quintessa, unlike most created in a linear fashion, is designed around an axial theme, with no dead ends. Warner says, "This cave has multiple points for working, barrel storage, and moving around. It doesn't complicate functionality." Does the objective of the cave help create superlative wine? "Oh yes," states Warner. "It's really about Cave Terroir." He is impassioned about this concept. "It's the way the wine is selected here, processed here, created here—the integrating arch, and the building itself—it's all really about this place."
---
JARVIS: A River Runs Through It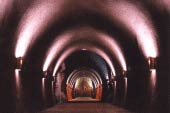 Jarvis cave tunneled into the scenic Vacas Mountains
The Jarvis Winery cave sits high atop Monticello Road, in eastern Napa. An outdoor garden setting gives no clue to what lies within, and a large parabolic door is the only hint that a cave beckons. (The parabolic theme continues throughout the caves, and is proudly displayed on the Jarvis wine label.) The dark, attractive entranceway boasting medieval sconces soon reveals the incredible 45,000-square- foot wine making facilities inside: the first winemaking facility to be developed completely below ground.
Visitors will be amazed to find an actual waterfall and creek running through the Jarvis caves. The underground waters were a lucky find when drilling the caves. These flowing waters provide added moisture as well as beauty. Deep within the facility lies the huge "Crystal Chamber," glittering with amethyst and quartz. Tolkien's Dwarves would be envious of the Jarvis Winery.
Owner William Jarvis is pleased with the quality and economics of his caves. "The cave is an insurance policy against damaged wine," he says. "A few days of elevated temperatures can damage wine forever—best to keep it in a cool cave environment until the day it ships."
Jarvis also has suggestions for those planning new underground wine caves. "Make more little chambers than you think you will ever need." The Jarvis wines are gratifying, (try the Lake William Cab), and the cave experience is one of Napa's hidden treats.
---
PALMAZ: Hearst Castle of the Wine Country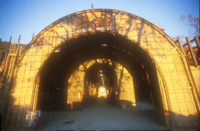 The Xanadu of wine caves
The Palmaz caves are something altogether different. Giant eucalyptus trees herald visitors into the property. This, the Xanadu of wine caves, is something to behold, and will be worth a visit, if you can get in, when it opens sometime in late 2004. "The initial plan, was to make a complete, gravity flow facility underground," says Glen Ragsdale, Palmaz' cave builder, and owner of Ragsdale Underground Associates. The project may have gotten out of hand.
Still, seeing this incredible undertaking is like being inside the Channel while under construction. Palmaz's tunnels are being dug on four intertwined levels, with more than 140 feet between the highest and lowest levels. Palmaz is even constructing a special waste water treatment plant (as demanded by the county) to have a zero water impact on the surrounding community. This future winery, off Hagen Road, is scheduled to open in 2004, and will have 50,000 square feet entirely underground. This $25 million project will hopefully produce superlative wines. The elevator burrowing some 18 stories deep into the bedrock will be the largest (though underground) in all of Napa County.
Palmaz will also house an 8,000-square-foot car museum, complete with over 40 rare racing Porsches, all belonging to winery owner, Dr. Julio Palmaz. "This will add to the ambience," chuckles Glen Ragsdale.
The Dome Room at Palmaz is perhaps its most auspicious engineering feat. The underground space is 55 feet high and 75 feet wide, and holds 24 large fermentation tanks, the upper 12 supported on an amazing, mechanical lazy-susan type device. A computer controlled, gravity feed system drops the grapes gently into the proper tank below. When properly filled, the next tank rotates into place.
---
BOUTIQUE CAVES
Smaller, less ornate yet perfectly acceptable caves are popping up all over. The newest cave in Napa is owned by Frazier Winery. Owner Bill Frazier, a former airline pilot, runs a tight one-man show on his winery and vineyard just south of Napa Valley. This new, adobe-colored 10,000-square-foot shotcrete wine cave has a full commercial kitchen, small banqueting facility and caters to high-end tours. Frazier is thrilled with his new cave, and heartily believes in the concept. "For every barrel in my cave, versus in a building, I'll save an equivalent of one case of wine over two years." And at $85 for his 2000 "Memento" Cabernet, these savings can add up quickly.
Baldacci Family Vineyards is another recently completed cave, located in the Stag's Leap District. At 7,000 square feet, this cave took six months to build. "First they used an auger, then some dynamite," says Carol Garret, president of Baldacci Family Vineyards. This winery has no plans to open the caves to the public but wants to keep the caves available for the original purpose, storage of wine barrels. "Storage is always an issue, because you can never have enough." Their 2000 Cabernet is a gem, and the future looks good.
People seem to like visiting wine caves, and there are many to choose from throughout the wine country. Something primordial stirs when entering a cave. Maybe it's the quiet ambience, the aroma, dim lighting and ancient feeling, or even the sense of drama that exists inside the earth. One thing is certain, and agreed upon worldwide: wines absolutely love it.
by Bob Ecker