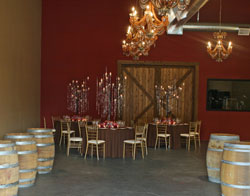 Woodhouse Family Cellars Tasting Room
If you pour it, they will come. This has certainly proven true in Woodinville, scarcely a half hour's drive from downtown Seattle. These days the former logging community is wooing oenophilic Emerald City dwellers, as well as visitors from around the globe, who can sip and savor vintages that were once only available at the vineyards of Eastern Washington, on the far side of the Cascades. By bringing grapes across the mountains and creating an official Woodinville Wine Country in 2002, an eclectic group of thirteen winemakers turned a sleepy backwater into a Pacific Northwest Napa.
Bear in mind, though, this place is no Northern California Wine Country. While Napa came into its own through its wine industry, Woodinville established its character long before the cellars came to town. Logging and farming financed the development of the Sammamish River Valley in the late 1880s, and these trades propelled the town well into the 20th century. Napa created a provincial chic to define itself, but Woodinville is happy to be good 'ole, unpretentious Woodinville.
At first glance, you may wonder why Woodinville was chosen to become a "wine country." First of all, there are no vineyards here. The few historic buildings are scattered among strip malls, and some wineries are even housed in industrial warehouse complexes. But the surroundings are wooded and gorgeous, and that no doubt was one of the biggest draws. Also, according to Bill Phillips, co-founder of the Woodinville Wine Country, the region's first winery (Chateau Ste. Michelle set up its winemaking facilities in 1976) was most likely built in this location because rural land was cheap, and it was close to a major city. It was "only natural," he explains, that smaller wineries gravitated to the area to "try to grab some of the residual business." In this respect, the Woodinville Wine Country is an organic part of the landscape.
Camaraderie and Industrial Cool
Salish Lodge
The area offers two terrific hotels for overnight stays: the Willows Lodge in town or the Salish Lodge & Spa, a short drive away. The dozen-plus wineries invite a full weekend's touring, but if you have only one day, we'd like to suggest an itinerary that combines a few standout small wineries with the Old Guard. The route is easy. Just start at the north end of SR-202 and work your way south. And make sure to plan ahead. Some wineries are open daily, some just on weekends and some only during organized tasting events.
The old advice to start small works well in Woodinville, as there are plenty of snug, personable little wineries to choose from. Like most of its counterparts, the boutique DiStefano Winery is an unassuming place. As you're cruising along the highway, keep an eye out for the address, as there isn't a huge sign. And when you enter, prepare yourself for intimacy. Get ten people inside the tasting room and you can't help but rub elbows. But this means instant camaraderie, and isn't that the point of opening a great bottle of wine?
Barrels at DiStefano
Owner Mark Newton produced the first DiStefano (a Sauvignon Blanc) as a wedding gift for his wife, Donna DiStefano, in 1990. Today the winery produces eight types of wine. As we began sampling, we were looking forward to the 2001 Ottimo (60% Cabernet Sauvignon/40% Merlot), a wine that's earned the company much acclaim. We liked it, but what we really loved was the 2001 Meritage. To some this may seem a more pedestrian choice, but we found it seductively smooth … one of those wines you continue to think about for days. In fact, we brought a bottle home, and although its contents are long gone, the empty bottle is still sitting on the kitchen counter, a memento of the lovely afternoon we spent sharing it with friends.
Next up is a place we fell in love with the moment we finally found it. We made more than a few wrong turns in the parking lot of one of the aforementioned warehouse complexes before we tracked down Kennedy Shah. The door was rolled open, exposing the entire front of the tasting room to the great outdoors. Beneath the high ceilings in that vast space, the counter backed by cabinets looked like a model kitchen set up at a trade show. This industrial appearance—combined with no attempt whatsoever to be cozy—was truly tantalizing. Adding to the appeal was owner Bijal Shah, who stood behind the counter pouring.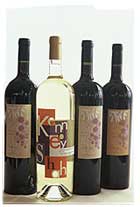 Kennedy Shah's Offerings
A community activist and philanthropist born in Mombasa, Kenya, Bijal owns Kennedy Shah with his wife, Sinead, English born and a pilot for United. Together with an uncle, they run Woodhouse Family Cellars, which produces the label named after the couple's daughter, Kennedy. There are so many things to like about this winery, it's hard to know where to begin. How about the twenty percent of gross revenues it donates to women's and children's charities? Or the gorgeous label that could be framed and easily passed off as a small work of art? Or the fact that you'd never know Bijal is the big boss as you watch him welcome guests and interact with employees?
Then there are the wines, which are produced using harvests from the state's Red Mountain region. Although located within the Yakima Valley wine district, it has been federally recognized as its own American Viticultural Area (AVA). From these grapes, Kennedy Shah crafts a Cabernet Sauvignon, Merlot, Syrah, limited Pinot Noir and blend of Chenin Blanc and Viognier, playfully named after Kennedy's aunt, Auntie Meredith's Picnic Blend. We took home a bottle of the 2001 Cabernet, whose flavor complemented the overall Kennedy Shah experience: intriguingly stark, yet warm and inviting.

Insider Lunch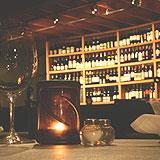 Purple Café & Wine Bar
It's now time to stop for lunch. Unlike in Napa, wineries here don't have little cafés or substantial market areas for whipping up an impromptu picnic. If you don't know what you're looking for, you may think your only choices involve super-sizing. Fortunately, we were given the insider tips. The Barking Frog in Willows Lodge serves a menu of reliable Wine Country cuisine, and Purple Café & Wine Bar offers a selection of light fare.
Tucked away in a strip mall (surprise, surprise), Purple is quite pretty inside. It's the perfect place to refuel on reasonably priced gourmet pizzas, sandwiches and salads. In keeping with the rest of the area in not taking itself too seriously, it has fun with its cheese flights, which are given such mischievous names as Pepe le Phew, We Love You!, If Willy Wonka Had a Cheese Factory, and—our favorite—To Our Beloved Sea Captain Ivar, which is described as "a tad dry, sometimes mild, often briny and always nutty." Anyone who knows Ivar's reputation is sure to chuckle.

Hitting the Big Timers
Now that you've sampled a few smaller venues, we recommend hitting the big timers. Although technically the Woodinville Wine Country is new, winemaking in the area is well established, having flourished out of the legacy of winemaking in Washington, whose first vines were planted at Fort Vancouver in 1825. The industry, helmed mainly by French, German and Italian immigrants, spread across the state, and by the late 1930s there were over forty wineries in Central and Eastern Washington. It took a while for the establishment of a wine scene on the west side, and the leader of that movement is undisputedly Chateau Ste. Michelle. Another stronghold, Columbia Winery, set up shop across the street in 1986.
Founded in 1962 by a group of friends, six of whom were University of Washington professors, Columbia Winery started off strong and gained further acclaim in 1979 with the arrival of David Lake. Lake, who is hailed as the "Dean of Washington Winemakers," is the first winemaker in the state to produce Syrah, Cabernet Franc and Pinot Gris. He is also one of two Masters of Wine in Woodinville (the other is Robert Betz). This accolade says much about Woodinville Wine Country, since the group consists of only twenty members, and there are scarcely twenty Masters of Wine in all of America. Housed in a faux Victorian-style manor, the winery's tasting room has a casual, neighborhood bar feel to it—a pleasant place to hang out and taste.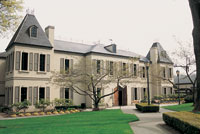 Chateau Ste. Michelle
While we like Columbia Winery, we have to admit that wine for wine we prefer Chateau Ste. Michelle. If you know this winery only for its inexpensive grocery store wines, you will be delighted to discover its premium vintages. You will also enjoy the setting, which is the old Hollywood Farm estate that once belonged to Seattle lumber baron Frederick Stimson. The gardens are beautiful, and you can take a self-guided tour of the ornamental cherries, red oak, European copper beech, weeping Norway spruce, Japanese maple and rhododendrons, the blowsy Washington State flower.
As long as we're confessing, we also must come clean on the fact that—despite our ravings about Kennedy Shah's modern, unconventional atmosphere—we really did enjoy the traditional, old-fashioned feel of Chateau Ste. Michelle. From its French chateau-style architecture to its casks and fertile, winey smell, the tasting room is a classic. Like Columbia, it has a large counter, and when you belly up to it, you feel as if you're hanging out at a local joint. Aiding the down-home attitude are the down-home servers, whose knowledge is passed along like a story handed down by a favorite great uncle or aunt. We recommend the reserve tasting, although in the end we chose a bottle from the regular serving list. Our pick from this trip: the 2001 Canoe Ridge Estate Syrah. It was a favorite with everyone else that day, too, as the shelf was empty by the time we reached it, and we had to ask someone to dig through the back room to find more.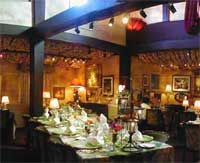 The Herbfarm
After a nice long nap at your hotel, it's time for dinner at The Herbfarm, whose nine-course set menu is paired with five to six wines. Make reservations well in advance (the norm used to be a year's lead time!), and prepare to mingle with lots of Seattleites, who count this restaurant among their top choices when celebrating important occasions or simply wanting to commune with good friends.
While we have mentioned just a few wineries, the rest are certainly worth visiting, which is why more than one day is ideal. If you're really intent on sipping at as many as possible, plan to come during the annual Passport to Woodinville, when all of the local wineries open their doors. This spring event is just one of the many ways the Woodinville Wine Country is wooing wine lovers. Chateau Ste. Michelle holds big-name, outdoor concerts in the summer, a farmers market operates in season, there's a festive open house on St. Nicholas Day, and a Northwest Wine and Culinary Village is on its way. The area is going to grow, and SR-202 may come to resemble Napa's Highway 29 in years to come, but one thing is certain to stay the same. Woodinville will always be Woodinville: low-key, welcoming and steeped in the pioneer spirit of the Pacific Northwest.
Visiting Woodinville Wine Country
Columbia Winery
14030 NE 145th St.
Woodinville, WA 98072
800-488-2347
425-488-2776
www.columbiawinery.com

Chateau Ste. Michelle
14111 NE 145th St.
Woodinville, WA
425-415-3300
ste-michelle.com

DiStefano Winery
12280 Woodinville Dr. SE
Woodinville, WA 98072
425-487-1648
www.distefanowinery.com

Kennedy Shah
Woodhouse Family Cellars
15500 Woodinville-Redmond Rd.
Ste. C600
Woodinville, WA 98072
425-527-0608
www.kennedyshah.com