101 SANGRIAS & PITCHER DRINKS
By Kim Haasarud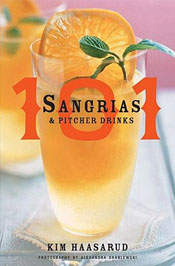 Warm summer nights, backyard barbeques, and an ice cold pitcher of sangria. What could be better? More sangria, of course! In her new book 101 Sangrias and Pitcher Drinks, Kim Haasarud explains that there is no one "right way" to make the libation, while suggesting plenty of ideas on how to make a great party in a pitcher.

Along with introducing wine and fruit basics, Haasarud discusses add-ins that make a concoction really pop, like flavored ice cubes and homemade sour syrup. When it comes to mixes, Haasarud includes everything from classic sangria recipes to upbeat fusions like the Fandango and New Zealand kiwi. For those looking for even more, Haasarud offers sections devoted to sangree, a whisky or brandy-based beverage believed to be sangria's predecessor, as well as cup drinks, which range from the original Singapore Sling to creations like the refreshingly tart Watermelon Yuzu Punch. Colorfully enticing photos adorn the pages, providing the perfect accompaniment to your recipe reading. With enough ideas for nearly every fruit and wine of choice, 101 Sangrias and Pitcher Drinks will keep the party going all summer long.
Watermelon Sangria

Makes 7 drinks
Ingredients:
1 bottle white dry wine
¾ cup watermelon schnapps
½ cup white cranberry juice
2 cups freshly scooped watermelon balls
2 limes, cut into half-wheels
Instructions:
Combine all the ingredients in a large ceramic or glass container and stir well. Cover and refrigerate for at least 4 hours. Serve over ice.
Reviewed by Katrina Romero
PBKR052908