Picnic Time Meritage Wine and Cheese Tote
An Organized Transporter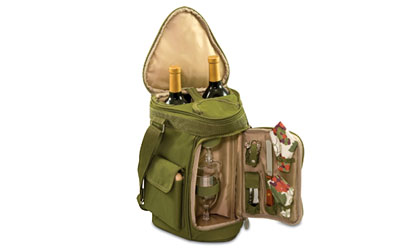 For a wine and cheese picnic on-the-go, this handy wine tote with a sturdy polyester-canvas outer shell is the perfect utilitarian companion. The triangular tote has compartments galore, holding two to three bottles of wines or spirits and a suite of included accessories.

Unzipping the top of the tote reveals two slots for bottles, while another zippered door on the front opens up to neatly organized accoutrements, including a stainless steel waiter-style corkscrew and wooden-handled cheese knife; an ornate bottle stopper; two printed cotton napkins; and two shatter-resistant acrylic wine glasses. A side pocket houses a small wood cutting board, which could be used to present a small arrangement of cheeses.
Space for a third bottle can be created by removing the two wine glasses, but we think the two-bottle configuration would suit most needs. On that note, the Meritage tote is ideal for a wine-and-cheese outing "à deux," but could be used for more than two people if extra glasses and napkins are brought along separately. As for portability, the tote's adjustable shoulder strap (with a non-slip underside) provides comfort and convenience, and there is also a padded handle on top for quick access. Proper insulation is provided by a polyvinyl-chloride layer that acts as a thermo-regulator and a water-resistant polyurethane coating that repels condensation. Consider this a highly-functional wine tote that is high on organization.
Reviewed by Emily Tsay
For more information, visit www.picnictime.com
Price: $41-$54 (various colors available) on Amazon.com

More Wine Accessories


Featured Gifts
| | |
| --- | --- |
| PET031710 | (Updated: 03/17/10 ET) |