MEASURE FOR PLEASURE
Nuvo Vino Wine Thermometer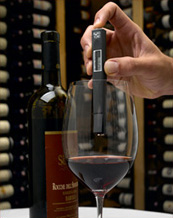 It may be common knowledge that white wines are served chilled and red wines at room temperature, but for the true wine connoisseur, there's much more of a science to determining the proper thermal condition—down to a single degree. However, thanks to Nuvo Vino's new wine thermometer, donning a white coat and hauling out the lab equipment isn't necessary. This handy device is the size and shape of a pen and operates with the ease of one: just click and the retractable infrared sensor nips out to take a fast, accurate reading. Nuvo Vino's thermometer is also the first to precisely measure the temperature of the wine itself, rather than that of the bottle, which can differ from its contents depending on storage conditions. To determine the optimal temperature of your particular vintage, the thermometer comes with a helpful chart, and a more in-depth guide is available on the company's website. Thus, with thermometer in one hand and mouse in the other, you can easily ascertain the conditions necessary to unlock each varietal's finest flavors and aromas, ensuring that the wine you serve will make you look like a veritable Einstein.
For more information, visit www.nuvovino.com
Price: $50