Wine Gifts and Accessories
We've rounded up the best accessories and products for the wine lover who wants to have everything. Whether you're buying a gift for a friend or adding to your own collection, our reviews of wine totes, decanters, coolers, corkscrews and racks will make shopping simple.
A nod to chefs worldwide, Le Cordon Bleu's Champagne cooler duplicates the chef's toque. At 9.75 inches high, 7.75 inches wide and 6.5 inches deep, the pewter bucket can hold two bottles of Champagne and enough ice to keep them cool. Or, use it as a decorative vase or a trophy. Have it engraved—it makes a great gift! Available at Le Cordon Bleu for $395.

More Wine Accessories
---
Looking for a sturdy wine rack that won't break or crack? Go with a wrought iron version from the folks of The Metal Studio. They have quite a selection of wrought iron home accessories that expands beyond wine stuff should you want to match up a CD stand, a chandelier or fruit basket for another part of the house. Their products display fine workmanship and a natural smoky gray or black finish, polished with decorative silvery highlights.
Check out this Table Wine Storage rack ($26) and others from their large wine storage/pedestal to the wall-mounted wine storage units.
Browse The Metal Studio's store at www.hillsburys.com/carts/wine-racks.html They offer a 30-day money back guarantee.

More Wine Accessories
---
Napa Valley Wine Blending & Tasting Kit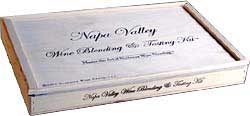 Victor Bourassa has been around the wine business for quite a while and goes around the country to deliver his famous wine blending seminars. You, too, can become an expert and try your artistic side at this creative science. The
Napa Valley Wine Blending & Tasting Kit ($69.95) is packed with all the necessary ingredients to learn and develop the right skills. You just need to add wine. Purchase the kit online at www.wineblending.com/kit.htm

More Wine Accessories
---



Patent Wine Stopper/Pourer

This stainless steel pourer from Rodenhus & Schelde A/S with integrated steel ball allows for gentle and controlled pouring. Its special spout also prevents dripping. A great gift for any wine lover. Available at Sur La Table for $24.95.
---
BonJour Château Wine Opener

For any kind of bottle or cork and super easy decorking in seconds. The rubberized finish is non-slip. Available at Sur La Table for $39.95.

More Wine Accessories

---
Gift Baskets and More



Enjoy a Wine Country lifestyle wherever you are with gifts from Fermentations. This store in Cambria, California sells a number of wine-related items, with especially good gift baskets of gourmet wine, cheeses and other goodies. If you're in the area, stop by their store to try wines in a relaxed atmosphere. If you can't make it in person, purchase by calling 800-446-7505 or visit their website, www.fermentations.com.

More Wine Accessories
---
French sommelier Hervé Pennequin had the right idea when he came up with the Thiers Sommelier corkscrew. This nice-looking "gadget" is getting rave reviews for the ease with which it allows you to open bottles with corks intact. Perfect for the oenophile who pops open a vintage bottle now and then and wants to ensure there's no breakage or mess with the cork, the Thiers Sommelier is also widely used in restaurants because of its ability to keep the long or dry corks vertical as they are removed. The design of the corkscrew is in accordance with the regulations of the Confrérie de Tiè knives, used in Thiers, France since 1582, and it is handmade in the village of Thiers. This makes it the only tool of its kind with an appellation. The Thiers Sommelier is available with a leather holster in blond horn, wood barrel and stainless steel. There are many corkscrews out there depending on your preference; we like Hervé's design because you can actually take it with you and it is so well made. After five to ten corks you are a master and amazed at the ease of use due to its linear leverage effect. The price is $85 plus $4 for shipping. To order, call 917-806-1044, e-mail hwinefrog@gmail.com or get it on amazon

More Wine Accessories
---
No Scruples about Screwpull
We think that opening wine should be as simple as drinking it. Le Creuset, a leading manufacturer of kitchenware, had the same idea and with the Screwpull® Lever Model launched a successful new device. It gently, professionally and painlessly extracts corks from their reluctant bottles-four easy strokes and you're ready to pour. Its ultra long-lasting screw allows for up to 2,000 bottle openings without changing the screw, lasting four times longer than before. The Screwpull is conveniently boxed and comes with a foil cutter. Just with any new device, it takes a little getting used to after the training session is over. But you'll never want to go back to using your old bartender opener ever again. Available at your fine wine retailers. Call Le Creuset at 877-273-8738 or visit lecreuset.com. Buy on Cooking.com.

More Wine Accessories

Wine Glasses


More Wine, Beer and Spirit Gifts
UCI81215