AMBITIOUS BREW
The Story of American Beer
by Maureen Ogle
(Harcourt Books, $25)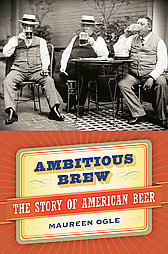 In today's market, over-run with every type of beer, lager and ale imaginable, Ambitious Brew arrives in the nick of time to smack American beer drinkers in the face with their roots (or rather hops and barley). Ambitious Brew, Maureen Ogle's latest literary excursion since delving into the history of plumbing, chronicles the introduction, development and distribution of beer, and the tales of its masters in the United States, from pre-Civil War to modern times. Through the stories Ogle brews up, we discover that beer in America is less about the alcohol and more about the men who made it and how their personalities and determined work ethics not only shaped the beers that we know and love today, but also the country as a whole. The book is a must-read for anyone with more than a curious interest in the origins of their beer, or perhaps a good gift for your beer snob friend who insists on Dutch imports. Ambitious Brew is a lesson in American beer history that leaves readers with a thirsty appreciation for their brewing ancestors and a patriotic urge to pick up a sixer of Budweiser.
| | |
| --- | --- |
| PJR012407 | (Updated: 03/09/07 SLY) |
---