BORDEAUX CHATEAUX
A History of the Grands Crus Classés 1855-2005
By Hugh Johnson and Jean-Paul Kauffmann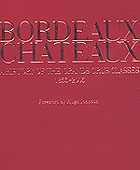 Sooner or later, all serious students of French wine end up memorizing the 1855 classification that demarcates the top Médoc wineries in Bordeaux by five grades, known as Grands Crus Classés. Now Editions Flammarion has made that dry exercise a visual pleasure with Bordeaux Chateaux: A History of the Grands Crus Classés 1855-2005. The lavishly illustrated, oversized tome, written by British wine authority Hugh Johnson and French historian Jean-Paul Kauffmann, is the perfect holiday gift for either wine aficionados or Francophiles in your crowd. Each classified chateau receives a brief profile, accompanied by pictures of the property and the vineyards; the chateaux are grouped according to their crus, making it easy to associate the wineries within each level of classification. In addition to the profiles, the authors list vintage notes for each vintage dating back to 1855, tossing in comments on the critically acclaimed 1798 and 1811 harvests as well. The book might have benefited from more detailed maps of the Médoc, but all in all, this is a scholarly effort that lays out the famed region as clearly as the classification—and at $60, the book costs significantly less than many of the wines produced by the chateaux. To buy the book or for more details, visit www.rizzoliusa.com.