CHEESE & WINE
A Guide to Selecting, Pairing, and Enjoying
by Janet Fletcher
(Chronicle Books, $25)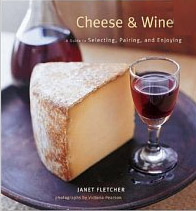 The pairing of wine and cheese seems completely natural. The properties of good cheese are as intricate as the properties of good wine, and the tasting experience for both relies heavily on flavor notes, texture, and personal preferences. However, it is notoriously difficult to match stinky, salty and powerful cheese flavors with the often delicate and nuanced notes of wine. Experienced food and wine writer Janet Fletcher hopes to simplify the situation with this eye-catching book.

Despite Fletcher's introductory declaration that the goal of pairings is to ensure that "the cheese or cheeses do not diminish our pleasure in the wine," she barely gives wine any page space, instead offering the reader enjoyable profiles of her chosen cheeses. In fact, if you had never heard of the often-recommended amontillado sherry (perhaps a Poe short story is all you've got to work with) or other lesser-known varietals (Gewürztraminer, Barsac, Verdejo), you would be hard pressed to make a successful wine selection at a local beverage warehouse with the information Fletcher provides.
If you are looking for a cheese primer, this book is a strong option. It has easy to understand language, without a strong dependence on foodie lingo. When Fletcher does lapse into unknown terms, she references a back-of-the-book glossary. "Cheese & Wine" is mostly divided by "Cheese Platter Themes," which can make the progression of the subject matter somewhat confusing. However, the photos by Victoria Pearson are mouthwatering, and practically worthy of their own coffee table book, and the adorable icons used to portray whether that page's cheese is cow, goat or sheep add a much needed, playful spirit.
Reviewed by Emily Steers
---

Visit our Bookstore


More Wine Books


Cocktail Books


Return to main Gifts page
| | |
| --- | --- |
| PES040308 | (Updated 09/08/08 SCV) |