THE HOUSES THAT WINE BUILT
Adventurous Wine Architecture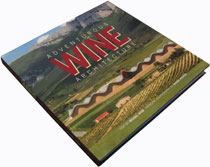 by Michael Webb
(Images Publishing, $38)
Reviewed by James Riswick
When people think of a stereotypical winery, they probably picture a quaint château nestled in the French countryside dripping with centuries of tradition. The swooping metal roofs of Frank Gehry probably don't jump into their minds. Yet, quality winemaking has expanded into new corners of the globe, and with these new frontiers has come a new trend of adventurous wine architecture that seeks to create a vineyard experience and reputation that greatly exceeds simply what's inside a corked bottle. This book exhibits some of the world's most striking, spectacular and peculiar wineries, bastions of modern architecture and their often breathtaking surroundings, vividly captured by the lens of photographer Erhard Pfeiffer.
Each winery is distinctly modern, but author Michael Webb breaks the book down into four sub-sections that highlight different trends. Expressive Forms are clearly the most avant-garde, and include Gehry's Marqués de Riscal in Spain, Bodegas Ysios featured on the book's cover and Austria's strange Loisium that resembles something assimilated by the Borg. Out of the Earth, as you might guess, presents wineries that blend harmoniously into the landscape. Napa's Dominus is constructed using gabian wire walls filled with small rocks, while the cellars and interior of Stag's Leap are elegant caves built into the earth. Monumental Presence wineries are distinctly different, like Argentina's Bodega Septima (which looks like an Aztec fortress) and Opus One—big and bold edifices that declare their, well, presence in the surrounding land and in the wine market. Rural Vernacular are designs that have a rough-and-tumble look about them and are vaguely retro, like Black Barn Vineyards in New Zealand. One aspect that is clearly noticeable is the complete absence of wineries from France, Germany and Portugal—countries that continue to rely strictly on tradition. In addition to New World regions like Australia, New Zealand, and North and South America, Spain is solidly represented as its wine industry continues to grow and prosper after emerging from decades of isolation and fascist oppression.
This book would make a perfect gift for the jet-setting wine lover, providing a great road map for their next global travel adventure. Architectural buffs will also get a thrill from the photos and illustrated blueprints, but you don't have to be an expert in either winemaking or building making to enjoy this fascinating trip through the world's most adventurous vineyards.
---