UNLEADED, PLEASE!
Ravenscroft Amplifier Collection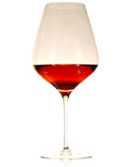 There can be quite a bit of pomp in and around the wine circles about traditions and practices. As well, the marketplace gives the wine consumer a plethora of tools and gadgets to help in their quest for perfection in enjoying the sacred beverage. Just like tennis and golf pros use specialized equipment, Ravenscroft delivers the wine pros the best possible glasses. We recently tried a Cabernet glass in the Ravenscroft Amplifier Collection and were very impressed.
To begin, the stemware's crystal is lead-free, eradicating any possible toxicity. The glass is so light that it feels virtual, leaving only the wine to express itself. But the shape is instrumental in enabling the wine to release all of its secrets. That is, a wine's distinct characteristics will be magnified, whether it exhibits a world-class bouquet or contaminants like Brettanomyces. In fact, if you were to taste a wine blind-folded, your experience with this glass would lead you to believe it's a completely different wine!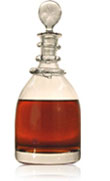 If you are serious about wine you will have a hard time going back to any other stemware. Each one of these European babies will set you back twenty dollars. Trust us, it is well worth it.
They also have a wonderful line of decanters, among them this Georgian version, which we love for its lightness and design. $36
Visit www.ravenscroftcrystal.com.