Mumm's the Word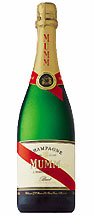 Mumm's the word, at least when it comes to Champagne. The celebrated French Champagne house recently embarked on a whirlwind tour, Paint the Town Rouge, to celebrate the 125th anniversary of its signature champagne, Cordon Rouge.
The Mumm Champagne house dates back to 1827, when three German brothers—Théophile, Jacobus and Philipp Mumm—and Friedrich Giesler, a Rhineland native, joined forces to create a Champagne that would reflect the best of what the region had to offer. The four entrepreneurs recruited the finest base wines they could find from area growers, since at the time few Champagne producers actually grew their own grapes. In 1875, Cordon Rouge was launched with its distinctive emblem, inspired by the French Legion of Honor. By 1882, Mumm was firmly established as a quality Champagne producer, and the company began building up its own vineyard holdings to ensure a consistent supply of premium-quality grapes.
Today more than 40 different crus provide grapes for Cordon Rouge, up to 25 percent of which are grand crus. Cordon Rouge is cellar aged for three years after fermentation—three times longer than the law requires for non-vintage Champagnes—in the house's 15 miles of limestone cellars and caves.
Paint the Town Rouge introduced Mumm's new Cordon Rouge packaging to its devoted audience. The familiar red sash is now set off by a sparkling and festive gold foil label, inscribed with an elegant new script in honor of 125 years of fine Champagne-making. The new design represents the first significant change in the label since the Champagne was first made available to U.S. consumers in 1877. According to CEO Jean-Marie Barillere, the design "reflects the quality of the product and the brand's prestige image."