Coppola & Kids

RCR

It's not an acronym for the Racing Club of Rutherford but a brand new wine label by the Niebaum-Coppola winemaking team: Roman Coppola Reserve. Precisely Roman Coppola and Scott McLeod.
"This wine starts with this extraordinary piece of land," says Roman Coppola (see below). "It was a great experience for me to work with Scott and learn what it takes to make a wine. I had a lot of curiosity and interest in the whole process. We're already working on the blend for the next vintage.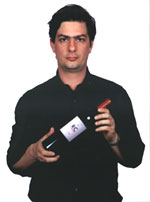 We had the pleasure to taste this highly allocated vino (only 220), which will initially only be available in the San Francisco, Los Angeles and New York metro areas. We are looking at a retail price of $52 for this well structured, robust character, full of flavors wine composed of 84 percent Merlot, 10 percent Petit Verdot and 6 percent Merlot.
This is the second in a series of wines heralding the kids of the famous Director and Vintner, the first being the Sofia Blanc de Blancs.