Wining and Dining Near the Vine
by John Mariani

It is easy enough to tour just about any wine country in the world—Bordeaux, Napa, Tuscany, Mendoza—and find splendid places to stay and dine. But it is a rarer thing to find fine restaurants attached to or run by top wineries.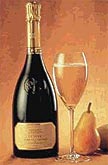 Top 10 Sparkling Wines
by Amy Reiley

What would the holiday season be without a Champagne toast? But the price of a toast-worthy Champagne is enough to make even the most generous host grumble a bah humbug. This year, why not turn to the world of sparkling wine? Check out our top picks!
Top 10 Spirits
by Chris Rubin

Wine may be best enjoyed with food, but there are times that call for just a real drink—from a shot to a good, stiff cocktail. Here is a list of spirits and fortified wines that all represent high quality and good value, whether for you or someone on your holiday list.

Top 10 Holiday Wines
by Louis Charles

The holiday season is a time to toast to family, friends, health and prosperity. This year, we've gathered vintages in all price ranges and compiled a list of wines worthy of any holiday celebration. Raise your glass and enjoy the season's cheer.
Holiday Cheers!
by Natalie MacLean

Our most memorable holiday celebrations were not the extravagant affairs with grand cru wines and caviar canapés. They were the get-togethers where the host had invested thought into small touches for our pleasure. If you're hosting a holiday soiree, here are some entertaining tips for a fabulous bash.