Napa Valley Bargain Wines
Va-Va-Value!
Does it seem as if there are simply too many wines at your local wine retailer, specialty outlet, grocery store and favorite website? Which ones to select? What region, varietal and price point? Price is always a consideration, and nobody wants to spend more money than necessary for any item, including wine. Narrowing the field down to Napa Valley Red Wines, we take a brief selection of bottlings that exhibit the region's typical character, deliver excellent price-to-quality value and will certainly make your friends and loved ones stand up and notice.
Napa Valley Bargain Wines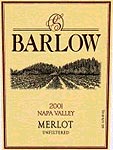 BARLOW
___________________________

2001 Merlot, $29
Merlot (crudely maligned in the hit movie, Sideways) makes the list with an entry by Barlow. This smooth Napa Merlot is perfect: the clean, approachable roundness is evident from the first diminutive taste. This wine brings memories of hot valley summer days, cool evenings, pleasant conversions and opening yet another bottle of Barlow. If you enjoy a good Merlot, you will assuredly appreciate this one. The 2001 Barlow can be enjoyed immediately, but will mellow even more over time, based on the firm tannin structure.

BEAULIEU VINEYARD (BV)
___________________________

2001 Rutherford Cabernet Sauvignon, $25
Here is a firm investment at an affordable price. Long on the tongue and smooth in the finish, this wine exhibits typical ruby reflections and slight black cherry/brambleberry aromas. Rutherford dust mineral tannins are alive and well, sparking renewed interest within this wine. Note the balanced oak. This wine drinks well, but could use a little time to sit and mature gracefully. Still, a fine value and the best of its breed.

CHARLES KRUG
___________________________

2001 Generations—Napa Valley Red Table Wine, $38

This serious wine is a magnificent chess game of flavors. Hearty intense cherry notes, dark plum and diverse oak tendencies (25 months) leave the drinker in wonderment at the winemaker's art. Combining 59 percent Cabernet Sauvignon with Merlot, Cabernet Franc, Petit Verdot and a morsel of Syrah, this wine is talkative, yet never verbose. This is a complex wine, more so than the average bottle of Cabernet Sauvignon. Bring out other wines for the relatives, but save Generations to share with your best, wine-appreciating friends. This $35 bottle is worth double the price.

CLIFF LEDE
___________________________

2002 Claret, $32
Here is a wine so full of flavor that somehow gets better and better as the minutes pass. Strong, mid-palate sensations combine with a mild, elegant finish. Unassuming, gentle and understated at $25, this wine rocks—and knows it, too, you can tell. Examine the fathomable clarity, and think back to why the English loved Clarets so. This blend of 70 percent Merlot, 28 percent Cabernet Sauvignon and 2 percent Cabernet Franc exemplifies the sensational Stag's Leap District terroir, but without the massive oak and "look at me" pretension. This is an excellent, worthy value. Cliff Lede's newly rebuilt Yountville winery, (formally S. Anderson) is also a fun stop for the uninitiated.

DUCKHORN VINEYARDS
___________________________
2001 Paradux, $43
This marvelous Duckhorn blend continues with the usual Mallard stamp motif, providing customers with an intriguing Zinfandel/Cabernet Sauvignon blend; the result is another crowd-pleasing winner. Sourcing fruit from various up-valley vineyards, Paradux has a tantalizing color, pours deliciously smooth and tops expectations. This wine is comforting to those who appreciate Duckhorn's strong, structured approach and powerful qualities. Yet Paradux is surely worth the price tag, costing far less than many comparable wines. This wine should age predictably for many years, but drinks well now. This Napa Valley duck gives plenty of bang for the buck.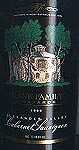 FRANK FAMILY VINEYARDS
___________________________

2001 Napa Valley Cabernet Sauvignon, $35
Ebullient fruit crafted with care and borne of strapping grapes. This Cabernet is what all New World Cabs vie to be: solid citizens, tall, wearing hats and pressed trousers. This wine opens delightfully with a playful roundness, slight aromas of blueberry and cherry and finishes strong, crossing the line first. Though the Frank Family Cabernet should age well, it's drinking like a champ already. You cannot possibly go wrong enjoying this fine wine—a firm value at this price.

GREEN TRUCK CELLARS
___________________________

2002 Napa Valley Pinot Noir, $35
Here is a local Napa Valley Pinot Noir that makes a statement and says, "See my autumn leaves, smell my barnyard oats, taste my green apples, white truffles and mint. I dare you." This wine delivers its characteristic Pinot Noir nose, but carries an inimitable easy body. Grown in the cool Green Island Vineyard region, in the American Canyon area of lower Napa Valley, this Pinot ranks with many of the finest from Burgundy and Oregon. Go ahead, try it and find out for yourself. True Pinot lovers will go gaga over this wine.

RAVENSWOOD
___________________________
2000 Napa Valley Zinfandel, $15
Here is one reason that Napa is known as the country's premier winegrowing region: Ravenswood Napa Valley Zinfandel. This wine combines Napa's polished raspberry-cedar character with a hint of French vanilla, giving this wine the delightful balance that comes with superior breeding. Pleasing bright, ripe plum flavors with fine tannin structure are followed by a lingering finish that tastes of raspberries, cloves, cardamom and vanilla. Enjoy this full-bodied, intense offering now, or age for seven years—either way it's a mighty (and we mean mighty) good wine.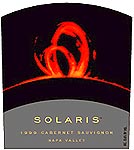 SOLARIS
___________________________

2001 Reserve Napa Valley Cabernet Sauvignon, $25

Feel the flare! Just released, this is only the second vintage for this company, but Solaris has already made quite an impact. Combining evocative packaging (a dramatic solar flare against a black backdrop) with Rutherford fine fruit and a strong commitment to quality, Solaris indeed is a wine to watch. But, of course, it's what's in the bottle that counts, and this wine is tasty! Solaris exhibits a warm, dry, inviting character, but without much fuss. This is Pamela Anderson with a tan—round, showy, a knockout—not all that much substance, but from the moment you put lips to glass, the wine cannot be surpassed. The fruit forward, yet gauzy finish makes this a wonderful food wine. At $25 this is an excellent value. Watch for Solaris to climb the charts!

WILLIAM HILL WINERY
___________________________
2001 Cabernet Sauvignon, $22
William Hill Winery wines focus on the cooler growing areas of Napa, which provide lengthened growing seasons. The moderate and stony soils of hillside Cabernet Sauvignon vineyards allow the grapes to ripen past the fruity flavors of warmer climates into the berry and spice range. The result is a full-bodied, fruit-driven wine with aromas of cassis, dark plum and blackberry. This is a rich wine with a polished texture and an earthy body. Try it with roasted prime rib in cracked pepper crust or alongside a tender lamb chop. Scrumptious!

Top 10 Value Wines


Read our 72-Hour Travel Guide to Napa Valley


Top 10 Value Champagnes


Top 10 Budget Champagnes


Value Merlots
| | |
| --- | --- |
| PBE | (Updated: 04/02/09 SV) |