Frank Family Vineyard's Tune
Music to Your Tastebuds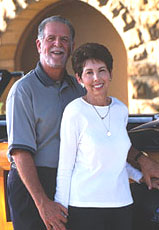 Reason to smile:
Rich and Connie Frank are enjoying the fruits of their labor of love
Voltaire's famous Candide goes out into the world to examine its wonders and at the end of his journey returns to his beloved homeland to reconnect with the French soil and plant tomato vines. Working on the land, enjoying its fruits and thus staying grounded seems to be part of every man's soul, at least in literature. It is a desire that Americans can well relate to. Here's the story of a man who left his successful career in the entertainment industry to plant not tomatoes but vines of a different fruit. Of course, as with every story, there is more to it than meets the eye. Meet Rich Frank.
Frank, co-owner of Frank Family Vineyards, has an impressive resume in Hollywood: former chairman of Walt Disney Television, and Telecommunications, head of Buena Vista, president of Walt Disney Studios, president of the Paramount Television Group of Paramount Pictures, president of the Academy of Television Arts and Sciences, chairman and CEO of Comcast and so forth. In audience terms that translates to success with such hits as "Golden Girls," "Cheers," "Entertainment Tonight," "The Lion King," "Aladdin" and numerous others.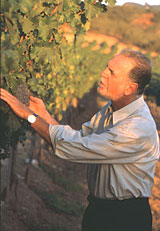 For the love of the vine...
In 1991 he decided to "cut" the script of his new life. The time was ripe to pursue his love for food and wine. He bought a second home in the wine country, on the Silverado Trail. The house came with a vineyard and, unsure of how to manage that project, Frank asked Koerner Rombauer of Rombauer Vineyards for his expert advice. That decision led a deep friendship and to his offering to buy sparkling wine legend's Hans Kornell's Kornell Champagne Cellars, a winery then stuck in bankruptcy. Frank partnered with Rombauer and began producing under the Frank-Rombauer label. Ten years later, in 2001, that project morphed into Frank Family Vineyards as we know it today, a production that creates still wines and sparklers à la méthode champenoise. Frank Family cut down from making a lot of varied sparkling wines (100,000 cases) to a lot less (5,000 cases) and to evolving towards reds. They also bought Napa Cellars and today Frank family distributes nationally. Of late, Sangiovese from the Rutherford hill house vineyard is garnering some good feedback. But the true star of the batch is the Winston Hill Cuvée with 495 cases produced. Here is an exclusive wine that any Hollywood exec (at $100 a bottle) should buy.
True to his background, Frank says: "To produce a good show, you need a good script, bringing that concept to the wine business, I think we have good grapes here, and a great winemaking team to boot."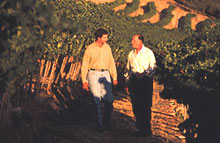 Rich and son Paul in the vineyard
That team includes winemaker Todd Graff. And, of course, Rombauer, whose great aunt Irma penned The Joy of Cooking. As recently as 2003, the grandfather of three, whose passions include collecting automobiles, couldn't resist his considerable knack in the entertainment field. He is Chairman of the Board of The Firm, one of Hollywood's top agencies whose roster includes Leonardo DiCaprio, Cameron Diaz and Benicio del Toro. Seems like the wine country lifestyle provides just the right grounding to once again reach for Hollywood's stars.
We shan't know whether Frank encountered as many obstacles as the famous Candid. What we do know is that Frank enjoys his life with one rugged foot firmly planted in the vineyards and one well-heeled shoe in Hollywood. His sons Paul and Darryl Frank have followed their father's food steps. Paul, who worked in the entertainment field as an agent and studio exec for more than 14 years, helped found NapaStyle, a multi-media lifestyle brand (TV, books, catalog, website) that highlights Wine Country living, while Darryl is the co-head of DreamWorks Television.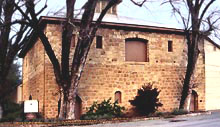 Historical stone built winery
Together with Connie, Frank's wife, the family leads winemaker dinners and visits restaurants for special evenings to share their story about their wine production.

The winery is housed in the historic Larkmead Winery, a national historical landmark dating to 1884 whose tasting room is adorned with music memorabilia from his days in the Entertainment business. Visitors can visit the tasting rooms or enjoy samples in the bucolic setting at picnic tables.
by Louis Charles
Visitor hours: Tasting room open daily, 10 a.m.-4 p.m. For more information contact Tasting Room Manager Dennis Zablovsky at 800-574-9463. www.frankfamilyvineyards.com