1998 Capo di Stato - Colli Trevigiani
Varietal/Style: Bordeaux Blend
Origin: Venegazzù di Volpago del Montello, Italy
Vintage: 1998
Winemaker: Count Loredan Gasparini
Rating: 13.5/20
Retail Price: n/a
Tasting Notes: This Bordeaux blend is composed of Cabernet Sauvignon (65%), Cabernet Franc (20%), Merlot (10%) and Malbech (5%) and comes from the grapes of the historic vineyard of the farm of Venegazzù (the so-called "Cento piante", with vines that are 50 years old) and partly of the vineyard "Falconera". It is worth mentioning that it was created by Count Loredan Gasparini for the official events of the city of Venice and dedicated to former President of the French Republic Charles De Gaulle. The label portraying a youth was created in 1967 by the artist Tono Zancanaro to express his admiration for the wine.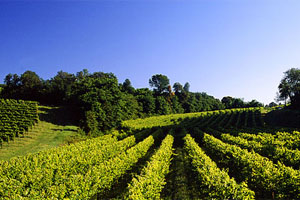 Profile: The Capo di Stato is the pride of the Azienda Agricola Conte Loredan Gasparini in the province of Treviso. The 80-hectar vineyard lies in Venegazzù di Volpago del Montello, at the foot of the hills bearing the same name, at the heart of the Marca Trevigiana. The area has a clayey soil very rich in iron and mineral components. The farm was founded in the 1950's by Count Piero Loredan, a direct heir of the Doge of Venice Leonardo Loredan (who chose the territory of "Vignigazzu" to take up residence in a gorgeous Palladian Villa). In 1973 the farm became property of its present owner and director Mr Giancarlo Palla. Since the beginning the founder decided to grow Cabernet Sauvignon, Cabernet Franc, Merlot and Malbec in the farm to produce high quality wines. His philosophy was (and still is at the basis of the company's activity) the respect for and the enhancement of the tie between the vine variety and territory.
Address:
Via Martignago Alto 24
Fraz. Venegazzú del Montello
I-31040 Volpago del Montello (TV), Italy
Phone: 39 0438 492250
Web site: www.venegazzu.com


other wines