Melange
Varietal/Style: 70 percent Grenache, 20 percent Syrah, 10 percent Mourvèdre
Origin: Paso Robles, CA
Vintage: 2000
Winemaker: Jeff Pipes
Rating: 13.5/20
Retail Price: $19
Tasting Notes: Dark, dark and dark is this highly extracted, deep-tannin juice. We smell more spice than fruit in the traditional Rhône blend, however, the dark berries are there. A medium- to full-bodied wine which will hold well against many spicy dishes. A tangy, long finish makes it a good buy. (Date tasted 08/24/02).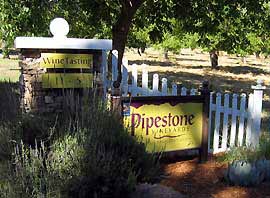 Profile: Give up your legal career in environmental law and start an organically oriented vineyard base with sustainable agriculture practices, laid out by the ancient rules of feng shui. That exactly what the friendly and environmentally correct husband-and-wife team of Jeff Pipes and Florence Wong has done. Six years later with eight acres, they strive to produce the delicious wines of the south of France in the Templeton Gap. Once nature has done its thing, everything is tightly controlled by Jeff and totally hand crafted. With a total case production of 1,600 cases and 400 for the Mélange, you get a "garagiste" product in an estate package.
Address:
2040 Niderer Road
City: Paso Robles, CA
Phone: 805-227-6385
Website: www.pipestonevineyards.com
E-mail: jwpipes@tcsn.net