TV Syrah, French Camp Vineyard
Varietal/Style: Syrah
Origin: Paso Robles
Vintage: 1997
Winemaker: Stephen Ross Dooley
Rating: 10/20
Retail Price: $22
Tasting Notes:
The winery's first commercial release, this highly extracted Syrah exhibits the peppery character of Rhône wines. An addition of 6% Viognier lends a lavender sweetness to the nose while the light body exhibits mild, berry flavors. The wine finishes with a slight astringency and a lingering taste of white pepper. (Date tasted: 03/03/00)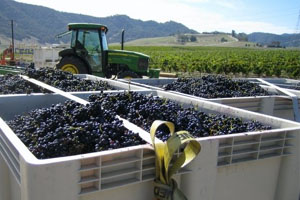 Profile: When husband and wife team Sandy Garber and Ralph Meyer settled in Southern California's Topanga Canyon, their sights were not set on the vineyard way of life. As they looked around the rolling hills of their quiet surroundings, better known as a Hollywood hideaway than an agricultural hotbed, they began to see their home as Los Angeles County's answer to the Southern Rhône Valley. So began the planting, first 90 vines on their canyon property and then expanding into a grower's co-op with friends and neighbors. However, these grapes were reserved for home winemaking and entertaining, while Garber and Meyer extended their enterprise into the Central Coast. Launching a commercial venture under the TV label, they combined their experience in home winemaking with fine, Paso Robles area fruit, to produce distinctly Californian styles of Rhône-inspired wines.
Address
PO Box 1438
City: Topanga, CA USA
Phone: 310-455-1287
Web site: www.tvwinery.com
E-mail: sandy@tvwinery.com

other wines