Essence Tasting
J Vineyards & Winery
"At J, we've always believed that wine and food should be enjoyed together and continually strive to stay ahead of the curve by providing each guest a unique wine country experience through signature tastings at our Tasting Bar, the Bubble Room and our seasonal outdoor Terrace. With our new Essence Tasting, guests will have an unparalleled experience that takes them from the vineyard to the table, where all of their senses will be aroused."—Judy Jordan, owner of J Vineyards & Winery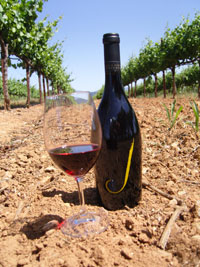 Once a week, the first winery in Sonoma, California to pair food and wines serves up a special full-day program they call Essence Tasting. First launched in August 2007, it aims to provide a world-class pairing experience. "Offering guests a refined, elegant and unique experience at J's is of utmost importance to us. The Essence Tasting is a testament of our dedications to upholding the highest standards for hospitality in the Russian River Valley wine country," said Kevin Burton, the winery's Retail Operations Director.
The tasting begins at the J Vineyards & Winery Visitor Center with a tour of Nicole's Vineyard, one of J's ten estate vineyards. Guests are given a glass of J's Nicole's Vineyard Pinot Noir to sip on while a wine specialist discusses the qualities of the Russian River Valley, as well as why J focuses on this cool-climate region for their production of Vintage Brut, Chardonnay, Pinot Gris and Pinot Noir. Afterwards, guests are taken into the Bubble Room, where J executive chef Mark Caldwell serves up a seven-course tasting menu paired with J's wines.
The Essence Tasting is offered only on Thursdays from 11 a.m. to 3 p.m., with a limit of eight guests per week. The cost is $200 per person; reservations must be made at least two weeks in advance at 707-431-5430. Menus vary depending on season.
Essence Tasting
Summer Menu
Washington Kumamoto Oyster and Osetra Caviar

Paired with J Vintage Brut
Spring Artichoke Bisque with a Parmesan Crisp

Paired with J Pinot Gris, Russian River Valley
Carmelized Day Boat Scallop, Frisée and Micro Greens in an Orange Saffron Reduction

Paired with J Chardonnay, Russian River Valley
J Rosé Sorbet

Palate Cleanser
Porcini Mushroom Crusted Noisette of Lamb, Baby Leek-Yukon Gold Potato Purée, Asparagus Tips in a Pinot Noir Reduction

Paired with J Pinot Noir, Robert Thomas Vineyard and J Pinot Noir, Nicole's Vineyard
Global Artisan Cheese Plate

Paired with J Chardonnay, Russian River Valley
Pistachio Ice Cream, Skipstone Extra Virgin Olive Oil, Fleur de Sel

Paired with J Brut Rosé, J Ratafia
| | |
| --- | --- |
| PKR121108 | (Updated: 11/23/09 CT) |