Champagne Nicolas Feuillatte — One Fo(u)r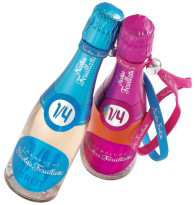 Don't be surprised if the next one of these little bottles you see is attached to the wrist of Paris Hilton. With their cute size, trendy club-friendly design and oh-so-hot pink Rosé version, the new Champagne Nicolas Feuillatte one quarter bottles are sure to be a big hit in nightclubs from Los Angeles to New York.
Already the quarter-bottle sales leader in France, the One Fo(u)rs have become popular because of their versatile use at parties, nightclubs and other fashionable get-togethers. Also, with their handy portable strap, partygoers never again have to worry about dropping their bottle of Champagne.
The blue bottle Brut Non-Vintage One Fo(u)r is described as elegant and balanced with subtle floral and fruity notes. The pink bottle Brut Rosé bubbles with bright strawberries and spice on the nose and palate.
Suggested Price: $10 Brut Non-Vintage, $13 Brut Rosé
For more information, visit www.feuillatte.com
What foods should I serve with Sparkling wines?
Sparkling wines we've tasted

Return to Sparkling Wines
| | |
| --- | --- |
| P042406 | (Updated: 04/14/08 SCV) |