THE ACCIDENTAL CONNOISSEUR
An Irreverent Journey Through the Wine World
By Lawrence Osborne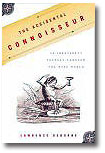 Lawrence Osborne's irreverent galumph through the world of wine is laugh-out-loud funny. In fact, we were tempted to dub him the David Sedaris of wine writing. Now that's a pretty serious compliment. What makes this book so compelling? Even though author Osborne grew up in Britain (in fact, his first memory of wine "is on the altar, and it was always a game to see how much of the sacrament you would gulp down when it was your turn to taste our lord's hemoglobin") his wit isn't really Brit-dry. It's a bit slapstick, a tad crazy and at the same time really subtle (you must catch the obvious and/or illusive cultural allusions and philosophical ruminations). It's like this: You can see the author sweat big buckets at lunch with Robert Mondavi or at his Château Lafite stint... you really empathize with his layman / everyman (or woman's) approach to experiencing wine—the clownish antithesis of the aloof wine expert. And why? Because in every wine snob, there's a tiny seed of doubt and it says: "How do I know that my own tastes are authentic? Here the issue becomes a philosophical one. Taste defines one's personality. Acquiring taste" Osborne writes, "is a talent for living life." The other thing that works in his favor is this: You can read between the lines. He may play dumb but this enfant (terrible) has been around the block (from the "pastoral" romance of Tuscany to Paris via New York and everywhere in between).
He does goes on a mission, roaming multimillion-dollar wineries and small garages, humble vineyards and Renaissance palaces in a quest for well, what exactly? The answer to the question what defines taste? It doesn't matter. This book is carried on Osborne's acerbic humor alone. He sees the absurd in the mundane. And it's a hilarious thing to behold. Winespeak or not, this book will cause you to hyperventilate but for a different reason.