Paso Robles Westside Grand Crew
THIS ORGANIZATION NO LONGER EXISTS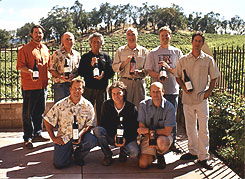 The nine "Crew" members
The vineyards on the west side* of the Paso Robles wine appellation offer a unique terroir dating to the latter part of the Cretaceous period seventy million years ago. Its unique soils and ideal microclimates create a terroir that is the envy of vintners throughout the world.
The nine prestigious family wine estates on the west side of the Paso Robles wine appellation that share the rugged hillside terrain, the limestone-clay soils, and the warm days and cool nights that are characteristic of the area, have teamed up to form a marketing coalition to showcase their fine wines.
The Paso Robles Westside Grand Crew consists of Adelaida Cellars, Austin Hope, Dunning Vineyards, Justin Vineyards & Winery, L'Aventure, Peachy Canyon Winery, Saxum, Tablas Creek Vineyards and Windward Vineyard.

"Although their grape varieties range from those of Burgundy, Bordeaux and the Rhone valley to the typically American Zinfandel, their winemaking philosophies are strikingly similar. All are proponents of the philosophy that fine wines are made first and foremost in the vineyard. They believe that great wines can only come from great grapes, and that the art of winemaking is founded on starting out with the very best grapes and bringing their juice through fermentation as naturally as possible. Within the appellation, each of the Grand Crew wineries has a specific terroir (climate, soils, and viticulture) that expresses itself in the wines," says Archie McLaren, founder and executive director of the renowned KCBX Central Coast Wine Classic.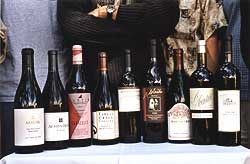 The luxury cuvées
Initially, the Crew's activities will be symposia around the country such as their recent first formal Terroir Symposium at the Wine Classic.
Each winery will present a flagship estate red wine. For activities and additional info contact Mr. MacLaren at 805-544-1285 or email archie@slonet.org.

*The west side of the Paso Robles wine appellation refers to the west side of Highway 101 in Northern San Luis Obispo County, CA, east of the Santa Lucia Mountain Range and Hearst Castle at San Simeon.
More Features