WINES BY RANDAL CAPAROSO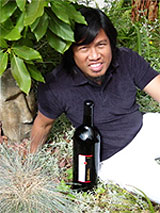 Randal Caparoso may be familiar to wine buffs across the country as the longtime, multi-award winning wine director and founding partner of the Roy's restaurant group (from 1988 to 2001). But after 23 years of sommelier work, he has embarked on his own wine label project called Caparoso Wines. Randal has also written a book called Wining Boy, detailing his unique perspective on wine and food, and incorporating many of the wine columns he has written for The Honolulu Advertiser since 1981.
If you'd like to contact him in person, he can be reached by e-mail at randycaparoso@earthlink.net. If you'd like to learn about his wines, visit the Wine Lovers Page.
Read his articles:

The Acid Test — Sauvignon Blanc

Everybody Loves Chicken: What to Pair with Your Favorite Chicken Dishes

The Rise of Fusion Foods and Wines

Reconsidering Wine with Sushi

Great Values: Dreams of Velvety Reds

American Pinot Noirs at a Crossroads



The Lowdown on Lodi

Walla Walla Wine Wallop



Riesling Rediscovered

A Plot as Thick as Zinfandel

A Few of My Favorite Pinks

Reconsidering the Oyster

What Wine With Sushi?

California Zinfandel: Autumn in a Glass

The Once & Future Pinot Gris

Holiday Wine Buying for Tough Cookies

Classic Wines for Everyday Prices

Wine for a Song

Pinot Noir: The Ultimate Food Wine?

Wine, Food and Redefining Cool

Napa Valley: A Legacy of Greatness

Exciting, New, Chilled Sakés

French Longevity and Wine

The Summer Side of Wine

Pairing with Asian Foods

Wine and Umami

The Beef is Back!

The Great Winemakers of Today
(Updated: 09/10/07 AK)