A Few of My Favorite Pinks
by Randal Caparoso

Pink Values for Summer


Outdoor Dining Picks


Great Wines for Summer Brunch


Summer Wine Selections by Sommeliers


Ideal Wines for the Sunny Days
Hot weather is always when it is most "okay" to get into pinks; although it can't be wrong to "think pink" in the budding spring season or even the dead of winter. Selections of good pink wines may not be the most plentiful in retail stores—you usually have to hunt for them somewhere in an ill-lit corner—but there is a surprising number of producers who have made high quality pink wines something of a yearly fetish.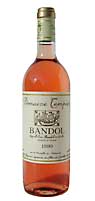 What a great habit to have. Why? Because pink wines taste great by themselves, and are even better with food—from weenies on toothpicks to never-ending Babette-like feasts. The following are my favorites, which I suggest with one caveat: never, never buy a bottle that is over two years old. For pink wines, dry or sweet, it's always the-fresher-the-better!
Rosé di Regaleali (Sicily)
The world owes Leonardo LoCascio of Winebow, an outstanding portfolio of Italian imports, for bringing this perennial winner to America. Made from indigenous Sicilian grapes, this is always a completely dry Rosé-colored wine, and its juicy, fleshy, mouth-watering flavors allow it to cross all kinds of food barriers. Red BBQ chicken is a no-brainer; so is meatloaf in an herby, mushroomy or tomato-laced gravy. Wok-charring some crisp vegetables and fluffy white rice tonight? What better wine for an instant meal than an instantaneously fresh pop of a Regaleali!
Charles Melton, Barossa Valley "Rosé of Virginia" Grenache (Australia)
My first taste of this seriously bone dry and full structured pink wine was in one of L.A. star chef Joachim Splichal's restaurants—matched with foie gras with rhubarb and strawberries! With fireworks, drums, and entire symphonies going off in my head, the wine's luscious, cherry bright fruitiness made this powerful dish even richer and more decadent. How many Rosés can do that? Every year, the Charles Melton Rosé of Virginia is as rich and full as a pink wine gets. Therefore I suspect that it could do just as well with grilled fish with chutney, squab with figs, duck with plum sauce, or any dish that combines meats and natural fruits.
De Loach, White Zinfandel (California)
This has been the class of California White Zins as far as most people can remember. Although slightly sweet, this pale pink rendition positively brims with fruit; so much that it would almost seem naked with out some fresh, natural sweetness. While terrific with things like hibachi-grilled salmon marinated in ponzu, it makes just as wonderful an antidote for chili-spiced BBQ meats.
Santino, "White Harvest" Zinfandel (California)
This old favorite, and super value, is made in a lighter, low alcohol (almost Germanic), and notably sweeter style than the De Loach, and is always dripping with lush, watermelon-y flavors. Ever wonder what to drink with super hot, sticky, vinegary, tomatoey baby back ribs? Here it is.
McDowell Valley, Mendocino Grenache Rosé (California)
There tends to be more of a strawberry fruitiness in Grenache based pinks; and to my knowledge, McDowell Valley's has been the smoothest and freshest made in California. This is, however, a completely dry style of Rosé; its soft fruitiness enhanced by fine, leafy green nuances. Great by itself, but dynamite with fish and rice seasoned with everything from Japanese furikake (chopped seaweed and sesame seed seasonings) to pickled ginger, ume (sour plums), soy, and sesame seeds.
Robert Sinskey, Carneros Vin Gris of Pinot Noir (Napa Valley, California)
Not much of this comes out each spring, but this is as refined as a pink wine gets. Very pale in color, bone dry, lithe, delicate, and bursting with fragrant, red fruit with Rosé hip tea-like suggestions—as a Gen Xer might put it, like Gwyneth Paltrow in lace on a freshly fallen, silent shroud of snow—this is not something you have to think twice about with summer pastas in green herby marinara, or just cold shrimp with sweet-spicy cocktail sauces.

Tavel Rosé, Chateau de Trinquevedel (Rhone Valley, France)
This is the richest French Rosé I know; firmly dry, yet effusively fruity, giving deep, full, lip-smacking flavors just hinting at wet stones and green leafy herbs. Wines like this easily handle grilled chicken, roast turkey, squab, pigeon, and any game bird, especially with generous sides of squash and root vegetables.
Bandol Rosé, Domaine Tempier (Provence, France)
The eternal favorite of Kermit Lynch, the respected Berkeley wine merchant, and produced by the Peyraud family, who has inspired legions of American gastronomes like Richard Olney and Alice Waters. But this is pink wine, not the stuff of royalty. What you will always find in Domaine Tempier's Rosé is something remarkably fresh, fluid, bone dry yet forwardly fruity—the essence of miniature sweet strawberries rolling across the tongue—finishing with a soft, stony smoothness. If you think Provence when you pop one —ravioli and ragoût, salt cod (or brandade) and anchovy, pesto and aïoli, ratatouille and bouillabaisse, chicken with 40 cloves of garlic, etc.— you really can't go wrong. In a pinch, Château de Pibarnon also makes an excellent Bandol Rosé—even dryer and firmer than the Domaine Tempier, but no less fulfilling.