The Summer Side of Wine
by Randal Caparoso and Jane Faris
Was it Horace who said, "thirst comes with summer?" Along with thirst comes a bevy of foods associated with pools, patios and starry nights on a deck. Summer brings the smoky smells of barbecued chicken and sweet, buttery ears of corn, potato salad studded with crunchy celery or sweet-hot peppers, peel-and-eat shrimp, vegetables with ranch or blue cheese dips, and even plump, oily, grill-slashed Polish dogs waiting to hit the beds of white buns with ketchup and mustard. Throw in some muscle-bound and leggy models, and you've got yourself a beer commercial. Maybe that's the problem many people have with fine wine—it doesn't quite fit in with the fun and foods associated with summer. This is not necessarily the case.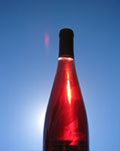 A buttery-textured, lusciously apple-like, yet perfectly dry California Chardonnay that's been aged in slightly smoky French oak barrels goes considerably further than a beer towards complementing rock-salted chicken inundated with smoke from the grill. Another example is grilled chicken slathered with a vinegary sharp, sweet, mildly spiced red barbecue sauce…what beer can provide the easy, natural fruit tartness and sweetness to balance out the tingling sensations of the marinade, which are found in almost every good Riesling from Germany's Rhine or Moselle River, or from California or Washington state?
Surely it wasn't beer that Horace, and the early Greeks and Romans, drank to quench their summer thirst, but a variety of wines entailing the full spectrum of tastes given by the grape. Wine has the acidity to freshen the palate, sugars to balance salty or spicy food sensations, tannins (in the case of red wines) to help digest meat fats, and just enough alcohol to give a sense of body without the heat or headiness associated with spirits.
So what are the ideal wines of summer? The wines with the highest percent chance of matching barbecued meats and other summer foods are those that are light on their feet, fresh and breezily scented, full of zip and yet oh-so-easy to drink. The following is a short list of all-time favorites recommended with one caveat: never buy any vintages that are more than two years old (a 1999 vintage in 2002, for instance, would be too old). Summery wines are, by definition, eternally fresh and youthful!

Zardetto, Prosecco Brut (Italy; $9-$12)—This is a Northern Italian sparkling white wine that is not an Asti Spumante, but something dry and clean as a whistle. The fragrance is subtle—a rising, dough-like yeastiness mingling with citrusy scents, hinting at strawberry. The best thing to do with a good Prosecco like Zardetto's may be to drop in some sliced strawberries, or better yet fresh peaches or a dollop of peach schnapps, and drink it like a breakfast of champions. Then again, a box of sushi or sashimi, lomi lomi or ceviche, and any manner of pickled or salted fish and vegetables would also do just fine with this fruity, lemony-edge sparkler.

Kris, Pinot Grigio (Italy; $9-$12)—A flash of mineral, steely dryness, citrusy freshness, and exuberant perfumes of pear, lavender and licorice: there is almost no better all-purpose white wine than an Italian Pinot Grigio, and Kris is as good as it gets. It is its pervasive minerality that allows it to handle seemingly everything that swims, from a really good tuna sandwich to a slab of tuna or swordfish charred on a grill and lavished with fruity, cilantro-laced salsas, lime butters, soy vinaigrettes or peppery ponzus.

Murphy-Goode, Alexander Valley Fume Blanc (Alexander Valley, Sonoma; $9-$12)— Year-in, year-out, this winery produces the quintessential California Sauvignon (or "Fume") Blanc-light and snappy, dry as a bone, with a mouthwatering, grapefruity zest underpinning a fresh scent of tropical fruitiness (such as mango and passionfruit). Need I say more? Pass the raw oysters, the clams and mussels. Don't worry about what Tabasco ketchups or vinegary mignonettes will do to this wine. Fry 'em with bacon or bake 'em with béchamel…the Murphy-Good Fume may be easy, but it's solid enough to freshen the palate after every bite, which is exactly what a summery wine should do.

Bonny Doon, "Pacific Rim" Riesling ($8-$11)—This is Santa Cruz-crazy Randall Grahm's attempt to make the Riesling grape palatable to the masses: pretty much dry and palate bracing, but with an incisive, flowery fruitiness and a whisper of sweetness. Even the most hardened dry-wine lovers, after all, appreciate the flavor of fruit in their wines just as they appreciate foods laced with sugar, like duck in orange sauce, pork and apples, dim sum in sweet-sour dips, or salads in sweet balsamic vinaigrettes. Which is precisely the reasoning behind the Pacific Rim Riesling-something reasonable, something fresh, and something able to cross most gastro-cultural boundaries. Even Grahm's sourcing is global: the wine is a blend of California, Washington state and Moselle River Rieslings. One world, one wine...why not?

Rose di Regaleali (Italy; $8-$11)—Made from indigenous Sicilian grapes, this is always a completely dry, rosy-pink wine, and its fleshy, mouth-watering flavors allow it to cross all kinds of food barriers. Red barbecued chicken is a no-brainer; so is meatloaf in an herby, mushroomy or tomato-laced gravy. Wok-charring some crisp vegetables with ribbons of meat and fluffy white rice tonight? There's no better wine for an instant meal than an instantaneously fresh Regaleali!

Charles Melton, Barossa Valley "Rosé of Virginia" Grenache (Australia; $10-$13)—This wine's luscious, cherry-bright fruitiness makes powerful dishes even richer and more decadent. How many rosés can do that? Every year the Charles Melton Rosé of Virginia is as rich and full as a pink wine gets. This is one wine that I suspect would do just as well with foie gras and rhubarb as with grilled fish with fruit salsas, lamb kebabs with fruit chutneys, squab with figs, duck with plum sauce, or any dish that combines meats and natural fruits.

De Loach, White Zinfandel (California; $7-$10)—This has been the class of this fruity style of Zinfandel as far as anyone can remember. Although slightly sweet, this pale pink rendition positively brims with fruit; so much that it would almost seem naked without some fresh, natural sweetness. While terrific with things like hibachi-grilled salmon served with teriyaki and pickled ginger, it makes just as wonderful an antidote for chili-spiked, barbecued meats and irresistibly vinegary, sweet-spicy baby-back ribs.

Bandol Rosé, Domaine Tempier (Provence, France; $14-$19)—This eternal favorite of respected Berkeley wine merchant Kermit Lynch is produced by the Peyrauds, the family that has inspired legions of American gastronomes like Richard Olney and Alice Waters. But this is pink wine, not the stuff of royalty. What you will always find in Domaine Tempier's rosé is something remarkably fresh, fluid, bone-dry yet forwardly fruity—the essence of strawberries rolling across the tongue—finishing with a soft, stony smoothness. If you think "Mediterranean" as you uncork a bottle you really can't go wrong…ravioli and ragout, salt cod (brandade) and anchovy, pesto and aioli, ratatouille and bouillabaisse, chicken with 40 cloves of garlic, olives and tapenade, or leafy green herbs chopped with vine ripened tomatoes.

"Nivole" Moscato d'Asti, Michele Chiarlo (Italy; $8-$11/half bottle)—This is a sweet white wine that is good enough for dessert; try almond-flavored whipping cream with strawberry shortcake, peach pies, pear tatins or pineapple upside-downs. Or treat it as a basic, early morning refresher, if you happen to have something of a sweet tooth. What better way to greet a shimmering day than with a feathery light wine (only 7 percent alcohol) exuding the scents of lychee and rose petals?