Music to Your Tastebuds
by Louis Charles
From the bright lights of Hollywood to the glowing Napa night sky Richard Frank is still spotting stars. Between successful careers in the industry, he engaged his family in an adventure in the wine industry. Here we sing praises of his wine achievements.

Sommelier Summer Wine Picks
by alumni of the Court of Master Sommeliers
Leave it to the masters like Richard Betts to deliver the perfect option to refresh you with vino on your summer evening. Expert noses and talents have tasted through thousands of wines and know what they are talking about. Check out what they recommend this year.

What Goes Around, Comes Around At Trader Joe's
by Paul Franson
Trader Joe's "Two Buck Chuck" may have grabbed lots of headlines and case sales, but Americans remain a beer-and-spirits-drinking nation, just as they were nearly 40 years ago when the Original Trader Joe, Joe Coloumbe, started his wine-centric chain. Coloumbe muses on global warming, college graduates and Argentina's future winemaker, Carlos Shaw.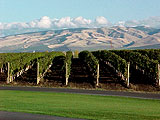 Walla Walla Wine Wallop
by Randal Caparoso
Think Walla Walla only graces the name of sweet onions? Think again! Wine explorer Randal Caparoso travels the long and winding road—he even skipped the Oregon Pinot Noirs along the way—to his favorite new wine and history goldmine in Washington State.