December, 2003

Chandon Introduces New Red Sparkler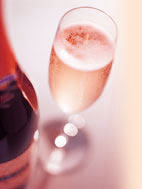 Just in time for the sparkling season, Chandon launches Sparkling Red. Rarely seen in the U.S., sparkling red wines have a long tradition in the Loire Valley, Germany, and Australia.
"Take the grace and complexity of Pinot Noir, blend in the zesty characteristics of California Zinfandel, and marry this unusual blend with the fun and vitality of a sparkling wine. It's sure to please wine lovers with a sense of discovery and it definitely shouts 'it's party time'," says winemaker Wayne Donaldson.
With this wine, Donaldson continues to launch innovative new sparkling styles, having released Chandon Riche, a unique extra-dry style, last year. As with Chandon Riche, Donaldson first explored a sparkling red style in Australia where he was Domaine Chandon's winemaker for 11 years. There, he crafted a sparkling red blend of Pinot Noir and Shiraz.
Unlike most sparkling wines, the cuvée for Chandon Sparkling Red begins with Pinot Noir and Zinfandel base wines that have been fermented on the skins, providing the flavor and body of a still wine with the refreshing characteristics of a sparkling. The wine has rich and concentrated flavors of plum, cranberry, and black cherry with hints of allspice and toffee.

For the adventurous in wine and food pairing, Donaldson remarks, "I'm crazy about this wine with my mother's roast turkey, a honey glazed smoked ham, or minced-meat pie."
A total of 218 cases of Chandon Sparkling Red were produced and it retails for $19. Please, visit www.chandon.com.
_____________________________________________
December, 2003
Stag's Leap Wine Cellars Goes Greek with Artemis

2001 ARTEMIS Cabernet Sauvignon

Don't worry, they are not wearing togas in the cellar. However, Warren and crew christened 30,000 cases of combo juice from estate and purchased programs with the name Artemis, the greek goddess of the moon, hunt, and known to be the protector of the stag. The good news is that you get some declassified FAY vineyard (20%) and some S.L.V. (10%) barrels for a total of 30% estate fruit and 70% contract. Those grape contracts are representative of Napa's multi-faceted characteristics. For good measure and Bordeaux tradition the winemaking team added some Merlot (8%) and Petit Verdot (2%). This is fun and sexy wine, too, due to its many layers that deliver an array of floral and fruit flavors. We tasted a delicate and soft, possibly feminine Cab—and definitely with its complexity. The package with an embossed logo is quite distinctive and would certainly tempt Bacchus. Since the notorious Paris tasting, Warren Winiarski [winemaker's son in Polish] has printed his name on the international map of quality winemakers. "We use the three G's method here: Grape, Ground and the Guy," says Warren amusingly. He proceeds: "We use just the right amount [of quality components]: not too much not too little." This "cuvée" won't disappoint; it's rather drinkable now with a peak in five to seven years. So, if you are prepared to spend $40 to $45, give it a try. Bargain hunters and huntresses, this is as close as you are going to get to the FAY, S.L.V. and CASK 23 like. Call 707-944-2020, or visit www.cask23.com.
_____________________________________________
October 1, 2003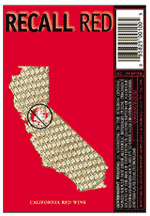 The Other "Whine" of the Week
2003 Recall Red
Milano Family Winery has released a new wine to commemorate California's recall election. Milano owner and winemaker Deanna Starr says the blend contains "as many wines as there are serious candidates in the election, namely six: Zinfandel, Sauvignon, Cabernet, Merlot, Petite Verdot and Petite Syrah." The Recall Red is medium bodied with nice fruit on the palate and a lot of Merlot flavor.
The Recall Red is available for a limited time and in limited quantities for $8.99 each. If you want to get some to toast the occasion you better hurry: Locals have been buying it up like crazy. The Milano Family Winery is located in an original, old Hop Kiln, near the Russian River just south of the town of Hopland in Southern Mendocino County. Call 707-744-1396, or visit www.milanowinery.com.
_____________________________________________
September 12, 2003
Paso Robles Westside Grand Crew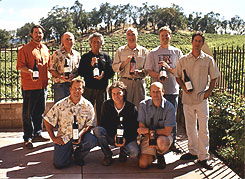 The nine "Crew" members
The vineyards on the west side* of the Paso Robles wine appellation offer a unique terroir dating to the latter part of the Cretaceous period seventy million years ago. Its unique soils and ideal microclimates create a terroir that is the envy of vintners throughout the world.
The nine prestigious family wine estates on the west side of the Paso Robles wine appellation that share the rugged hillside terrain, the limestone-clay soils, and the warm days and cool nights that are characteristic of the area, have teamed up to form a marketing coalition to showcase their fine wines.
The Paso Robles Westside Grand Crew consists of Adelaida Cellars, Austin Hope, Dunning Vineyards, Justin Vineyards & Winery, L'Aventure, Peachy Canyon Winery, Saxum, Tablas Creek Vineyards and Windward Vineyard.

"Although their grape varieties range from those of Burgundy, Bordeaux and the Rhone valley to the typically American Zinfandel, their winemaking philosophies are strikingly similar. All are proponents of the philosophy that fine wines are made first and foremost in the vineyard. They believe that great wines can only come from great grapes, and that the art of winemaking is founded on starting out with the very best grapes and bringing their juice through fermentation as naturally as possible. Within the appellation, each of the Grand Crew wineries has a specific terroir (climate, soils, and viticulture) that expresses itself in the wines," says Archie McLaren, founder and executive director of the renowned KCBX Central Coast Wine Classic.

Initially, the Crew's activities will be symposia around the country such as their recent first formal Terroir Symposium at the Wine Classic.
Each winery will present a flagship estate red wine. For activities and additional info contact Mr. MacLaren at 805-544-1285 or email archie@slonet.org.

*The west side of the Paso Robles wine appellation refers to the west side of Highway 101 in Northern San Luis Obispo County, CA, east of the Santa Lucia Mountain Range and Hearst Castle at San Simeon.
_____________________________________________
September 5, 2003
Rodney Strong Reaches for the Sun

Rodney Strong Vineyards are about to install the largest winery solar electric system in the world of wine. The winery, located in Healdsburg, CA will commence with installation in early October of 2003 and the project is scheduled to be complete before the end of the year.
Once installed on the winery's 100,000 square foot barrelhouse, the solar system will generate 766 kilowatts of power. During full days of sun, the system will be capable of supporting a significant portion of all the winery's power needs.
Over the 25-year life of the system, the solar generated electricity will reduce emissions of carbon dioxide by 8,700 tons. The emissions reductions are equivalent to planting almost 2,500 acres of trees, removing 1,700 cars from the road or not driving nearly 22 million miles on California's roadways (equivalent to 45 trips to the moon and back)! In addition, the solar system will generate enough electricity during the daytime to power almost 800 homes.
Tom Klein, winery CEO explains, "Solar electrical systems have never been more suitable to our industry. The combination of solar technology improvements, along with customary flat surfaced winery storage areas and their sunny locations, have made renewable energy more commercially viable."
The Klein family, a century-old California farming family, has owned Rodney Strong Vineyards for 13 years. In that time, they have made a significant investment to build what has become a Sonoma County franchise, by producing wine only from Sonoma county, by investing in over 1,000 acres of vineyard land and now by taking a major step to protect the quality of life in the region.
_____________________________________________
August 29, 2003

Caparoso Releases First White: 2002 Caparoso Riesling Pfalz
(Deidesheimer Leinhohle Kabinett)

Caparoso has released its first white. The 2002 Caparoso Riesling Pfalz epitomizes what Caparoso Wines is all about: easy, fresh, yet powerfully aromatic wines of absolute food versatility (especially today's intense cuisines).
The authentic German style Riesling is sourced from the Leinhohle vineyards on the hillsides outside the town of Deidesheim, in the classic Rhine River region known as the Pfalz. Leinhohle grown Rieslings typically combine an exotic, almost pineapple-like fruitiness with a serious minerality that rolls and flows across the palate.
Picked at Kabinett level and finished with 22 grams of residual sugar, it is dry enough to appeal to contemporary tastes, yet with just a whisper of sweetness to keep it from being overly tart. But in the end, it is the Leinhole itself that speaks; expressing the classic German qualities of crispness and delicacy, with incredible clarity of Riesling perfume.

The recommended pricing is about $18 in retail and $35 in restaurants.
_____________________________________________
August 22, 2003
French Wine Sales Down, Spanish Toast Success

Anti-French sentiment in the United States shows no signs of slowing down. The sale of products from France is continuing to slump with wine sales particularly badly hit. While Americans these days spend more on wine overall, French wine sales have lost dramatically from 2002, reports the Wine Spectator citing the Information Resources Inc.: "Between June 15 and July 13, American wine drinkers purchased 20.6 percent less in case volume and 24.2 percent less in dollar value when compared with the same four-week period a year ago."
Reuters, at the same time, reports that Spain is celebrating a success in the U.S. wine market with Spanish wine sales up by 20.5 percent in the first half from a year earlier. Reuters quotes Rich Cartiere, editor and publisher of Wine Market Report in Calistoga as saying: "Spanish and Australian importers are the most aggressive in telling retailers they're the best alternative to French wine." How aggressive shows a recent Spanish ad in The Wall Street Journal "describing Spain—which, unlike France, backed the U.S.-led war in Iraq—as "A friend from Europe" with fine wine for sale."
_____________________________________________
Kendall-Jackson Opens Tasting Room

Kendall-Jackson has opened its tasting room on the town square of Healdsburg this past weekend. Situated on the charming tree- and boutique-lined Healdsburg Plaza, the new Kendall-Jackson tasting room will focus entirely on its upper-end and estate wines, including the Grand Reserve, Great Estates and Stature wines. The Tasting Room is located at 337 Healdsburg Ave. and is open daily 10 a.m.-5 p.m. For more information, call 707-433-7102.
_____________________________________________
August 15, 2003

"100% Napa Valley"

The Corley Family is one of the first wineries to bring to market wines bearing the "100% Napa Valley" Certification Mark. The Corley Family kicked off their full participation with the release of their Vintage 2002 Monticello Vineyards Estate Grown Chardonnay ($26) and Vintage 2001 Monticello Vineyards Estate Grown Merlot ($30).
"We are extremely proud to participate in the "100% Napa Valley" Certification Mark program," said Stephen Corley, Director of Wine Sales and Marketing at his family's winery. "Our father came to Napa Valley in 1970 to grow Napa Valley grapes and produce Napa Valley wines because he believed it to be one of the finest Appellations in the World. The Certification Mark will help protect and promote our great Napa Valley Appellation and better inform consumers as to the complete origin of the wine they buy and drink.
In March 2003 the Napa Valley vintners kicked off this new marketing program designed to help consumers make educated decisions about the wines they purchase. Dubbed "100% Napa Valley," the Mark is a voluntary add-on to an existing wine label. The Mark certifies that a full one hundred percent of the wine contained in the bottle is actually made from wine grapes grown, produced and bottled in Napa Valley.
_____________________________________________
August 8, 2003
Haras de Pirque Launches Wine Portfolio in U.S.
Haras de Pirque, Chile's top breeder of thoroughbred horses and top producer of estate wines, have been selling their outstanding portfolio of fine wines in the United States since August 4, 2003.
The wines are launching in New York, New Jersey, Maryland, Washington, DC, Virginia, Kentucky, Florida, Texas, California and Florida on Monday and being rolled out to the rest of the country on January 1, 2004.
Haras de Pirque is the premium producer of wines in Chile. These are very serious wines. All grapes are 100 percent estate-grown and all wines are estate-bottled. Each wine is 100 percent of the indicated varietal, and the are grapes selectively hand picked before vinification. Viticulture is taken very seriously and drip irrigation, shoot thinning,
leaf pulling and cluster thinning are all employed. Wines pass through significant periods of aging in both French and American oak.
The state-of-the-art winery is built in the shape of a horseshoe in honor of the thoroughbred farm. It is the only horseshoe-shaped winery in the world, built into the side of the Andes. The inner sloping floors of the winery built on the side of a hill allow the force of gravity to gently, slowly move the musts and wine, eliminating the need for pumps and other kinds of transfer systems and substantially reducing the potential for oxidation.

Winemaker Alvaro Espinoza trained in Chile and France. He holds a degree in oenology from Bordeaux and prior to working for Haras de Pirque, he worked on the winemaking teams at both Château Margaux and Moet & Chandon.
The Haras de Pirque estate covers 1,500 acres (600 hectares) on the lower slopes of the Andes Mountains, 362.5 acres (145 hectares) of which are planted vineyards. In addition, Haras de Pirque is the only facility in Chile where thoroughbreds are bred, raised and trained.
_____________________________________________

August 1, 2003
Viewing Vineyards from Space?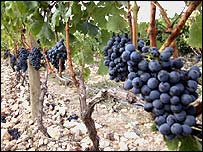 The European Commission backed Bacchus project aims to help wine growers by providing them with satellite images of vineyards and computer analyses. Numerous European companies, research institutes and growers' organizations have signed on to the non-traditional project. The general idea is that space technology can be used to monitor a full spectrum of important details: slope and humidity of a given area, color and shape of growing vines, soil analyses, etc. This information could then ultimately be used to help answer key questions like determining the ideal timing for grape picking.
_____________________________________________
July 2003
Domaine Carneros Officially Opens New Pinot Noir Winemaking Facility - First in The Carneros Appellation Dedicated Exclusively To Pinot Noir
Domaine Carneros, owned by France's famed Champagne Taittinger, celebrates ten years of making fine Pinot Noir wines with the official opening of its new Pinot Noir
winemaking facility. The 23,500-square-foot building, situated adjacent to the winery's landmark French château, is the first winemaking facility in the Carneros appellation dedicated exclusively to the production of Pinot Noir. Featuring a host of modern production capabilities and energy efficiencies---including a solar panel system
that will supply up to 40 percent of the winery's own energy needs -- the new facility will effectively double the winery's Pinot Noir production.
"This is our commitment to expanding production and evolving the quality of our Pinot Noir wines - the Domaine Carneros Pinot Noir, the Famous Gate and the Avant-Garde. With this new facility, we can now fully leverage the advantages of the Carneros
appellation and its long, moderately cool growing seasons to create Pinot Noir wines that embody the optimum balance of ripeness, acidity and complexity," says Eileen Crane, Domaine Carneros' president and winemaker.
The new Domaine Carneros Pinot Noir facility features a wide range of state-of-the-art
production capabilities and energy efficiencies. These include a 120 killowatt solar electrical system, the largest solar photovoltaic installation at any U.S. winery; 15 insulated skylights to provide an even, natural light that lessens the need for electric lights in the fermentation room; a variety of fans and vents to create a night cooling system that automatically replaces warm air with cool air and reduces dependence on the refrigeration system; and an entire 22-foot insulation wall built into the hillside to take full advantage of the cool, 55-degree temperature of the earth. Additionally, the Pinot Noir facility features traditional open-topped fermenters to maintain fruit character and density, as well as a system to facilitate manual punch-downs. Visitors to the facility can also enjoy a hospitality area with fireplace, custom chandelier and views of the barrel room.
Domaine Carneros is located at 1240 Duhig Rd. in Napa, CA, 707-257-0101. The winery is open daily for tours, tasting and retail sales.
_____________________________________________
Chapoutier Nabs a Perfect Score from Parker

The infamous Robert Parker (whom Jacques Chirac called "the most followed and influential critic of French wines in the world") has given a perfect 100 score to the 2000 Chapoutier "Cuvée de l'Oree" Hermitage, Blanc 750ml, the Wine Advocate reports.
Here are the details:
WA 100 points. An amazing nose of licorice, minerals, acacia flowers, honeysuckle, and a hint of butter. Unctuously-textured and full-bodied, with great intensity and purity, yet remarkably light on its feet, it can be drunk over the next 3-4 years.

Available for $202.99 per bottle at www.samswine.com.
_____________________________________________
Casa Nuestra Wines Bring $3,000 At Charity Auction
Casa Nuestra Winery's offering at the Napa Valley Wine Auction highlighted a rare glimpse at the 23-year history of the winery. Included were four vintages of Chenin Blanc, the specialty of Casa Nuestra, ranging in age from 18 to 23 years. The lot description explains that Chenin Blanc, seriously made, has an extraordinary cellar, perhaps exceeding any other white variety. According to winery founder, Gene Kirkham, few people have had the opportunity to taste a white of this age from North America. The experience is simply not available, at any price.

In addition to the Chenins, the auction lot contained early examples of Casa Nuestra's award-winning Cabernet Franc (1986, 1987); Johannisberg Riesling (including a rare late harvest); Meritage; Merlot; and Casa Nuestra's proprietary Oakville field blend, Tinto Classico. The 12 library bottles of Casa Nuestra Wine brought $3000 for local charities at the 2003 Napa Valley Wine Auction. The successful bidder was Sam McGann of Blue Point Bar and Grill of Kitty Hawk, NC.

Casa Nuestra's lot was fancifully presented in the theme of this year's auction: "Copa de Napa – Last of the Red Hot Nightclubs." Each bottle was dressed to resemble famous musicians of the speak-easy era, so that the ensemble presented an all-star orchestra.
Casa Nuestra was established by the Kirkhams in 1979 and continues to produce only about 1200 cases annually with seven varietals including Chenin Blanc, Cabernet Franc, Merlot, Riesling, and three blends, Tinto Classico, Tinto, St. Helena, and Meritage. They welcome visitors to the winery daily 10 a.m.-5 p.m. Casa Nuestra Winery is located at 3451 Silverado Trail N. in St. Helena, Napa Valley. Call 707-963-5783 or visit www.casanuestra.com for more information.
_____________________________________________
Copa de Napa: Napa's Charities Receive Serious Financial
Boost at Recent Edition of Napa Valley Wine Auction
The Napa Valley Wine Auction once again brought together wine lovers, vintners, chefs and gastronomic luminaries such as James Beard, over the weekend of June 5-8. The world's largest wine charity event, now in its 23rd year, managed to raise an incredible $6.47 million—up more than $350,000 from last year—to benefit local Napa County charities.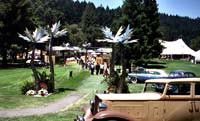 Bidders arrive for the auction
The top bidders of the day were John and Tamra Gorman of Austin, Texas who bid $320,000 for the "Bidder's Brand" lot—a move that turned them into vintners literally over night, as the lot includes all of the key requirements to create a fine Napa Valley wine -- five tons of premium Napa Valley Cabernet Sauvignon grapes; the expertise of renowned winemaker Philippe Melka; French oak barrels; world-class label design; a sales and marketing plan; wine bottles and packing materials; and, a one-year membership in the Napa Valley Vintners Association. The result will be 300 cases of vintage 2003 "Gorman" Napa Valley Cabernet Sauvignon.

Dee Lincoln of the steakhouse chain Lone Star Steakhouse & Saloon, Inc. placed the second-highest top bid with $599,100 spent on 46 individual lots, including the Robert Mondavi Winery lot that sold for $360,000.

The Wine Auction is hosted annually by the Napa Valley Vintners Association. This year's Auction was chaired by the Trinchero Family of Trinchero Family Estates.
Visit www.napavintners.com for more details
_____________________________________________