2005 Wine News

Latest Wine News
---
An Unusual "dtour"
The terms "boxed wine" and "high quality" are not typically used in the same sentence, but the times, they are a-changing. Chef extraordinaire Daniel Boulud partnered with sommelier Daniel Johnnes and vigneron Dominique Lafon to create "dtour," a more sophisticated version of the $4 bottom-shelf box of wine. The crisp Chardonnay comes in a portable cylinder with a spout for easy pouring. The design is precisely what maintains the freshness of the white wine once the container is opened. At three liters, this is a perfect accompaniment for a large picnic or for slow drinkers who crave good wine but hate to waste a bottle because its taste has gone awry. Cost is $37. For more information on where to purchase, visit www.dtourwine.com.
_____________________________________________
December 2, 2005
Wine... on Tap?
While the idea of wine from a keg may turn some wine drinkers off, a few restaurants in the United States have been trying to change that stigma by putting some of their most commonly served wines on tap. This week, the Wine Spectator Greystone Restaurant in Napa Valley, Calif., joins the trend by offering the 2004 Russian River Valley Sauvignon Blanc from Sauvignon Republic Winery as a tap selection. The wine will be stored in five-gallon kegs, which operate much like the nitrogen-pressurized beer kegs that most restaurants use. Already customary in Europe, this method not only eliminates the need to keep house bottles, but also keeps the wine from spoiling quickly.
_____________________________________________
November 18, 2005
Hall Winery Hires Consulting Winemaker
Hall Winery in Napa Valley recently hired David Ramey as consulting winemaker to oversee the 2005 harvest, in which he will work alongside winemaker and general manager Mike Reynolds. Ramey, who learned much of his skills at Château Petrus in Saint-Emilion, France, will bring his French winemaking techniques to Hall, which produces classic Bordeaux-style wines. The highly regarded winemaker has also helped to establish some of California's other top wineries, including Chalk Hill, Mantanzas Creek, Dominus Estate and Rudd Estate. He also keeps his own winery, Ramey Wine Cellars, which he founded in 1996. For more information, visit www.hallwines.com.
_____________________________________________
November 11, 2005
Ringing in the New Vintage
At exactly midnight on Nov. 17, 2005, cities around the world will celebrate Beaujolais Nouveau, the famous French wine, which by law can only be released on the third Thursday in November. The popular European event will come to 19 U.S. cities this year, all hosted by the French American Chamber of Commerce. From Los Angeles to Dallas to Washington D.C., Beaujolais lovers will be able to experience wine tasting, French gourmet food, dance, music and other festival events. This year's release also marks a rejuvenated launch in China, where Beaujolais producers are hoping to tap into the potential wine market by offering tastings in Beijing and Shanghai. The biggest celebration, however, will be in France, where the Beaujolais towns and villages will bring in the new harvest in weeklong festivities that include regional food tastings, wine fairs, carnivals and a marathon.
_____________________________________________
November 4, 2005
Herzog Wine Cellars Opens Winery Restaurant
Herzog Wine Cellars of Oxnard, Calif., joins the small group of California winery restaurants with the launch of Tierra Sur, an on-site eatery opening Nov. 7 for lunch and dinner. The 75,000-square-foot restaurant and kitchen features executive chef Todd Aarons, formally of
Zuni Café
in San Francisco and
Savoy
in New York. A Californian/Mediterranean-infused menu accompanies the restaurant's innovative wine list, featuring wines from Herzog and other select wineries. Guests can choose à la carte from appetizers and entrées such as salt cod empanadas, beef carpaccio and pomegranate-marinated grilled lamb, or opt for the three-course tasting menu, which pairs each dish with a different Herzog wine. Herzog hopes that Tierra Sur's opening will expand the fine dining scene in Oxnard, especially to many wine country visitors who visit the area in transit from Los Angeles. For more information, visit
www.herzogwinecellars.com
.
_____________________________________________
October 28, 2005
Paraiso Opens New Winery in Santa Lucia
Paraiso Vineyards recently opened a new production facility in Monterey's Santa Lucia Highlands, despite harvest season being in full swing. The new winery crushed its first Pinot Noir grapes even as workers put finishing touches on the building, which will house Paraiso's boutique productions of Chardonnay, Pinot Noir and Syrah. The facility will also serve as home to other Santa Lucia artisan vintners, including Pelerin and Tudor, and may expand to serve other Santa Lucia labels. "My hope is this site will become an 'artist's colony' for local winemakers to experiment and define new styles with the incredible fruit coming out of our appellation," said owner and grower Rich Smith. For more information, visit the winery website at
www.paraisovineyards.com
.
_____________________________________________
October 14, 2005
Happiness Comes in Small Packages
Almost a millennium after sharecroppers in Tuscany began producing wine, Mario di Dievole of Dievole winery, in association with the University of Siena, is responsible for restoring the Cartusia Pontiniani monastery grounds near Siena. Mario Di Dievole presented a case of 2001 Dieulele, the first bottling in this venture, to Magnifico Rettore Piero Tosi, the Dean of the University of Siena. Following this exciting meeting, the Siena State Archives Director Carla Zarrilli showed Mario di Dievole the parchment dated 1090 which proves that wine was made on the site of his winery before that date.
To read the full story, click
here
.
_____________________________________________

October 7, 2005
Label Love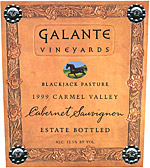 A label from Galante Vineyards, one of the showcased designs
The San Francisco Museum of Craft+Design will debut an exhibit at the end of October entitled "Beyond the Pour: Pairing Art and Wine Label Design," a showcase featuring various artists and designers who have created labels for some of northern California's biggest wineries. Several artists have been selected to document the label-making process, which includes the design of corks, bottles and capsules. Design firms in the exhibition include Caldeway Design, who designed labels for Beringer and Stag's Leap, and Charles House Design, who designed labels for Glen Ellen Winery and Frog's Leap. The exhibit plans to open on Oct. 21 and will run until Jan. 29, 2006. Curator and artist Bob Nugent, who manages the Benziger Family and Imagery Estate wineries' contemporary art collections, will run a speaker series beginning on Oct. 27 to discuss various aspects of label design. For more information, visit the museum's website at
www.sfmcd.com
.
_____________________________________________
September 30, 2005
Fortune Brands to Buy Maker's Mark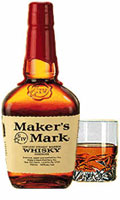 The road has been paved for the acquisition of Maker's Mark by Fortune Brands, a company whose spirits and wine portfolio also comprises Jim Beam, Sauza tequila, Courvoisier cognac, Canadian Club whisky and Clos du Bois wines. Fortune Brands is one of the top four spirits companies in the world. On September 30, the U.S. Federal Trade Commission green-lighted the purchase of the bourbon brand (including the distillery in Loretto, Ky.), and the company expects to complete the purchase of Maker's Mark in the near future. Maker's Mark, with annual sales exceeding 500,000 nine-liter cases, is one of the fastest growing brands in the spirits industry, says Fortune Brands chairman and CEO Norm Wesley. "Maker's Mark continues to experience double-digit growth year after year. Along with Jim Beam, Knob Creek and our other Small Batch bourbons, Maker's Mark gives us an all-star bourbon lineup with leadership positions at all premium tiers." For more information on these brands, visit www.fortunebrands.com and www.makersmark.com.
_____________________________________________
September 23, 2005
Paraduxx Winery Opens
This week, the Napa-based Duckhorn Wine Company opened a new facility in Yountville, Calif., for one of their already existing labels, Paraduxx. The property includes both a winery and visitor center designed by Baum Thornley Architects of San Francisco. The winery, which specializes in Zinfandel and Cabernet Sauvignon blends will offer tastings of current and library vintages in a modern tableside service setting, paired with foods made from chef Michael Chiarello. To celebrate the opening, Paraduxx is hosting a premier event on Oct. 15. For more information, visit
www.paraduxx.com
.
_____________________________________________
September 16, 2005
A Tribute to Booker Noe, Bourbon King
Booker Noe, the man whose name has become synonymous with Bourbon and Jim Bean's great grandson, has been commemorated with a bronze statue in Clermont, KY. To read the story, click here.

Marilyn Monroe Bares All in 2003 Velvet Collection
Marilyn Monroe's famous 1953 centerfold picture on the inaugural issue of Playboy now graces the labels of Velvet Collection 2003, just released by Marilyn Wines of Napa Valley. The label, which debuted on the 2002 Velvet Collection, features the nude Monroe reclining on red velvet, with an overlay of strategically placed red sparkles that can be peeled away to reveal the original image, taken by photographer Tom Kelley in 1949. The wine itself is a red blend of Cabernet Sauvignon and Merlot made by winemaker John McKay. Marilyn Wines, who has an exclusive agreement with the Marilyn Monroe estate to use her name and image, is offering this vintage collection as a 1.5-liter magnum for $225 or as a collector's set for $1,000. For more information, visit www.marilynwines.com.
Fetzer Releases Shatterproof Single-Serve Wines
Fetzer Valley Oaks will soon release its lightweight, unbreakable "Ready to Go!" four-packs of Chardonnay, Merlot and White Zinfandel in SuperTargets in fourteen states. These 187-ml. single-serving wines are designed especially for travel and leisure and are already being offered in various airlines, stadiums and amphitheaters around the country. The shatterproof bottles also feature the increasingly popular
screw cap
for ease of use. The Merlot and Chardonnay four-packs retail at $8.99, while the White Zinfandel retails at $6.99. For more information, visit
www.fetzer.com
.
_____________________________________________
September 9, 2005
Wine Industry Raises Funds for Hurricane Katrina Victims
As the aftermath of Hurricane Katrina continues into September, many organizations in the wine and food industry have quickly come together to support relief efforts on the Gulf Coast. One of the first to act was the Paso Robles Wine Country Alliance, which set a goal of raising $100,000 for the hurricane's victims. While some businesses are donating directly to the cause, other wineries have opted to donate tasting fees and portions of sales, and on some cases, every dollar of profit on designated days.
Learn About Wine, an organization dedicated to educating people about wine, hosted an "L.A. to LA – Los Angeles Supports Louisiana" event for Sept. 9, with all proceeds going to Hurricane Katrina charities. The event, featuring more than 50 local restaurants and 100 wineries from the southern California area, set a goal of raising more than $1 million in donations and ticket sales.
Nationwide, hundreds of restaurants will participate in a "Dine for America" fundraiser on Oct. 8. The idea for the fundraiser began following the events of Sept. 11, 2001, when a group of restaurant employees in Seattle suggested a national "dine out" day to raise money for the tragedy. This year, "Dine for America" returns to benefit the American Red Cross and the victims of Hurricane Katrina.

La Crema Opens Eco-Friendly Tasting Room
La Crema Winery in Healdsburg, Calif. opens an "eco-friendly" public tasting room this week to showcase a number of its famed Burgundian varietals. Among the tasting room's environmentally friendly features are counters made from recycled aluminum cans, floors from sustainable cork, and cabinets made from ecologically farmed wood. La Crema also boasts wine bottles and wine boxes made from recycled materials. The tasting room will offer the winery's best, including its Nine Barrel Pinot Noir and Chardonnay and its Varietal Series Syrah and Viognier, all poured into Riedel's new "O" stemless glassware. The La Crema tasting room is open 10:30 a.m. to 5 p.m. daily with no charge for tastings. For more information, visit www.lacrema.com.
_____________________________________________
September 2, 2005
California Wine Celebration
Throughout the month of September and into October, numerous California wineries will be hosting special events and activities to mark the annual harvest and to commemorate the fact that Governor Arnold Schwarzenegger has declared the month to be a "California Wine Celebration." Each week in September will focus on certain wine-related aspects, such as "California Women in Wine" and "California Wine Fun Facts." Also look for special focus to be placed on California wines by many retailers in the state. For a calendar of events, visit www.wineinstitute.org.
_____________________________________________
August 19, 2005
Opus One for Every One
We just tasted the 2002 Opus One, which will be released to the general public in October. It's a perfect case of wine futures. The swanky winery founded by the illustrious Mondavis and Rothschilds gets a slight makeover with winemaker Michael Silacci onboard and different vineyard practices. We had a chance to retaste some older vintages (1987 and 1995, both still very young and alive) but focused the tasting on the 2001 and 2002. Of course, these wines need about ten years before they reach maturity. "The 1991 is supreme, but I also like the 1987 and 1995 very much," says Silacci. "I think the 2002 will be along those lines," he added. The 2001 has entered an austere and closed phase while the 2002, albeit much too young, was drinking remarkably. We predict it will be a very good vintage and entice you to purchase and park a case for those treasured moments.
For more information on Opus Wine Winery, click here.
_____________________________________________
Carlos Santana Debuts Sparkling Wine
This week renowned guitarist Carlos Santana releases the sparkling wine Santana DVX, a blend he created in collaboration with Mumm Napa, one of California's top sparkling wine producers. This release comes shortly before Santana's new album, "All That I Am," hits stores in late August. The 1999 cuvée is one of the winery's top bottlings and contains 50 percent Pinot Noir and 50 percent Chardonnay, a blend that Santana likened to the balance of rhythm and melody in music. Approximately 1,600 cases were produced, and $1 from each bottle sold will benefit the Milagro Foundation, a non-profit organization supporting children in arts, education and health. Santana DVX is available for $55 a bottle at fine wine shops nationwide.
_____________________________________________
High Valley Becomes New AVA
High Valley in California's Lake County has just become the state's newest American Viticultural Area (AVA). Once a major winegrowing area in the 19th century, High Valley soon became abandoned after Prohibition began. After the end of this month, vineyards will grace High Valley again as it joins the dozens of other viticultural areas in California.
This particular growing region is approximately nine miles long and three miles wide, and is nestled in the valley near Clear Lake. However, at nearly 3,000 ft. above sea level, the region draws cool air from the lake, making it a cooler growing region than the surrounding Lake County valley floor. Its rocky, volcanic slopes also allow for good root development and drainage for grapevines. The new AVA becomes effective on Aug. 1 and affects area wineries such as Shannon Ridge, High Valley Vineyard, Brassfield and Monte Lago.
_____________________________________________
June 24, 2005
Central Coast Wine Challenge Finds Best of Mid-State California
The California Mid-State Fair announced this week the results of the Central Coast Wine Challenge, held June 17-18 at the fairgrounds in Paso Robles. More than 250 wines from 84 wineries were judged by experts in the field of wine, including Mike Stepanovich of Bakersfield Magazine, consultant Ron Rawlinson, Adam LaZerre of Hahn Estate, Jonathan Mitchell of Sterling Steakhouse, Paul Wagner of Balzac Communications, and our own Alain Gayot.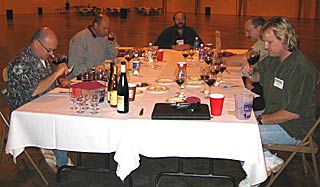 Five categories of wines were judged: Pinot Noir, Blended Red Wine, Cabernet Sauvignon, Syrah and Chardonnay. Each category yielded awards for Best of Show and Best of Class, as well as Gold, Silver and Bronze medals. The overall Best of Show award went to Silverstone Winery in Paso Robles for their 2003 Syrah. For a complete list of wineries and winners, visit www.midstatefair.com.
Central Coast Wine Challenge
Best of Class
| | |
| --- | --- |
| Piedra Creek, San Luis Obispo | 2003 Blended Red Wine |
| Meridian Vineyards, Paso Robles | 2002 Cabernet Sauvignon |
| Silverstone Winery, Paso Robles | 2003 Syrah |
| Edna Valley Vineyards, Edna Valley | 2004 Chardonnay |
| Meridian Vineyards, Santa Barbara County | 2003 Pinot Noir |
_____________________________________________
June 17, 2005
Restaurants Applaud State "Recorking" Laws
With recent Supreme Court decisions helping to improve sales in the wine industry, it may not be long before lawmakers tackle another issue important to both wine producers and restaurateurs: wine recorking in restaurants.
A Michigan law passed last month now allows restaurant patrons to take home unfinished bottles of wine they have purchased, provided that the wine has been recorked. Michigan joins approximately 30 other states, including California, New York, Texas and Washington, that also allow opened bottles of wine to be taken home from restaurants. The Michigan Restaurant Association, which lobbied heavily for the measure, said that recorking laws would be a boost for the restaurant industry's wine sales, since customers would be inclined to purchase entire bottles of wine instead of individual glasses.
Some lawmakers, however, are worried that recorking laws might interfere with states' drinking and driving policies, especially with open-container policies. Even the states that allow wine recorking have strict policies on transporting open containers of alcohol. Most often, wine must be completely recorked, with the cork's edge touching the lip of the bottle, or the wine bottle must be placed in a tamper-proof container. In some states, the wine must be placed in an area of the car inaccessible to the driver, such as the trunk.
Despite these concerns, many restaurants have applauded recorking measures, saying that these laws have increased sales of wine bottles—especially for their higher-priced wines. Restaurant owners say customers are more inclined to buy expensive wines if they know they can take them home.
Even so, recorking laws are not meant to supercede responsibility. Restaurant owners, who still have liability in preventing patrons from abusing alcohol, have the final say in whether opened wine bottles may be taken home.
_____________________________________________
May 27, 2005
Napa Valley Vintners Win Wine Labeling Case
The California Court of Appeal unanimously decided to uphold a law that prevents wine companies from using the word "Napa" in their wine brands if there are no Napa grapes in the bottle.
The lawsuit was brought against Bronco Wine Company, a leading industry conglomerate whose best-known labels include the inexpensive ForestVille and Charles Shaw ("Two-Buck Chuck"), by Napa Valley Vintners, an association representing the county's winemakers. In a 75-page decision, the court said that Bronco's brands Napa Ridge, Napa Creek Winery and Rutherford Vintners violated a California law that required any winery using the name "Napa" to have grapes from Napa County. The law was created in 2000 to close a loophole created by a 1986 federal wine labeling regulation. It bans the use of a brand name that implies that the wine was made with grapes from the area suggested by the name, unless at least 75 percent of the wine's grapes were from that area.
Representatives from Bronco argued that a clause in the 2000 law exempted misleading brand names if the name was in use prior to 1986. Bronco had acquired the three brand names within the past decade, but the wineries had been operating since the early '80s. However, all three wineries had used Napa County grapes in their wine. Bronco has 90 days to appeal this decision to the California Supreme Court.
_____________________________________________
May 20, 2005
Supreme Court Rules to End Discrimination Against Out-of-State Wineries
A Supreme Court ruling on May 16 opened the way for wineries to sell their wines directly to consumers across the country, a decision that pleased many in the wine industry. The 5-4 ruling overturned laws in New York and Michigan that justices said discriminated against out-of-state wineries by prohibiting them from selling directly to consumers while letting local wineries do so.

"This is a major victory in the 20-year battle to end discrimination against America's small, family wineries that want to provide consumers with access to the wines of their choice," said Robert P. Koch, President and CEO of Wine Institute, the trade association of California wineries.

This decision is likely to prompt an increase in wine sales for small wineries, especially through the Internet, where shipping orders are crucial. Many smaller vintners already struggle to sell their wines, as wholesalers often prefer large conglomerate wineries when dealing with retailers. The ruling may also give restaurants and wine shops across the country a cheaper and more effective way to stock an assortment of wines, as well as provide shoppers with an easy way to send gifts during the holidays.

Others, including Chief Justice William H. Rehnquist, worried that overturning this ban may interfere with underage drinking laws, since wine purchased through the Internet does not require an identification check. After the ruling, Nida Samona of the Michigan Liquor Control Commission urged lawmakers to ban direct shipments for both local and out-of-state wineries.

Despite their concerns, the ruling will not greatly effect the power of states to regulate alcohol. States can still ban direct-to-consumer alcohol sales, but may not enact laws that provide special benefits for home state wineries.
_____________________________________________
May 6, 2005
Try This One for Size
This month, the Australian brand Lindemans debuts "Minis," small bottles of wine made just for single servings. The Mini, about one-fourth the size of a standard 750 mL bottle, contains approximately 6 ounces of wine in a small twist-off bottle, a size that Lindeman's says is perfect for picnics, barbecues and even dinner parties. Sold individually and in four-packs, the Minis are available in Lindeman's Bin series Chardonnay, Merlot, Shiraz and Cabernet Sauvignon. These dwarf-sized wines retail from $7.99 to $8.99 for a four-pack, and $1.99 to $2.25 individually. For more information, visit www.lindemans.com.
_____________________________________________
April 15 , 2005
Cliff Lede Vineyards Opens New Gallery

Red Poppies
In an effort to bring his love for contemporary art to wine country, winery owner Cliff Lede recently announced the opening of the Gallery at Cliff Lede Vineyards, a public gallery that will feature six-month shows of notable modern artists. "Cliff Lede Vineyards and the Napa Valley offer the perfect setting to showcase the contemporary art I love," said Lede.



Smoke Rings 14
The Gallery is scheduled to open on June 12 with a exhibition of work from artist Donald Sultan, one of the leading painters in contemporary art. Recently featured at the Guggenheim in New York, Sultan's work has gained fame for its fresh approach to still-life and unique use of materials such as tar, spackle and flocking. The show plans to feature approximately 10 to 12 of his pieces.

Future exhibitions at the Gallery include works from Robert Indiana, Jim Dine, Keith Haring and Sophie Ryder. For more information about the Gallery, contact Milan-Jarvis Communication at 310-581-8095. For information about the exhibition, contact Scott White Contemporary Art at 619-501-5689. Cliff Lede Vineyards, 1473 Yountville, Yountville, Calif., www.cliffledevineyards.com.
_____________________________________________
March 25, 2005
Robert Mondavi Winery Presents "Inner Visions"

"Inner Visions," a collection of monotypes by Allison Evans, will be on display in the Vineyard Room at the Robert Mondavi Winery in Oakville, Calif., from April 3 through June 10. The monotypes, which Evans created from oil-based printing inks, are notable for their abstract and ephemeral visions of nature and landscapes. Evans, who has been concentrating on monotypes for three years, said she was attracted to this art medium because of its spontaneous and creative process. Dating back to the 17th century, monotypes were created by painting an image onto a plate and then hand-rubbing or pressing it onto a moistened sheet of paper. This creates images that are virtually impossible to duplicate. For more information, contact the Robert Mondavi Winery at 707-968-2213. Robert Mondavi Winery, 7801 St. Helena Highway, Oakville, Calif., www.robertmondaviwinery.com.
_____________________________________________
March 18, 2005
Halls Open New Rutherford Winery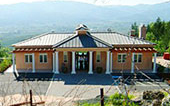 Proprietors Craig and Kathryn Hall, who recently asked Frank Gehry to redesign their Napa Valley winery, have opened a new winery in Rutherford, CA, complete with a high-tech cave network and state-of-the-art equipment for this small-lot facility. The winery, located at the foot of their 34-acre vineyard, features 14,000 square feet of caves finished with Austrian brick and limestone. The special temperature controls in the caves optimize the climate for the winery's barrels, which will mostly contain the Halls' premium wines. This includes the Kathryn Hall Vineyards Cabernet Sauvignon, which has now become the signature wine for the winery's new brand name, HALL.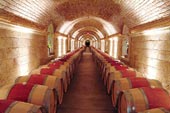 The Rutherford winery will be open daily to the public by appointment only and will offer guests highly customized tours, demonstrations and special barrel tastings of small lot wines. The winery also showcases some of the Halls' personal art collection, including works from artists Helen Frankenthaler, Sam Francis and David Hickman.

For more information, visit www.hallwines.com. HALL-Rutherford Winery, 56 Auberge Rd., Rutherford, Calif., 707-967-0700.
_____________________________________________
March 4, 2005
Just the Gals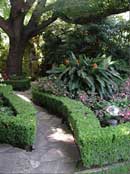 With popularity of women's luxury travel continually increasing, more and more travel companies have begun catering specifically to females. One specific company, Women & Wine, not only caters solely to women, but also concentrates on one type of destination: wine regions. In partnership with Omega World Travel, Women & Wine offers women customized trips to a number of famous local and international wine-making regions, including Napa Valley, Sonoma County, South Australia, New Zealand, France and Italy.

The travel company also offers planned trips as well, including Women & Wine Weekends, in which women can enjoy a weekend of wine tasting in the company of other female wine-lovers. The next W&W Weekend will be held in Los Angeles on May 13-15, during one of southern California's biggest food, wine and auction events: A Culinary Evening with the California Winemasters Benefiting Cystic Fibrosis. Other planned events include a trip to Santa Barbara wine country to visit the Simpson House Inn, featured in the Oscar-nominated film "Sideways."

For more information, visit www.womenwine.com or call 310-880-2442.
_____________________________________________
February 25, 2005
Wine Fit for the Stars

Only 1,650 Hollywood A-listers (and assorted hangers-on) are permitted to attend the post-Oscars Governors Ball, where they will dine on a Wolfgang Puck-catered meal. But almost anyone—at least anyone who acts quickly and has a c-note to spend—can try the wine that will be poured that evening. Napa Valley's Sterling Vineyards created 500 cases of Red Carpet Reserve, a unique blend of Cabernet Sauvignon, Merlot, Petit Verdot and Malbec, specifically for the event.

Winemaker Mike Westrick used Reserve lots to craft something suitably posh for the Red Carpet moniker, and the young wine was then aged in French and American oak for 20 months. The Cabernet was sourced from vineyards along the Silverado Trail in Oakville and Rutherford, while the other grapes come from the winery's Larsen Ranch and the Three Palms Vineyard, both in Calistoga, CA. More Merlot (nearly 15%) went into the blend than usual and the lots used were carefully and purposefully selected in an attempt to achieve a Reserve-level wine that would be ready to drink immediately on release—rather than an austere bottle requiring additional cellar time. The end result is a supple, complex wine with balanced tannins and a velvety finish.

Whatever remains after the event—the winery estimates the amount will be less than 50 cases—will be sold through the winery for $100 per bottle. To purchase the wine, go to www.sterlingvineyards.com or call 707-942-3300 after the Oscars ceremony on Feb. 27.
_____________________________________________
February 18, 2005
Harmony in Wine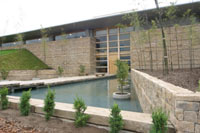 Montes Wines can now call their wines spiritually as well as tastefully balanced. Their opening of a $6.5 million winery in Chile's Colchagua Valley not only uses state-of-the-art technology, but also incorporates principles from the ancient Asian philosophy of Feng Shui.

Using the knowledge of Feng Shui expert Silvia Galleguillos, architect Samuel Claro made sure to incorporate all the basic elements – water, metal, earth and wood – into the design and position them in order to optimize harmony and positive energy. For example, walkways leading from the entrance pools to the second floor basin capitalized on the technique that water flow is essential for bringing energy to a room, according to Claro. He also installed a skylight above the exact geometric center of the winery in order to "connect to infinity."

In order to improve the physical quality of the wine, the winery also features advanced machinery, including a computerized cooling and heating system and a unique elevator designed to minimize the actual movement of the wine.

The winery, which has a capacity for nearly 400,000 gallons, will produce some of Montes' most acclaimed wines, including the premium Montes Alpha "M," Montes Folly, and the Montes Alpha series of Cabernet Sauvignon, Merlot and Syrah. For more information, visit www.monteswines.com.
_____________________________________________
February 11, 2005
Three Cheers for Beer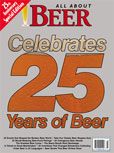 Wine and beer may seem like strange bedfellows to some, but if you had heard all the oenophiles asking where the brewskis were at the last Napa Valley Wine Auction, you would realize that one beverage doesn't have to be appreciated to the exclusion of the other. And although we're a website devoted to the fruits of the vine, we would like to congratulate "All About Beer" magazine on its 25th anniversary. Starting as a 16-page tabloid style newspaper, the magazine evolved drastically---just as the subject it covers evolved---over the past quarter century. Along offering articles on film, music and politics, it covers at least 300 different beers in every issue. Now that's a reason to raise a frosty mug and cheer. For more information, visit www.allaboutbeer.com.
_____________________________________________
February 4, 2005
Sisterly Scholarships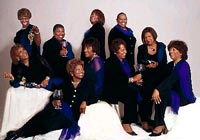 Divas Uncorked, Inc., an African American women's wine club, and the Hess Collection Winery have announced a scholarship initiative that will provide women and minorities $6,000 to learn advanced wine studies at the Elizabeth Bishop Wine Resource Center at Boston University. The two companies have banded together as part of the Divas Uncorked Collaborative Consortium, which wants to increase gender and ethnic diversity in the wine market, from wine stewards to sommeliers. "Through this scholarship, Divas Uncorked and the Hess Collection Winery hope to fill a void for those seeking diverse careers in wine," said Karen Holmes Ward, a member of Divas Uncorked and the scholarship selection committee. Joining this partnership is Starwood Hotels & Resorts Worldwide, which has offered to provide the scholarship recipient a job while he or she studies in Boston. Following the completion of the scholarship, the recipient will join the Hess Winery for hands-on experience in winemaking. To apply, email divasuncorked@comcast.net. For more information, visit www.divasuncorked.com.
_____________________________________________
Combined Passions: Wine and Art Gallery Opens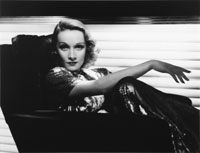 Turnbull Wine Cellars proprietor Patrick O'Dell recently announced the grand opening of the Reserve Tasting Room and Gallery, which will feature the release of Turnbull Wine Cellars' 2002 "Black Label" Red Wine and the debut of Faces: Portraits of the 20th Century – A Collection of America's Finest Contemporary Photography. The gallery, which is open to the public by appointment, will rotate the finest pieces from O'Dell's extensive black-and-white photograph collection. Featured artists include Ansel Adams, George Hurrell, Imogene Cunningham and Edward Weston, among many others. The gallery, located in Oakville, Calif., is set to premiere on Feb. 28. Visitors wishing to make reservations can contact the winery at 800-887-6285, ext. 18. For more information, visit www.turnbullwines.com.
_____________________________________________
Naples Winter Wine Festival


This world-class wine event is attracting a wealth of luminous guests for 2005: Chefs Joel Antunes of Joël in Atlanta, Tyler Florence of Food 911 on the Food Network, Lee Hefter of Spago Beverly Hills, Paul Kahan of Blackbird in Chicago, Barbara Lynch of No. 9 Park in Boston and many more! Critically acclaimed vintners from Gargiulo Vineyards, Harlan Estate Wines and Chateau Montelena will also be in attendance to pour their best wines. Among the highlights are the Vintner Dinners. These small, intimate affairs feature a vintner who is the proprietor of a very select wine estate. The auction day features a fabulous tasting of food, highlighting the best local fish and produce. A final celebration brunch brings the weekend's events to a close. The Naples Winter Wine Festival, which benefits local children's charities, raised $7.6 million during the 2004 festival. This year's festival will take place at the Ritz-Carlton Naples Golf Resort Tiburon. Visit www.napleswinefestival.com or call the wine festival office at 239-514-2239.
_____________________________________________
Nuestra Effort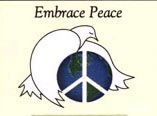 This holiday weekend, January 15-17, Casa Nuestra Winery honors Dr. Martin Luther King's non-violent, direct action by donating all of the proceeds from its tasting room to the tsunami relief efforts. In addition, the Casa Nuestra staff will match all of the fees collected to add to the donation. Visitors to the winery will receive temporary tattoos with a peace symbol that reads "Embrace Peace," the same image on the winery's label. The winery is open everyday from 10 a.m.-5 p.m., and barrel samples are available by appointment. A small production winery, Casa Nuestra produces about 1,800 cases annually, with seven varieties that include Meritage, Merlot, Cabernet Franc, Chenin Blanc, Rosado, White Riesling, Tinto and Tinto Classico. The winery is located at 3451 Silverado Trail North in St. Helena, California, Napa Valley, 866-844-WINE, www.casanuestra.com.
_____________________________________________
Zap Festival


Zinfandel lovers rejoice! From January 26-29, the Zinfandel Advocates & Producers' (ZAP) 14th Annual Zinfandel Festival arrives in San Francisco, promising to be a long weekend of celebrations honoring one of California's favorite wine varietals. This year's event will showcase five wines from each of California's distinct Zinfandel growing regions matched side by side, to show their distinct regional characteristics. A food-and wine-pairing event called Good Eats and Zinfandel Pairing will feature numerous Zinfandel producers and tasty nibbles from Bay Area restaurants. An Evening with the Winemakers includes live auction lots in the festivities at the Mark Hopkins Intercontinental Hotel. This year, an estimated 275 wineries will be on hand such as Bonny Doon Vineyard, Martin & Weyrich Winery, Murphy-Goode Estate Winery and Saucelito Canyon. Public tickets are available through the Fort Mason Box office. Call the box office at 415-345-7575, ZAP at 530-274-4900 and visit www.zinfandel.org for details.
_____________________________________________