2007 Wine News

Latest Wine News
---
December 17, 2007

Paris Hilton is Prosecco's Golden Girl



We may go to Wolfgang Puck or Eric Ripert for advice on food, but when it comes to alcohol, is it safe to trust the expertise of party girl Paris Hilton? Despite the 26-year-old heiress's 2006 conviction of driving under the influence and subsequent time served in prison for violating her parole, she is nevertheless serving as spokeswoman for RICH Prosecco canned sparkling wine. The latest ad campaign features Hilton clad only in gold paint, crawling across a desert, and is meant to reflect the eco-issue of global warming, according to Prosecco.

Hilton told the Associated Press that she tries to do her own part to save the earth, including little things like turning off lights when she leaves a room, and, apparently, also by promoting her own line of sparkling wine. She plans to donate 20 percent of the proceeds from the RICH Prosecco to charities that provide clean drinking water to areas in need.
---
December 10, 2007
Don't Pair Polka with your Pinot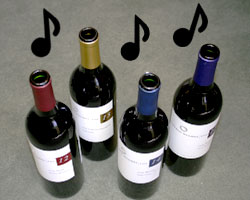 The next time you sit down with a glass of Pinot Noir, make sure to pay attention not only to how it tastes, but also what music you're listening to. Recent studies confirm that the music playing and the taste of wine may be more closely related than previously assumed. Winemaker and industry consultant, Clark Smith, has taken the idea that sounds and music affect the taste of wine, and taken it one step further. He has compiled many tasting panels and had them sample 150 different wines while listening to a variety of music styles in an attempt to determine which wines taste better with which music.

Smith's studies have focused on the actual alteration of taste depending on the music. While his observations and tasting panels strongly support certain pairings (red wines are best enjoyed with music in minor keys or those songs with negative emotions), there is limited scientific proof to back up these findings. Smith plans to continue his observational research until he receives grants to fund scientific studies. In the meantime, oenophiles should not only look into which foods pair well with their wine of choice, but also what's in the CD player.
---
December 03, 2007

A recent medical study has concluded that women who drink one or two glasses of wine per day have less inflamed blood vessels, resulting in healthier hearts. Chronic, low levels of inflammation, which can be caused by smoking, high cholesterol and obesity, are thought to contribute to the buildup of fatty deposits in the inner lining of arteries. These deposits, called plaques, can rupture and potentially cause heart attacks.

Led by Dr. Emilio Sacanella, a team of researchers at the University of Barcelona studied 35 healthy women, who all regularly drank wine. The women involved in the study spent four weeks on a heart-healthy diet, not drinking any wine. During the next four weeks, they ate similar food, but had a glass of red wine with lunch and dinner. The last leg of the study echoed the second, except the women had white wine instead of red. Based on observations of HDL (healthy) cholesterol and inflammatory substances in the women's blood, researchers determined that the women had the highest HDL levels and lowest levels of inflammatory substances during the red wine weeks. White wine also had positive effects, but not as pronounced as those of the red wine.


---
November 26, 2007

Location, Location, Location



For anyone who has ever wondered if it really matters where their wine hails from, the proof is in. An agricultural research center in Germany has determined that terroir, the attributes of vineyard land, does affect the character and taste of wine. The three-year study conducted by graduate student, Andrea Bauer, and research director, Dr. Ulrich Fischer, focused on the Riesling varietal. Growers from various regions were chosen for the study based mainly on present soil types, with an emphasis on slate, basalt, limestone and sandstone.

All grapes were vinified by Bauer and Fischer to ensure identical fermentation, crushing and bottling procedures. The wines were then tasted in duplicate or triplicate by expert panels trained to use sensory descriptors. From this data, it was determined that wines produced on slate had sharper acidity and citrus flavors; smoother acidity and rich fruit flavors resulted from basalt-grown grapes; limestone produced wines with more intense color and aromas of tropical fruit and honey; sandstone-grown grapes displayed aromas of citrus and minerals, with an evident acidity. The research will continue with the 2007 vintage, taking climate and topography into consideration.


Image from Wikimedia Commons


---
---
January 8, 2007
Warm Weather Endangers Ice Wine Crop
---
January 2, 2007
California Winemakers Enjoy a 'Sparkling' Year of Growth
Corks are popping in California, as the great grape-growing state has enjoyed yet another year of growth in sparkling wine sales. For the second year in a row, sales of California sparklers grew at a six-percent rate. Experts attribute the increases to new wine drinkers, the relaxation of inter-state alcohol shipping laws, greater consumer spending and California's increasing reputation for producing quality sparkling wine.
"To me, the most exciting perceived change in 2006 has been the influx of new, young wine drinkers. They are fueling the growth and are turning the dream of creating a wine culture in America into a reality," said Joy Sterling, CEO of Sonoma County's Iron Horse Vineyards. "The new generation is taking to wine much earlier; they are more adventuresome and experimental. They were weaned on California wine, so they don't carry European prejudices," continued Sterling, who also points to its wine club for Iron Horse's 7.5 percent sparkling sales increase.
California produces 95 percent of the country's wine exports, generating $51.8 billion. The entire wine industry, not just sparkling sales, has seen double-digit growth since it was last surveyed four years ago by the California Association of Winegrape Growers.
---