2008 Wine News

Latest Wine News

---
December 22, 2008

Airocide Zaps Cork Taint Chemical


Airocide, an air purifying technology designed by NASA to keep produce fresh in space, has found a new, more down-to-earth use: neutralizing the chemical primarily responsible for cork taint in wine. When tested by an independent wine laboratory in the United Kingdom, Airocide was found to remove up to 95 percent of TCA (2,4,6-trichloroanisole) from a sealed room within 24 hours.
TCA in wine causes cork taint, a defect that affects between two to seven percent of wine bottles, and imparts in the affected wine an unappetizing moldy, dank smell. Airocide works by sucking air through a box containing a bed of titanium dioxide catalyst and irradiating it via UV light bulbs, which results in oxidizing any organic contaminants. The technology, which may find uses throughout the entire winemaking process, was developed during the 1990s and is already used in hospitals, research centers and for food storage.
---
December 15, 2008

Italy Surpasses France's Wine Production


For the first time since 1998, Italy will overtake France to become the world's largest producer of wine by volume. Coldiretti, the Italian farmer's association, says that Italy's wine production increased eight percent from 2007 to 4.7 billion liters, while France's production dropped five percent to 4.44 billion liters.
The organization also says that Italy is now the top exporter of wines to the United States. Coldiretti official Domenico Bosco credits Italy's higher numbers on favorable summer weather, and notes that while during the last decade Italian vintners have been reducing the amount of land cultivated for vineyards, Italian wine quality is improving.

---
December 8, 2008

Red Wine vs. Alzheimer's


Red wine, well known for its numerous health benefits like warding off heart disease, may also help fight Alzheimer's disease. Researchers at University of California, Los Angeles, working with New York's Mount Sinai School of Medicine, discovered that polyphenols (naturally occurring antioxidant compounds found in red wine) inhibited the formation of amyloid beta proteins, which are thought to be responsible for contributing to dementia.
After observing these proteins creating toxic plaque that killed nerve cells in mice, the scientists treated the mice with a polyphenol compound extracted from grape seeds and found that the extract both prevented the proteins from forming plaque and reduced the toxicity of already existing plaque. The researcher's findings were published in the Nov. 21 issue of the Journal of Biological Chemistry. While human trials have not yet started, we recommend that you enjoy a glass of Cabernet Sauvignon in the meantime.
---
December 1, 2008

Vicktory Dogs Wine Collection


We already have stars like Marilyn Monroe gracing wine bottles, but now a whole new breed of celebrity is being featured on wine labels—all for a good cause. Some of the canines rescued from former quarterback Michael Vick's dogfighting operation in 2007 are now featured on a lineup of red wines.
Each of the 22 bottles in Carivintas Winery's Vicktory Dogs Wine Collection contains a portrait of one of Vick's pit bulls, which were painted by artist Cyrus Mejia. On the back of each bottle is a short story about the dog pictured. The abused canines now live at Best Friends Animal Sanctuary in Utah, where handlers try to rehabilitate them for adoption. Ten percent of the collection's sales will benefit Best Friends, and will be used to help stop dogfighting throughout the United States. Bottles sell from $32-$40, and a complete set of 22 bottles (plus two commemorative bottles) costs $672. Dog lovers and wine enthusiasts with an eye towards charity may also enjoy the unrelated Cru Vin Dogs collection.
* Image from www.dogloverswineclub.com

---
November 24, 2008

Pregnant Women Can Have a Little Wine


In a recent study of expectant mothers, British scientists found that drinking an occasional glass of wine during pregnancy did not harm unborn children. The study also revealed that light drinking during pregnancy might even help improve children's behavior and cognitive abilities, a finding that contradicts conventional wisdom. For the study, researchers at the University College London interviewed 12,495 mothers with nine-month-old babies throughout the U.K., and asked the moms about their drinking habits while pregnant. Later, when the children reached the age of three, the researchers tested the kids for behavior problems and their level of intelligence, such as knowing numbers, letters, colors and words.
Children from mothers who drank occasionally during pregnancy fared better on the researchers' tests than those born from mothers who abstained from alcohol completely. For instance, boys born to light drinkers were 40 percent less likely to have behavior problems, and girls in the same category were 30 percent less likely to have emotional issues than their peers born from teetotaling moms. The children also had higher vocabulary scores and could name more shapes, letters, numbers and colors. For the study, light drinking was defined as no more than two four-fluid-ounce glasses of wine on a single occasion, and no more than two occasions a week.
---
November 17, 2008

Controversial Wine Legislation in France


French winemakers are expressing outrage over a proposed public health bill that may ban the country's tradition of free wine tastings. Article 24 of the proposed legislation, designed to curb binge drinking, outlaws "free alcoholic drinks with the intent of promotion." Opponents of the bill, which will be debated in 2009 by France's parliament, say that it will amount to prohibition, citing that the wine industry is already threatened by a ban on internet advertising and proposed increases in wine taxes.
On Oct. 30, hundreds of wine producers and industry representatives gathered throughout France to protest the government's policies. Some demonstrators, eager to make a point, even went as far as to place the word "censorship" over road signs of famous winegrowing regions.

---
November 10, 2008

Le Beaujolais Nouveau Est Arrivé!


In celebration of this year's debut of Georges Duboeuf's Beaujolais Nouveau, more than a dozen esteemed chefs will escort cases of the red wine through New York City via motorcycle. Starting from Battery Park, the brigade will ride to an uncorking ceremony at chef (and biker) David Bouley's new restaurant—Secession. Leading the November 20 parade of motorcycles will be Franck Duboeuf, the French wine merchant's son and heir apparent, who will be carrying the first delivery of Beaujolais Nouveau.
Under French law, this wine made from Gamay grapes is not allowed to go on sale until 12:01 a.m. on the third Thursday of November. Most of the chefs will be riding their own motorcycles, and bikers will include Gregory Rugin of Veritas, John Miele of Eighty One, Kristie Petrullo of Daniel, and Alex Ureña of Pamplona. A similar chefs-on-bikes celebration will be held in Miami. At Las Vegas's Paris, a celebrity guest will light the hotel's Eiffel Tower a Beaujolais shade of red at 12:01 a.m. to kick off a weekend of celebrations there.

Read more on Beaujolais Nouveau.
---
November 3, 2008

The Sopranos Wines


While the final episode of The Sopranos remains controversial, fans of the Emmy-award-winning television series can now debate what happened to the New Jersey mob family over a glass of Sopranos wine. The wines, produced by several family-run wineries in Italy, are the result of a licensing agreement between HBO and Vesuvio Import Company, which is named after the restaurant featured on the show.
Included in The Sopranos Wines brand's lineup will be a Chianti DOCG, Pinot Grigio and Pinot Noir (from $10-$12), and an estate-bottled Chianti Classico ($24) and Chianti Classico Reserve ($30). Tony's not the only one selling wines, though; actress Lorraine Bracco (who played Dr. Jennifer Melfi on the show) launched her own brand—Bracco Wines—in 2006.

---
October 27, 2008

A Powerhouse Winery


As a part of an effort to use sustainable winemaking techniques, Constellation Wines U.S. recently announced that its Gonzales Winery in Monterey County, California, is installing a one-megawatt solar power system. After completion at the end of 2008, the company claims that this will be the largest such system at any winery in the world.
The solar array, financed and managed by Pacific Power Management, will include more than 6,000 Mitsubishi solar panels covering approximately 170,000 square feet of the main winery warehouse roof. This alternative energy system will be capable of generating more than 1,700,000-kilowatt hours of electricity per year, reducing greenhouse gas emissions by the equivalent of removing 2,000 cars from the road. During the summer, when the winery is not crushing grapes and the sun's rays are strongest, Gonzales Winery will help supply energy to nearby homes.
* Image from www.cbrands.com

---
October 20, 2008

Institute for Vintners-in-Training


University of California, Davis hosted the grand opening of its new Robert Mondavi Institute (RMI) for Wine and Food Science on October 10. Hundreds of guests, including the Mondavi family, university officials and politicians, were present at the ribbon-cutting ceremony for the 129,600-square-foot complex. Consisting of three environmentally friendly buildings, the facilities are now home to the university's departments of Viticulture & Enology and Food Science & Technology, and contain a 75-seat theater, classrooms, research labs and administrative offices. Outside is a courtyard landscaped with a demonstration garden, and a soon-to-be-planted teaching vineyard.
Construction of the multimillion-dollar facilities was funded by numerous donations, including a $25 million gift from the late Robert Mondavi in 2001. Following the ribbon-cutting was a groundbreaking ceremony for the second phase of RMI's construction; a small-scale Teaching and Research Winery and the Anheuser-Busch Brewing and Food Science Laboratory (which will include a brewery and food-processing plant).
* Image from Karen Higgins/UC Davis

---
October 13, 2008

Buy It for the Wine


Wine pairs well with everything from spicy Thai chicken to mint ice cream. But what about with Miss February 1962 or Miss March 1975? Playboy Enterprises and Personal Wine—a company that sells customized wine products—recently announced a deal to produce a twelve-bottle collector's wine series featuring vintage Playboy covers on the label. Each month's high-end wine release will feature one of the magazine's iconic bunnies from the 1960s and 70s, each of whom was selected by sommeliers to match the wine's character.
Only 550 bottles will be allocated from each participating winery, and some of the selections will include the 2005 Gargiulo Vineyards Money Road Ranch Cabernet Sauvignon, 2003 St. Supéry Dollarhide Cabernet Sauvignon, and 2006 Tenuta Guido Guidalberto. A one-year membership (with various delivery options) costs $1,567 and includes a custom-fitted twelve-bottle oak box. Along with the subscription, individual bottles will also be available for purchase online and at fine wine retailers throughout the United States. Each bottle will retail for $90-$380, and will come in an engraved collector's edition box. In the meantime, however, we'll be sipping our Marilyn Merlot.
* Image from www.playboywines.com

---
October 6, 2008

First Wall Street, Next Champagne?


Champagne producers are concerned that they may be facing a market collapse as prices soar for the sparkling wine's grapes. This year, a reduced harvest and continued strong demand for the grapes have translated into higher prices for Champagne, which now may be too pricy for consumers suffering from the effects of the U.S. credit crisis.
Many of the large Champagne producers contribute to grape-inflation through their focus on quality, choosing to compete for the best grapes in the Champagne region of France instead of growing enough of the crop for themselves. Along with rising prices, Champagne exports declined during the first six months of 2008. According to Comite Interprofessionnel du Vin de Champagne, a trade industry group, demand fell by 22 percent in the United States (Champagne's third largest market), 18 percent in Spain, and 4.4 percent in the United Kingdom.

---
September 29, 2008

Vice Presidential Syrah


Ever since she became the Republican vice presidential nominee, Sarah Palin has fallen under the media's scrutiny for everything from her foreign policy to her fashion. Recently, a wine has caused a stir because of its coincidental name—Palin Syrah. This red from Chile is imported by North Berkeley Imports, which reports that as of last week, they are nearly sold out of the Syrah.
Palin (pronounced Pay-LEEN) is a boutique winery in Chile that practices organic viticulture and is named after a ball used in an ancient game played by one of the country's indigenous populations. North Berkeley Imports also carries Palin's Carmenère and Cabernet Sauvignon. Although the company's managing director, David Hinkle, notes that the Syrah was selling well before the election season based on its merits as an organic wine, he says, "Sales definitely picked up last week, and we're delighted." He won't speculate on who is buying the wines, however, noting that he has gotten calls from all over the country about the Palin Syrah. As for the attention paid to the wine because of its political association, Hinkle says, "Any advertising is good advertising."

---
September 18, 2008

Didier Dagueneau Dies in Ultra-Light Aircraft Crash


Didier Dagueneau, the unconventional winemaker of Loire Valley's Pouilly-Fumé, died on September 17, 2008, when the ultra-light aircraft he was piloting crashed shortly after takeoff in the Dordogne region of France. He was 52. Dagueneau was known for his adventuresome personality and the purity of his Sauvignon Blancs.
Starting with less than three acres of vines in 1982, Dagueneau's eponymous domaine grew to encompass 27 acres, producing 7,000 cases of Sauvignon Blanc each year. He is survived by his four children; two with his first wife Martine—Benjamin and Charlotte—and two sons with his partner Suzan Cremer—Aaron and Léon.

---
September 15, 2008

Red Wine May Fight the Flu


Drinking red wine in moderation has long been considered good for your health, with numerous studies indicating that resveratrol and polyphenols—compounds commonly found in the beverage—help combat cardiovascular disease and cancer. Now, researchers at the University of South Carolina's Department of Exercise Science have found that quercetin, a close chemical relative of resveratrol also found in red wine (as well as apples, onions, blueberries, broccoli and tea), may help ward off the flu after exercise.
The study, published in the American Journal of Physiology—Regulatory, Integrative and Comparative Physiology, found that strenuous exercise increased the risk for infection by influenza in mice, and that feeding quercetin to mice before their exposure to the virus negated the risk. Previous studies have suggested that quercetin has anti-viral properties, reduces lung inflammation and even inhibits the growth of prostate cancer. While further studies are needed to see if quercetin's benefits will carry over into humans, red wine is still good medicine for the body and spirit.

---
September 8, 2008

Physics Helps Authenticate Wines


While particle accelerators are traditionally used for smashing atoms and exploring the nature of matter, scientists at Arcane—a nuclear study center in Bordeaux, France—have found a new use for the technology: authenticating vintage wine. The method works by placing a bottle under a particle accelerator's ion beam and analyzing the resulting radiation from the glass.
Since glassmaking is a complex process that evolved over time, each bottle has a special signature, which then is compared against a database of 80 bottles of red Bordeaux wine dating back as far as the 19th century. Best of all, bottles and their contents are undisturbed by the process; existing radioactivity tests must analyze the wine itself and are incapable of identifying vintages before 1950. Arcane has an exclusive ten-year contract to authenticate wines with London's Antique Wine Company, a purveyor of older vintages.

* Image from www.cnrs.fr
---
September 1, 2008

California's Grape Harvest Falls Short


The squeeze is on for California grape growers and wineries as the projected grape crop for 2008 is estimated to be twenty percent smaller than last year's harvest, particularly in growing regions such as Napa and Sonoma counties. Inclement weather and the lack of rain throughout the season diminished yields, leaving Pinot Noir, Chardonnay and Cabernet Sauvignon grapes in short supply.
According to the Los Angeles Times, Andy Beckstoffer, the largest independent grower in California's North Coast, was recently five tons short on a 50-ton order of Sauvignon Blanc grapes. Nat DiBuduo, president of Allied Grape Growers (the state's largest grape cooperative), also reported that their harvest so far is ten to fifteen percent less than their yield for 2007. Coinciding with the grape shortage is a growing demand for domestic wines, increasing by three to five percent a year and outstripping the current rate of vineyard plantings. Though there may soon be fewer bargains for wine at stores, the slow economy may keep the prices down, and the weak dollar could bolster exports while discouraging imports.

---
August 25, 2008

Wine Weathers Turbulent Markets


In spite of recent economic woes, premium wine appears to be recession-proof as auction houses and wine investment funds experience strong profits. At Christie's and Sotheby's, for example, blue-chip wines such as Lafite-Rothschild and Domaine de La Romanée-Conti are selling well. One sign of the increased demand is the Liv-ex Champagne 25 Index, a tracker of the value of fine wines, which rose 27 percent this year.
However, you don't have to buy vintage bottles in order to make money through quality wines. Many investors are joining funds such as The Bottled Asset Fund and The Vintage Wine Fund, which invest in cases of particular vintages, much like a stock in a portfolio. The Bottled Asset Fund—investing mostly in Italy—seeks returns of 20 to 25 percent, while the more established The Vintage Wine Fund claimed returns of 25 percent in 2007.

* Image from www.vintagewinefund.com
---
August 18, 2008

Summer Sipping for the Sophisticate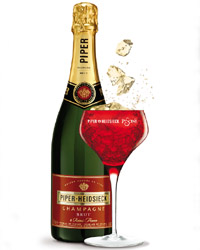 Forget the mai tais or the piña coladas, Piper-Heidsieck has debuted something more chic to sip during the steamy summer—Piper-Heidsieck Piscine. Originally served during the Cannes Film Festival, Piscine (which translates to "swimming pool" in French) is Champagne Piper-Heidsieck Cuvée Brut served in an untraditional, but refreshing, way—on the rocks.

Piper-Heidsieck Piscine launched on July 31 at Whiskey Blue at the W Los Angeles Westwood. Through Labor Day, guests can imbibe the bubbly from red Champagne coupes that complement the special satellite bar that Spanish designer Jaime Hayon created in the brand's signature color. The cost of Piper-Heidsieck Piscine at Whiskey Blue is $17 per glass.

Piper-Heidsieck Piscine can also be found at the following locations for a limited time: Stone Rose at The Fairmont Scottsdale Princess, Moonstone Lounge at the Hard Rock Hotel San Diego, MEXX Kitchen at The Whiskey in Chicago, Whiskey Park in Atlanta, Whiskey Blue in New Orleans, Maxim Beach in Cancun, and The Whiskey in Mexico City.

For more information, visit www.piperheidsieck.com.

* Image from www.piperheidsieck.com
---
August 11, 2008

A Spirited Sauce



For lovers of bourbon and Asian cuisine, there's a new soy sauce on the market inspired by the uniquely American spirit. Bluegrass Soy Sauce Company's creation is the only micro-brewed soy sauce in the United States, and possibly the only in the world made through fermentation in aged bourbon barrels. In Japan, the country's 1,500-2,000 soy sauce microbreweries take pride in using local ingredients, and Bluegrass Soy Sauce Company does the same by using Kentucky-grown soy beans and limestone-filtered Kentucky spring water in addition to the bourbon barrels. The company took three years of research to develop this small-batch recipe, which comes in 5-ounce bottles ($5) and 1.75-ounce "travel bottles" ($3). Each bottle is labeled by barrel and batch number. The sauce may be purchased online at www.bluegrasssoysauce.com.

* Image from www.bluegrasssoysauce.com



---
August 4, 2008
In an ironic twist several decades after the "Judgment of Paris," one of France's top vintners, Chateau Cos d'Estournel, will purchase Napa Valley's famous Chateau Montelena. The Calistoga-based winery achieved world renown when its 1973 Chardonnay beat French whites at the infamous 1976 blind wine tasting in Paris. The announcement of Chateau Montelena's sale precedes the premiere of the movie Bottle Shock, which focuses on the "Judgment of Paris" and Chateau Montelena's owners, father-son duo Jim and Bo Barrett.
Though the financial details have not been released, the sale is rumored to be between $110-$150 million, and will not be finalized until the U.S. Justice Department approves the deal this fall. The Barretts began looking for buyers approximately eighteen months ago after they realized how much money it would take to upgrade their property. The sale of their winery is the latest in a series of Napa Valley estates to be purchased by outside buyers—others have so far included Stag's Leap Wine Cellars (by a partnership of Ste. Michelle Wine Estates in Washington and Italian vintner Piero Antinori) and Duckhorn Wine Company (by GI Partners based in Menlo Park, California and London).
* Image from Chateau Montelena
---
July 28, 2008
Samples Get Bigger at California Wineries


California's Governor Arnold Schwarzenegger recently signed a new law allowing the state's wine tasting rooms to serve their patrons alcoholic beverages by the glass and bottle.
Before, wineries were not permitted to offer their visitors more than a single ounce sample at a time. This long-standing restriction also prevented oenophiles from legally enjoying a glass of newly purchased vino on winery grounds, which often feature picnic areas and places to socialize. Assemblywoman Noreen Evans, who argued that it is unreasonable to prevent a person from opening a bottle of wine on a winery's premises, authored this common-sense measure. The bill, AB 2004, was sponsored by the Wine Institute and was passed unanimously by the state legislature.

---
July 21, 2008
Duplin Winery, the oldest winery in North Carolina, has recently released Mothervine Premium Scuppernong, a sweet white wine derived from what winery owner David Fussell Sr. claims is the oldest cultivated grapevine in the world. The more than 400-year-old Mother Vine, which yields Scuppernong grapes, is located on Roanoke Island and likely fed Sir Walter Raleigh's colonists.
Scuppernong, a variation of the Muscadine varietal, is native to North Carolina, where it is the state's official fruit. Duplin Winery's special Scuppernong is the first vino made from the vine in a century, and originated from cuttings taken from the Mother Vine. After being harvested, the Mother Vine grapes were combined with other hybrid Scuppernong grapes in production. A bottle of the wine retails for $13, with a portion of the proceeds benefiting a nonprofit conservation organization for Roanoke Island.
* Image from The Mother Vine
---
July 14, 2008
While long considered to be best for summer barbecues, Rosés have taken a more universal appeal, having recently bested white wine in volume of sales in France. Now an estimated one out of five bottles of wine sold in this wine-centric country is a Rosé. Some say it is especially popular among French youth, who enjoy it as a fun beverage while disregarding factors like labels, varietals and terroir.
A study earlier this year found that red wine is consumed by wealthier, older French men while Rosés are enjoyed by both genders of every age and social group. Producers in Provence and Anjou, France's main Rosé-producing regions, are experiencing increased business, drawing traditionally red and white-growing regions into the salmon-hued fray. According to the United Kingdom's The Daily Telegraph, Bordeaux is bringing back its production of Clairet, a darker pink wine, while Burgundy now produces two million bottles of Rosé annually.
---
July 7, 2008
New Orleans, long known for its music, creole cuisine and the famous Mardi Gras, is now home to a permanent exhibition of The Museum of the American Cocktail (MOTAC). The non-profit museum is located near the French Quarter and will officially open its doors on July 21. MOTAC focuses on the history of mixed drinks, beverages enjoyed since the early days of the United States.
Originally, cocktails consisted of any mixture of bitters, spirits and sugar, and—according to Dale DeGroff, president and co-founder of the museum—became popular in New Orleans because of the city's relaxed mores about drinking. Displays at the museum include vintage cocktail shakers, Prohibition-era literature and rare spirits. While the museum does not have a bar, many of the seminars will include special tastings. MOTAC's hours will be Monday through Friday (10 a.m.-7 p.m.) and Sunday (12 p.m.-6 p.m.), and tickets will cost $10 per person. For more information, visit www.museumoftheamericancocktail.org.
* Image from Museum of the American Cocktail
---
June 30, 2008
Dominating wine grape production in the United States is California, followed by Washington, New York, Oregon and… Virginia? According to the National Agricultural Statistics Service, Thomas Jefferson's home state is now the nation's fifth largest producer of wine grapes, with a crop worth $7.8 million in 2007. The state that had only six wineries in 1979 now has 130, which include Valhalla Vineyards, Tarara Winery and Kluge Estate Winery.
Between 2001 and 2007, wine grape production increased from 4,200 tons to 5,600 tons, a 35 percent gain. During the same period, acreage swelled from 1,700 acres to 2,790. Adding to Virginia's success is the Virginia Wine Distribution Co., which began operating in April to help small wineries sell their creations to the public. The company was formed under the state's Department of Agriculture and Consumer Services after a U.S. District Court struck down Virginia laws allowing self-distribution by small wine producers.
* Image from First Colony Winery
---
June 23, 2008
Process Makes White Wine as Healthy as Red


Israeli researchers recently discovered a way to make white wine so that it would provide the same health benefits as those of red wine. The scientists from Technion, the Israeli Institute of Technology, revealed that they were able to fortify white wine with six times its usual levels of polyphenols, an antioxidant compound believed to lower cholesterol levels and prevent cancer. Red wine, in contrast to white wine, is naturally rich with polyphenols because the compound is found in grape skins, which are left on the grapes during fermentation and give the vino its dark hue.
Technion researchers discovered that they were able to boost polyphenol levels in white wine by letting the grapes ferment with their skins and a limited amount of alcohol for eighteen hours. The process retains the normal white wine taste and color, but infuses it with the antioxidant power of a red wine. Binyamina, an Israeli wine producer, has already begun to use this technique and the beverages are expected to go on sale in the U.S. by the end of the year.
---
June 16, 2008
Louis Roederer, one of the oldest Champagne houses in France, announced on June 2 that it is testing an innovative method for aging its bubbly beverages—on the seabed off Mont Saint-Michel, France. During the previous weekend, the family-owned Champagne house had divers place several dozen bottles of its Brut Premier label fifteen meters underwater by the small tidal island famous for its monastery.
A cellarman at Roederer suggested the idea after realizing that the water in the bay by Mont Saint-Michel remains at a constant ten degrees Celsius, and that the gentle tidal motion and lack of UV rays are ideal for cellaring. During the last four years, other French wineries have tried aging red Crozes-Hermitage, white Muscadet and white Burgundy underwater. Herve Boucton, the commercial director for Roederer, noted that the process had a greater effect on white wines rather than red. In a year, Roederer will hold a tasting session to compare the wines aged underwater with the wines aged at their usual cellar location in Reims.
* Image from mont-saint-michel.monuments-nationaux.fr/en/
---
June 9, 2008
American Wine Classic Garners $10.35 Million


Auction Napa Valley (ANV), one of the region's foremost wine charity events, recently raised $10.35 million for organizations throughout Napa Valley. During the four-day event, hundreds of guests at various Napa Valley locations bid on barrel futures, unique wines, vintner-hosted events and winery vertical collections. Additionally up for auction were rare bottlings (six-liter bottles of 1992 Screaming Eagle wines), luxury items (a fully restored 1956 100-4 Austin Healey car), and special experiences (a walk-on role on Grey's Anatomy along with an excursion to New Zealand with Rich Frank of Frank Family Vineyards). However, the lot that raised the most money had nothing to do with objects of art, star chefs or exotic destinations. $500,000 was raised for Clinic Ole, serving Napa County farm workers and area residents with little or no health insurance.
Festivities began on June 5 with wineries from Carneros to Calistoga offering kick-off celebrations. Other highlights included the Taste of Napa Valley on Friday, June 6 with 150 wineries and 60 gourmet restaurants and food producers offering their specialties. Thomas Keller passed out fancy French Laundry snow cones. Christopher Kostow of Meadowood offered introductions to those unfamiliar with his transition from Chez TJ. Ubuntu restaurant raised eyebrows with a savory cauliflower crostini. Wineries also held private dinners up and down Napa Valley. At the Lieff home in Rutherford, prominent San Francisco attorney and winemaker, Robert Lieff and his wife, Gretchen, hosted a small group who noshed on caribou, yak and wild game served family-style courtesy Gloria Ciccarone-Nehls of San Francisco's Huntington Hotel & Nob Hill Spa. The live auction and dinner commenced during the evening of June 7 when Jay Leno took the mike as the master of ceremonies. An emotional tribute was paid to the late Robert Mondavi with wife Margrit, son Timothy and granddaughter Chiara looking on. By the end of the long weekend, 44 Live Lots, 128 Barrel Lots and 87 E-Lots from local wineries were sold to bidders as far away as China. Since the first ANV in 1981, Napa Valley vintners and their guests have raised $78 million for charity.
* Image from www.napavintners.com
---
June 2, 2008
After a space mission spent eating freeze-dried food, Navy Commander Kenneth Ham often enjoys a drink of his favorite sparkling wine once he's back on earth. Ham is the pilot for the Space Shuttle Discovery's current fourteen-day mission, which launched on May 31, to deliver components to the International Space Station.
As an astronaut, he is allowed to bring several personal items with him into space. While his peers packed mostly sports memorabilia, Ham brought labels and corks from his preferred producer of sparkling wine: Schramsberg Vineyards, which is located in California's Napa Valley. Schramsberg made history in a different sphere in 1972 when President Nixon brought its 1969 Blanc de Blancs to China to toast his historic meeting with Premier Chou En-lai.
* Image from NASA
---
Report Predicts That China Will Lead Wine World by 2058


London-based wine merchant Berry Bros. & Rudd (BBR) estimates in their recently released report "Future of Wine" that China will become the world's largest producer of wine by 2058. The report, based on the opinions of BBR's four Masters of Wine, also suggests that the quality of China's wines will end up rivaling those from France. China is already the planet's sixth largest producer of vino, producing 700 million bottles of wine in 2007 alone, and expected to out-produce Australia by 2009.
Additionally, BBR predicts that climate change will create new grape-growing regions in countries such as the Ukraine, Moldova, Slovenia, Poland, Canada and Great Britain. Australia is estimated to shift towards producing small quantities of handcrafted, terroir-driven fine wines as the country's climate becomes too hot and arid for high volume grape growing. Other wine trends predicted include stronger brand power instead of emphasis on origin and varietal, use of genetic modification and artificial flavoring, offshore floating vineyards, low-calorie vino, bulk wine shipping and environmentally friendly drinking cartons instead of glass bottles.
* Image from www.yellowmoonimports.com
---
May 19, 2008
Although it's been more than 30 years since the controversial "Judgment of Paris," the story of the event will get the Hollywood treatment through two films, Bottle Shock and Judgment of Paris. Both movies portray the 1976 blind wine tastings where French judges rated California wines higher than their native vino. The event caused a ruckus in the French wine world, as well as among the judges, and helped bolster the reputation of New World winemaking.
Bottle Shock, a comedy/drama recently shown at the 2008 Sundance Film Festival and scheduled for a limited release this August, focuses on Steven Spurrier (Alan Rickman), the British wine shop owner who organized the event, and Jim and Bo Barrett (Bill Pullman and Chris Pine), the father-son proprietors of Napa Valley's Chateau Montelena Winery, which won the event's top ranking in Chardonnays. The second film, Judgment of Paris, is based on the book of the same name by George M. Taber, the only journalist at the 1976 tasting. This movie is in post-production with no release date yet set.
* Image from Bottle Shock Movie
---
May 12, 2008
Cheers for World's Priciest Beer


With reports of billionaires shelling out thousands of dollars for vintage wine, it's hardly surprising that a bottle of beer costing nearly $400 has arrived on the market. Jacobsen Vintage No. 1, a limited edition brew developed by Danish brewing giant Carlsberg, is the world's most expensive beer. All 600 of the green, 375 ml bottles come with one of four lithographs created by Danish artist Frans Kannik. The hand-etched images depict fables of Sif, the wife of Thor.
The 21-proof brew was aged in new Swedish and French oak barrels for six months, and displays flavors of prunes, caramel, vanilla and oak. This dessert beer is sold mainly at three upscale restaurants in Copenhagen, including Noma. Over the next two years, Carlsberg plans to follow up their upmarket foray by releasing two new, similar priced creations.
Read more here.
---
May 5, 2008
High Tech Tracking for Bordeaux


Rising Bordeaux wine prices are causing many of the region's famous châteaus to keep better track of their vino during shipment abroad. Increasing numbers of winemakers want to ensure that the quality of their products is not compromised during transport. Extreme temperatures, especially excessive heat, can damage the flavor, aromas and color of wine. Over-heated wines are hard to visually identify, so they are often discovered when they are uncorked, usually after someone has already paid for the bottles. A Boston-based startup, eProvenance, has devised a system of Radio Frequency Identification (RFID) chips to track wines and their temperatures while being shipped. RFID chips are placed on each case of wine and measure its ambient temperature three times a day. In addition, each bottle of wine has an individual RFID chip and tamper-proof invisible ink on its label. The bottles and case temperatures are recorded in eProvenance's online database. During the last six months, the company tracked approximately 1,200 cases of wine from some of Bordeaux's top winemakers, including Lynch-Bages and Haut-Bailly.
* Image from www.eprovenance.com
---
April 28, 2008
Vineyard pests, beware—grape farmers will soon have a stronger, greener line of defense against the encroachments of nematodes and phylloxera, the destructive worms and aphids that feed on plant roots, weakening vines and reducing grape yields. In response to the often ineffective and limited use of chemical fumigation, UC Davis recently released five new pest-resistant grape rootstocks to several California nurseries, which will propagate the rootstocks and sell them to grape growers.
A team of researchers at UC Davis led by Professor Andrew Walker, a plant geneticist and breeder, developed these modified grape roots and trunks over the course of fifteen years. Various grape varietals can be grafted onto these special rootstocks to create hardier vines. Wine made through the use of these rootstocks may be on local store shelves by 2013.
* Image from Sylvia Wright/UC Davis
---
April 21, 2008
Rare Reds Fetch Impressive Sum


Despite cutbacks in consumer spending worldwide, sales of expensive wines appear resistant to economic concerns. One Chinese billionaire recently dropped a cool half-a-million dollars on 27 bottles of red wine, setting a record for the most money ever spent on a single lot of wine. Purchased through London's Antique Wine Company, which announced the record sale on April 19, the valuable vino is an assortment of vintages from Domaine de la Romanée-Conti, a Burgundy estate that only produces 450 cases annually. The Romanée-Conti wines bought by the Beijing-based entrepreneur include twelve bottles of the 1978 vintage, two bottles each of the 1961, 1966, 1996 and 2003; and one bottle each of the 1981, 1990, 1992, 1995, 1999, 2001 and 2002. On average, each bottle cost $18,518. Previously, the anonymous wine enthusiast bought a case of the 1982 Chateau Petrus for $59,880.
Notable single wine bottle purchases include Malcolm Forbes' (the late publisher of Forbes magazine) splurge of $162,750 in December 1985 for a bottle of 1787 Chateau Lafitte. In 2006, the Antique Wine Company sold a bottle of 1787 Chateau d'Yquem for under $100,000, making it the most expensive white wine ever sold.
---
April 14, 2008
A Green Book for Spanish
Reds and Whites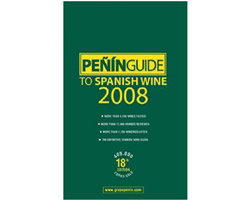 José Peñín, journalist and Chairman of Grupo Peñín, announced the debut of the English translation of the Peñín Guide to Spanish Wine 2008 to a group of wine professionals and press at New York City's W New York — Union Square on April 3. The current issue of the guide, released annually for the last nineteen years, includes tasting notes and reviews of 8,100 wines, and lists more than 31,000 bottles. Grupo Peñín now prints 30,000 copies of its guide in Spanish, English and German. Along with the bilingual announcement, Peñín held a press conference in which he and other experts (including sommelier Roger Kugler of Boqueria & Suba) discussed misconceptions surrounding Spanish wine, the effect of currency exchange on the industry and other pressing issues. Following the discussion was the second annual showing of the New Values of Spanish Wines, a tasting from 25 Spanish bodegas, including the 2002 Divo, a Madrid Tempranillo from Ricardo Benito, and the 2005 Celler Melis poured by partner Victor Gallegos, who is also Director of Winemaking at Sea Smoke in Santa Barbara County.
* Image from Grupo Peñín
---
April 7, 2008
Rémy Martin, a producer of premium Champagne Cognac since 1724, will launch their first-ever limited edition V.S.O.P. this June. The V.S.O.P., which stands for Very Special Old Pale, consists of a blend of eaux-de-vie (colorless fruit brandies) that have been aged from four to fourteen years in oak barrels. All of the grapes used to make the beverage originate from the Grande and Petite Champagne regions of France. Photographer and director David LaChapelle created the original art for the bottle, an exotic cabaret theme inspired by the V.S.O.P.'s origins in the nightclubs of Paris during the Jazz Age. The 750 ml bottle, arriving in stores this June, will cost $50.
* Image from Rémy Martin
---
March 31, 2008
Many people enjoy a cold beer while watching a ballgame, but now vino may become a drink of choice with the introduction of baseball player-themed wines. These special wines are produced by Charity Wines, which features an entire roster of wines themed after present and past Major League Baseball players. Current ballplayers with their own labels include Boston Red Sox's David Ortiz (Vintage Papi), New York Mets' Johan Santana (Santana's Select Merlot) and Atlanta Braves' Tom Glavine (Cabernet Glavingnon).
Some of the retired ballplayer-themed labels include Mike Schmidt 548 Zinfandel, Ernie Banks 512 Chardonnay and Eddie Murray 504 Cabernet. The numbers on the labels refer to each player's career total of home runs. The athletes do not make a profit from the wine sales; each bottle ranges from $14-$18, and generates $1.25 for a charity of the player's choice. David Ortiz, for example, directs the money generated to The David Ortiz Children's Fund, which helps provide medical care to children in New England and the Dominican Republic. In 2007, Charity Wines raised nearly a half-million dollars for various altruistic organizations.
* Image from Charity Wines
---
March 24, 2008
Dutch winemaker Ilja Gort, who owns Chateau de la Garde in Bordeaux, France, recently had his nose and sense of smell insured by Lloyd's of London for €5 million. Gort decided to take out the policy after hearing about a man who lost his sense of smell in a car accident. The nose is one of the most important tools in Gort's profession, since it can detect millions of different scents while the tongue only has five areas of taste. A battery of tests by doctors revealed that Gort has an above-average sense of smell.
The custom-made insurance policy comes with several unusual conditions; Gort may not ride in a motorcycle, breathe fire or be a knife thrower's assistant. He must also see experienced barbers when he wants to trim his distinctive handlebar moustache. Gort, however, is not the first wine professional to take out such a policy. American wine taster, Robert Parker Jr., has his nose insured for $1 million.
* Image from Lloyd's of London
---
March 17, 2008
Think you have expensive taste? For fabulously wealthy wine lovers, having posh preferences may also mean a trip into the record books. On March 20, the world's priciest Champagne will go on sale for a select community of 100 super-rich consumers in the U.S., Great Britain, Japan, China, Russia, Switzerland and France. A bottle of Perrier-Jouët Champagne will cost €4,166, while the limited-edition twelve-bottle set of Champagne will go for €50,000.
Buyers will travel to Epernay, France, to meet cellar master Herve Deschamps and to add a special liqueur to personalize their bottles, which will be aged for another eight months in the cellars. The liqueur is a combination of sugar and wines from various years, and its addition will put a finishing touch on Perrier-Jouët's 2000 Belle Epoque Champagne for each individual. Previously, the record for expensive bubbly was held by a limited edition of Dom Pérignon Champagne, which sold for €12,000 per three-liter bottle in 2005.
* Image from Perrier-Jouet
---
March 13, 2008
Bellagio Las Vegas, a luxury hotel and casino in Las Vegas, recently announced that Joseph Phillips of Sensi is joining their lineup of Master Sommeliers. With their team increasing to four, Bellagio now holds the world record for the most Master Sommeliers working at a single location.
The other three members of the "Court of Master Sommeliers" are Robert Smith of Picasso, Jason Smith of Michael Mina Bellagio, and Director of Wine Robert Bigelow. Bellagio boasts a record 18 sommeliers at their property overall, four of whom are female. Along with its complement of sommeliers, Bellagio maintains approximately 50,000 wine bottles, 5,000 selections and 250 wines by the glass at any given time.
* Image from Bellagio Las Vegas
---
March 10, 2008
An opened bottle of wine, as all wine lovers know, has only two or three days before prolonged oxygen exposure ruins the vino's charm. One way to solve this recurring problem is to take the wine bottle out of the equation. Businesses like Más Wine Company in California's Sonoma County are catering to a growing market of local restaurants and the public by selling their blend of Cabernet Sauvignon and Sangiovese wine inside large stainless steel kegs. Más' kegs are airtight tanks capable of holding 3.85 gallons, or twenty bottles, of wine. Each keg, which is returnable to Más, is pressurized with nitrogen to keep oxygen from entering the vessel and spoiling the contents. For their part, Más guarantees that their wine in the kegs will stay fresh up to 60 days.
With wine kegs, restaurants gain increased savings as they prevent the problem of having half a bottle of wine spoiled because it was opened during a slow period. Wineries and distributors also benefit from increased savings through reducing the amount of inventory lost because of glass breakage. Additionally, wineries can ship more wine for their money with a keg, since they are not paying to ship corks, glass bottles and cardboard boxes.
* Image from Más Wine Company
---
March 3, 2008
Global Demand is Bubbling for Champagne


French Champagne producers set a new record in 2007, exporting 150 million bottles of Champagne to 190 countries, a 7.3 percent increase from 2006. Overall, 338.7 million bottles of Champagne were sold worldwide. During 2007, France led the world in demand for Champagne, consuming 188 million bottles, followed by Great Britain, which consumed 38.9 million bottles. The European Union, which remains Champagne's main market, consumed 91.4 million bottles last year. Sales in the E.U. are growing fastest in Romania, Slovakia, Lithuania, Hungary, Estonia, Latvia, Slovenia and the Czech Republic.
Also that year, sales soared 41 percent in Russia and 30 percent in China. Japan, with sales jumping 14.4 percent, is now the world's sixth largest market with 9.1 million Champagne bottles sold there. Even the United Arab Emirates increased imports by 18 percent because of its growing hotel industry. While other parts of the world enjoyed booming demand for the bubbly, the U.S. market shrank more than 6 percent because of the weak dollar against the euro.
---
Only One Glass of Vino a Day Keeps the Doctor Away


Canadian researchers recently discovered that drinking one alcoholic beverage per day has a beneficial impact on the heart, but two or more drinks are likely to have the opposite effect. Their findings were published in the February issue of the American Journal of Physiology, Heart and Circulatory Physiology. For the study, thirteen volunteers were given either 4 ounces of red wine, 1.5 ounces of ethanol or water at random during three different sessions over the course of two weeks.
The researchers found that with either red wine or ethanol, the heart's blood vessels dilated, reducing the stress on the organ to pump blood through the body. After two drinks, however, the heart rate, quantity of blood passing through the heart, and the activity of the sympathetic nervous system all increased. This reaction did not coincide with further dilation of blood vessels, putting additional stress on the cardiovascular system. Researchers were surprised at wine and ethanol's similarity in affecting the heart, but noted that long-term consumption may reveal differences. A previous study, with a different conclusion, suggested that women who drank one or more glasses of red wine a day improved their overall heart health.
---
February 19, 2008
The Half-a-Million Dollar Case of Wine Fraud


Imagine spending half-a-million dollars for a rare case of wine, only to find out later that the wine you bought is worthless. Billionaire William Koch did just this in 1985, when he purchased a case of 1787 Château Lafite Bordeaux—wine he thought had once been owned by Thomas Jefferson. A decade later, when Koch discovered the wine was a fake, he sued Hardy Rodenstock, the antique wine dealer who had sold it to him.
Two movies, which are both slated for production, aim to tell this twisted tale of high-priced wine fraud. One of the prospective films, based on Benjamin Wallace's book The Billionaire's Vinegar, has been optioned by Escape Artists, the production company behind The Pursuit of Happyness. Also hoping to make a movie about the fraud is Ben Karlin, the creative force behind comedy shows like The Daily Show and The Colbert Report.
---
February 11, 2008
More Green for Washington's Reds and Whites


Watch out, California: according to a recently published study, the wine business is becoming a powerful economic force in the state of Washington. The study, organized by the Washington Wine Commission and the Washington Association of Wine Grape Growers, found that Washington's wine and grape industries annually contribute $3 billion to the state's economy, and $4.7 billion to the economy of the United States overall. In 1999, there were only 160 wineries in Washington, a number which grew to 534 by 2006.
In the United States, Washington is now second only to California in the size and strength of its premium wine industry. Washington, as a related benefit to its growing prominence in wines, is also experiencing growth in wine-related tourism. During 2006, 1.7 million wine enthusiasts visited Washington, an increase from the 350,000 wine tourists who visited in 1999. The study also included statistical information about employment, agricultural growth, product revenues and taxes.

*Image from Washington Wine Commission
---
February 4, 2008
Wineries Aim to Leave Smaller Footprints


Winemakers in the Bordeaux region of France are participating in a study to measure the amount of carbon dioxide generated by their winemaking. The study, called "Bilan Carbone" or "Carbon Balance", will examine the carbon dioxide output of Bordeaux area wineries, which produce 756 million bottles of wine each year and export 40 percent of that number. The goal of the study is to help establish future environmental guidelines for the industry so that the wineries can reduce their carbon footprints.
This project will examine every process of winemaking, including tending vineyards, making wine, bottling, shipping and waste management. Along with analyzing environmental impact, the study will help winemakers to reduce production costs through identifying ways to increase efficiency. This six-month project is administered by Le Conseil Interprofessionnel du Vin de Bordeaux and the French Environmental Agency, which will release the study's results this September. A similar project is underway in the Champagne region.

*Image from Wikimedia Commons
---
January 28, 2008
Wine Production Sinks While Demand Soars


Global wine production numbers will be some of the lowest in ten years because of the negative influence of 2007's weak grape harvests in Europe and Australia. While many wine regions are producing more grapes, Europe and Australia's harvests continue to suffer from a combination of climatic and economic difficulties. Europe's total grape harvest in 2007 was seven percent less than the prior year's harvest. In terms of millions of cases of wine later produced, France decreased production by five percent, Spain by twelve percent and Italy by nine percent. Australia's decline is even more drastic, with its grape harvest in 2007 diminished by a quarter. Currently, Australia's 2008 harvest is expected to yield even less.
European harvests are diminishing because of erratic temperatures and climate changes that prolong dry periods in places like southern Italy. Old World wineries, in addition, continue to face stiff competition from upstart New World wineries, which affects profitability and production. Australian wine grape harvests are diminishing because of a prolonged drought in the Murray Darling basin, which many wine regions rely on heavily for water. As the drought continues, many Australian vintners may be forced out of business. According to a study produced by Vitisphere.com, worldwide wine demand may soon exceed 67-100 million cases. With diminishing production in the face of soaring demand, your favorite Australian and European vino may start costing you more.
---
January 21, 2008
Does Price Affect Taste?


Like the caveat "Don't judge a book by its cover," you may think it silly to judge a wine's quality by the price of the bottle. However, researchers from Stanford University and California Institute of Technology discovered that by simply increasing the price of a wine, people will believe that this wine tastes better. The study was published last week in the online edition of Proceedings of the National Academy of Sciences.
The experiment involved using a special Magnetic Resonance Imaging (MRI) machine to analyze the brain's medial orbitofrontal cortex, where humans process their enjoyment of odors, taste and music. In the study, twenty people ranked their enjoyment of variously priced wines while undergoing a scan from the MRI. Without the subjects knowing, one wine was given twice, once priced high, the other time low. This particular test was also repeated with a different wine during the samplings. Despite being the same wine, when people thought it was "expensive," the MRI detected increased activity in the brain's perception of enjoyment. These findings may result in more marketers subverting the better judgment of wine enthusiasts by raising prices for certain wines, in spite of the wine's actual quality.
---
January 14, 2008

California Winemakers Take a Lighter Approach



Numerous California vintners are responding to growing demand from sommeliers to reduce the alcohol content of their wines. Like most New World wines, California wines are strong because the grapes grow in a hot climate and growers leave these grapes on the vine longer than Old World wine regions. Generally, these wines contain 15 to 17 percent vol. alcohol. An increasing number of U.S. restaurants have European-trained sommeliers, and they are insisting on lighter, more balanced wines like those found in Europe, which contain around 13 percent alcohol.

Wineries may succumb to the temptation to create the brawny wines beloved by influential wine critics in order to garner high scores and positive reviews. Wines with higher alcohol content have bolder flavors and more body, but as some sommeliers now contend, these wines sacrifice their balance and make it harder to enjoy more than a glass or two before being overwhelmed by the alcohol. Some ways winegrowers are reducing alcohol content while preserving flavor consist of picking the grapes sooner, adding water during fermentation and subjecting the wine to a technological de-alcoholization process. Some California wineries that have reduced alcohol content to create better balance in their wines include Astrale e Terra, Rudd Vineyards and Frog's Leap.


---
January 7, 2008
It's a Bird...It's a Plane... It's "Supervine"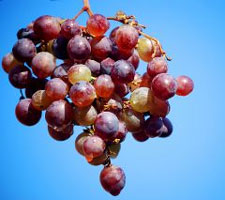 Oenophiles who have resolved to be healthier in '08 may get a little help from a team of scientists in China. Led by Yejin Wang, researchers at the Northwest Agricultural and Forestry University in Yangling, Shaanxi province, have developed a way to grow genetically engineered grapes. These grapes contain six times the usual amount of resveratrol, which, among other health benefits, helps fight cancer, high blood pressure and Alzheimer's disease.

Wang and team created the "supervine" by arming a regular vine with the stilbene synthase gene they retrieved from Vitus pseudoreticulata, a wild Chinese vine. The gene triggers resveratrol production, which results in the higher level found in the new grapes. Though the main goal of the research is to create grapevines that produce more resveratrol in order to fight off harmful fungus, the team will also make wine with the genetically engineered grapes, meaning both plants and imbibers should be healthier thanks to these "supervines."
---
How Many Carbs Are in Your Cabernet?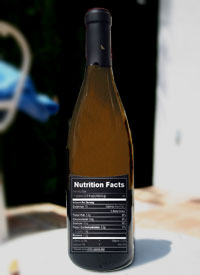 As Americans become increasingly health-conscious, legislators have responded, legally requiring many industries to include nutrition facts on their product labels. The Trade and Tax Bureau (TTB), which governs the wine industry, may soon follow, having proposed a bill that would call for all wine labels to feature serving size and nutrition information. The proposition is receiving mixed reviews from winemakers, not only because they don't want to reveal their techniques, but also for aesthetic reasons.

The inclusion of the facts means other aspects of the label will have to change dramatically. In addition to the required government alcohol warnings, labels often feature stories about the vineyard or other promotional information, which may soon have to take a back seat to nutrition facts. If the proposition is passed, winemakers will be given a grace period of three years to transition their labels. To gain a better understanding of public opinion, the TTB is accepting comments until the end of January. To weigh in on the matter, send an e-mail to ttbquestions@ttb.treas.gov.

Do you think wine labels should be required to include nutritional information? Share your thoughts with us and other readers on our forum!
---