2006 Wine News

More 2006 Fall/Winter Wine News

Latest Wine News
August 1, 2006
Wine-bot to Join the Battle Against Fraud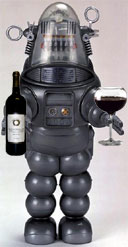 Not the Wine-bot
The fight against watered-down Merlot and falsely-labeled Cabernet has a new weapon: the Wine-bot. Developed by engineers from NEC System Technologies in Japan, the machine uses infrared light and a microcomputer to determine whether the bottle in question contains what the label says. Customs officials and retailers have been searching for a machine that can detect wine fraud quicker and more cheaply than the old method: tasting and wine-record analysis. The Wine-bot works by placing a small amount of wine in a tray attached to the machine. Infrared light is then fired into the sample and the reflected light is analyzed by the robot's computer. Within 30 seconds, it can distinguish between 30 different varietals or blends, but NEC wants that number significantly raised before it brings the Wine-bot to market. Don't expect it to resemble Robbie the Robot; the device is actually about twice the size of a wine box. Fraud has always been a problem in the wine industry, particularly in poor grape-growing years, when winemakers are tempted to create a blend that is difficult to detect.
---
Artist Turns Carlo Rossi Jugs Into Furniture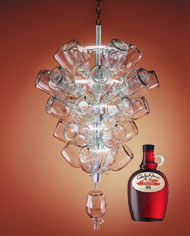 Everyone knows recycling is a must these days, but if you're a fan of Carlo Rossi wine, why waste those big trademark jugs by tossing them in the blue bin? Why not recycle them further by creating nifty furniture like a chandelier, bookshelf, TV stand and even a couch? Seattle artist Jay Blazek has created a collection of six furniture pieces utilizing Carlo Rossi 1.5-liter and 4-liter jugs that will be displayed at several lifestyle events across the country. Best of all, you can make these creations yourself using blueprints on CarloRossi.com. Some, such as the couch, are more difficult than others, but the chandelier is a relatively simple and affordable way to create a unique conversation piece. The hardest part is drinking the almost 50 liters of wine in the 33 bottles—it'll help to have thirsty friends. For those interested in just seeing these interesting works of wine art, check them out at one of the events below where individual pieces will be auctioned off for charity.
July 30-31 Seattle Capitol Hill Block Party
Aug 2-13 Minneapolis, Minnesota Fringe Festival
Sept. 8-10 Boston Tattoo Convention
Nov. 11 Austin, Texas, Stitch Fashion Show & Guerilla Craft Fair
---
July 17, 2006
Wine Added to Global Warming's Hit List
Winemakers around the country are facing an inconvenient truth as a study published by the National Academy of Sciences warns that global warming could destroy as much as 80 percent of grape-growing regions in the United States. Grapes require a steady temperate climate and when temperatures rise into the 90-degree range, growth diminishes and sugars break down. As trapped greenhouse gasses like carbon dioxide heat up the Earth, warmer wine-growing areas like California will become too hot to yield a consistent crop. For instance, the recent 2003 heat wave in Europe caused significant wine production losses in France, Italy and especially Spain. Cooler regions like Washington and New England could see an increase in production due to warmer temperatures, however. Climatologists noticed this "wine crisis" by studying the long-term growth data that exists for grapes, and calculated what would happen to that growth as temperatures continued to rise.
"Our simulations suggest that the area suitable for the production of premium wine grapes will both contract and shift over the next century," the study's five scientists wrote. "Production potential was almost completely eliminated in the Southwest and central United States; only high elevations were marginally suitable in the Intermountain West."
For more information on global warming, visit climatecrisis.net.
---
Everybody Hates "Cris"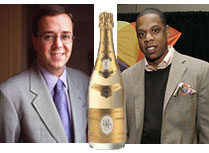 Rouzaud, Cristal and Jay-Z
Bling. Escalades. Cristal. These are a few of their favorite things. But the hip-hop community may have to find a different Champagne to enjoy. Rapper and businessman Jay-Z has called for a boycott of the oft-referenced Cristal Champagne after Frédéric Rouzaud, managing director of Cristal's parent company Louis Roederer Champagne, made comments critical of the brand's popularity in the hip-hop community. When asked about it, Rouzaud said, "That's a good question, but what can we do? We can't forbid people from buying it." Jay-Z considered these comments to be racist and called for the boycott of the bubbly.
Like a variety of high-end cars, Cristal's popularity boomed when rappers started mentioning it in their raps—including numerous references by Jay-Z himself. Since then, the premium cuvée (often called "Cris") is the beverage to be seen with at trendy clubs the world over, where a bottle can go for $550. The question now is whether the boycott will hamper Cristal's sales. At the recent BET awards, not a bottle could be found (Dom Pérignon and Veuve Clicquot were served) and some clubs have noticed a drop-off in orders. Yet many believe the brand won't be hurt, with its limited production and a reputation for making one of the best Champagnes in the world (established long before the hip-hop association). As for Jay-Z's new favorite brand—"I'm experimenting with a lot of rosés right now," he told The New York Times. "I've always loved Dom P. rosé, but Krug rosé is also excellent right now."
---
June 30, 2006

Wine for Women Benefits Charity

Sixty-four percent of wine consumers are women, according to a study by the Center for Women's Business Research. The new winery Napa Girl is banking on that fact, gearing their marketing towards the fairer sex. Even though their Chardonnay and Cabernet Sauvignon list for less than $20, the company plans to donate $1 to one of seven women's charities for every bottle purchased. Customers can select the group that will receive their donation by signing up at napagirl.com, which also features pairing-friendly recipes and so-called "lifestyle questions" that address issues regarding dinner parties and serving wine. Two questions: will this marketing alienate potential male customers? And while their appealingly retro labels embody the notion of female independence, don't many women hate being called "Girl?"

Click here for more information on Napa Girl's women's charities.
---
Jackson Purchases Murphy-Goode Winery
The makers of Snake Eyes Zinfandel have rolled a pair of sixes. The Murphy-Goode Estate Winery was purchased last week by Jackson Family Wines for an undisclosed sum. Founded by Tim Murphy, Dale Goode and Dave Ready in 1985, the Sonoma County winery was formed as a family alliance between two grape growers and a marketer, initially creating just white wines. Today, they mostly produce red varietals, including the gambling-themed Snake Eyes and Liars Dice Zinfandels and "Wild Card" claret. Jackson Family Wines owns 27 wine companies and is the founder of Kendall-Jackson, one of the country's largest wine producers.
"The purchase of Murphy-Goode is a strong fit for the Jackson family portfolio and our expanding sales organization," said owner Jess Jackson. "As a friend and neighbor in the Alexander Valley, I have watched Murphy-Goode grow over the years, producing one exceptional wine after another. We all started in this business about the same time, and we plan to continue their historic family legacy of passion and commitment to quality.
---
June 19, 2006
Prescription for Insomnia: Drink More Wine!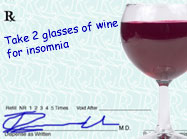 Ever wonder why your evening glass of Merlot delivers that sleep-inducing knock-out punch? Scientists in Italy think they've found the answer: grapes might contain melatonin. This hormone created by the pineal gland in our brain regulates when we're ready to fall asleep and wake up. The researchers from Milan's Institute for Vegetable Virology tested eight varietals grown under roughly the same conditions in northern Italy, including Sangiovese, Merlot, Cabernet Franc and Cabernet Sauvignon. They found that although the amount of melatonin differs amongst varietals, the evidence that it exists at all defies the previously held belief that the hormone is only produced in mammals. The researchers didn't test wine, but did note that the melatonin's effects could be amplified by wine's antioxidants and alcohol. Some scientists have doubts about the findings, asking why grapes would need a sleep-causing hormone and pointing out the possibility that the Italian researchers actually found a chemical cousin of melatonin. However, the fact that for centuries people have been noticing the correlation between wine and being sleepy certainly seems to back up the theory.
---
Land Down Under Drowning in Wine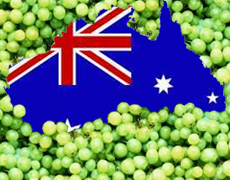 "G'day mate, care for some wine? We have about a billion liters sitting around out back." Australia's wineries are facing a massive oversupply of grapes that has driven down prices and threatens to put hundreds of the nation's vineyards out of business. During the 1990s, Australia couldn't keep up with the increased demand for so-called "New World wines" and the industry expanded exponentially throughout the past decade. However, with several consecutive years of favorable growing seasons and record outputs, the more than 2,000 Aussie winemakers have found themselves with approximately 1 billion liters of wine sitting in tanks unsold. Despite a steady demand, the supply is simply too great, causing prices and profits to fall. The industry appealed to the federal government for a bailout, claiming wine-growing incentives during the late 1990s and early 2000s fed the grape glut, but Canberra refused, saying the wineries ignored warnings that such an oversupply was bound to occur. Expect Australian wine prices here in the United States to fall accordingly, but consumers shouldn't be surprised if some of their favorite Down Under wineries disappear.
---
June 6, 2006
Seacrest In for Record $8.4-million Auction Napa Valley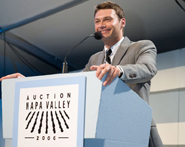 The star-studded, four-day Auction Napa Valley raked in $8.4 million for charity last weekend. Presided over by "American Idol" host and wine collector Ryan Seacrest, the four-day event's top sale was $1.05 million for five large format bottles of Staglin Family Vineyard wine and a trip to their estate in France. It was the highest bid ever at the annual auction that has given more than $65 million to healthcare, youth services and low-income housing charities in Napa County since 1982. Other lots included a 2007 Chevrolet Suburban, four backstage tickets to "American Idol" and a walk-on role in the upcoming "Commander in Chief" TV movie starring Geena Davis.
---
Get Into the Groove with Madonna Wine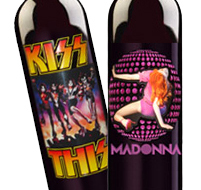 If Madonna's tour isn't coming to your town, you can still enjoy a taste of the Material Girl by putting on one of her CDs and pouring yourself a glass of Madonna Pinot Grigio. The bottle features her "Confessions on a Dance Floor" album cover, and at $29, is cheaper than a concert ticket. Don't laugh. California-based Celebrity Cellars, which creates limited edition bottles of "star tribute" wine (and non-alcoholic "UnWine"), has already sold out her $40 Cabernet Sauvignon. If your partner shares your taste in wine but not in music, you can gift him or her with the Rolling Stones Classic Tongue Pinot Grigio. It's the same La Famiglia Pinot Grigio as Madonna's, but with a different label. Or, if you want to rock 'n' roll all night and party every day, perhaps the $100 KISS This 2004 Alexander Valley Cabernet Sauvignon, featuring the four make-up-festooned men on a combination etched/paper label, is more your speed. Drinking with Mick Jagger and Gene Simmons has never been so easy. For more information, visit www.celebritycellars.com.
---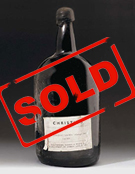 Sotheby's auctioned off an impressive lot of rare wine this weekend for more than $7.8 million. The 8,500-bottle collection of American businessman Russell H. Frye featured bottles, cases and magnums of some of the best Bordeaux, Burgundy, Rhône and California wines. The highest grossing lots were a double magnum (three-liter bottle) of 1865 Château Lafite and a case of 1989 Domaine de la Romanée-Conti that sold for $111,625 each to anonymous bidders over the phone. The final sale total was the fifth-highest of all time for a wine auction.
"It was a very exciting collection of tremendous variety and stupendous quality," said Serena Sutcliffe, head of Sotheby's international wine department. "The prices often made us gasp, but many of these wines are fast disappearing, especially from verified provenance."
---
May 15, 2006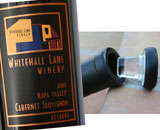 As more premium vineyards turn to screwcaps and other
synthetic stoppers
to replace cork,
Napa Valley
's Whitehall Lane Winery is the first in the United States to seal its bottles with a Vino-Seal glass closure. Resembling a decorative decanter stopper, it is made from recyclable glass and features flexible rings that provide a sterile seal, preventing contamination and oxidation. Like traditional wine closures, the Vino-Seal is wrapped in a tin overcap and neck sleeve.
"The glass stopper makes perfect sense," says Whitehall Lane owner Thomas Leonardini. "It is attractive, functional and eliminates the problems associated with natural cork."
The Vino-Seal is made by Alcoa and can be found on Whitehall Lane's 2003 Reserve Cabernet Sauvignon and on its premium 2003 Leonardini Vineyard Cabernet Sauvignon.
---
May 8, 2006
There's No Business Like Merlot Business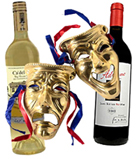 While "Sideways" put wine tasting on the big screen, "Wine Lovers" hopes to bring swirling, sipping, and spitting to the theater. The new musical about a wine tasting class, debuting at the 15th Annual New Orleans Wine and Food Experience over Memorial Day, will give the audience a chance to enjoy the same five wines being discussed and sung about on stage. Written by a wine educator, "Wine Lovers" may be the first musical ever lauded by a clinking ovation. For more information, visit www.michaelgreenwine.com.
---
May 2, 2006
Finding a Perfect Wine for that Bag of Cheetos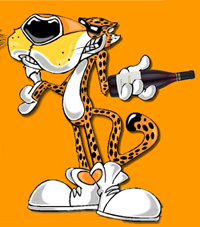 Beer and pretzels are a classic combo, but how about Syrah and goldfish? The Chicago Tribune recently asked oenophiles which wines go best with snack foods, and published the surprising results.
"There's this cultural bias, hard to overcome, that says wine, Champagne in particular, needs something nice to go with it," said Robert Owings, owner of Vintages in Arlington Heights, Ill., who enjoys Champagne and other sparkling wines with snack foods, including pizza. "It cleanses the palate, so the last bit of pizza is as dynamic as the first," admits the fine wine merchant, who also enjoys pumpernickel and onion-pretzel sticks with a Carneros Pinot Noir.
Some of the snack food and wine pairings as selected by the various experts include:
Doritos: A "big, sloppy" Zinfandel
Cheetos: A jug of Three Thieves Zinfandel
Goldfish crackers: New Zealand Sauvignon Blanc, California Syrah or Spanish Rioja
Buttered and cheese popcorn: Any type of sparkling wine.
Barbecue chicken pizza: Perrier Jouët Champagne. The yeasty crust pairs well with this Champagne's "yeastiness."
Plain potato chips: 2005 Girard Sauvignon Blanc or 2003 Wild Horse Zinfandel Paso Robles
Salt and pepper potato chips: Australian Shiraz
Peanuts: 2004 French Rabbit Chardonnay or Beaujolais
Animal crackers: Oregon Pinot Noir
---
April 24, 2006
Frank Family Vineyards Sing Hail to the "Chief"

A walk-on role in ABC's "Commander-in-Chief" and dinner at Grace Restaurant in Los Angeles hosted by the show's star, Geena Davis, will be auctioned off as part of the Frank Family Vineyard's blockbuster lot for the 2006 Napa Valley Wine Auction. The winery raised $580,000 from last year's lot — which included a walk-on role on ABC's "Desperate Housewives" and dinner with Teri Hatcher — and sold twice due to its popularity. This year's highest bidder will also receive a two-night stay at the Regent Beverly Wilshire, as well as a five-year vertical collection of Winston Hill Cabernet Sauvignon and a case of the 2004 "Promise," a small-lot Cabernet blend, both produced by Frank Family co-owners Rich Frank and Steve McPherson, president of ABC Television. The event runs from June 1-4. For more information on this year's wine auction, visit www.napavintners.com.
---
April 7, 2006
Does Wine Go Well with Rubber Chicken?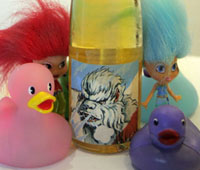 Care for a glass of Cat's Phee? How about some Fat Bastard with your hors d'oeuvres? These are some of the winners of The 13 Funniest Wines in America awards, given out at an April Fools celebration by W.R. Tish. While the Academy Awards have their little gold Oscar, America's funniest wines receive the Purple-Footed Free-Range Rubber Chicken Award. Tish, founder of Wine for All, an event planning agency, judged on two criteria: great taste and good humor. For your next dinner party, any one of these winners should make quite the conversation piece. After all, who can turn down a glass of Cat's Phee?
1) Bonny Doon 2004 Riesling
2) Barrel Monkeys 2004 Shiraz
3) Ravenswood 2004 Zen of Zin
4) Red Zeppelin 2004 "Vindication" Cabernet-Syrah
5) Cleavage Creek 2003 "Secret Reserve" Cabernet
6) Le Coq Rouge 2003
7) Goats Do Roam 2004 Red Table Wine
8) Fat Bastard 2004 Chardonnay
9) Vinum Cellars 2005 CNW "Chard-No-Way" Chenin Blanc
10) Cat's Phee on a Gooseberry Bush 2005 Sauvignon Blanc
11) Frog's Leap 2004 Leapfrögmilch
12) Jest Pink 2004 Pink Table Wine
13) Nicolas Feuillate Champagne One Fo(u)rs

Visit www.WineForAll.com for more information and photos from the awards.
---
April 3, 2006
Glugging by the Gallons: California Wine Sales Reach Another Record High
California wine sales in the United States reached 441 million gallons in 2005, a record high according to Jon Fredrikson of Woodside and publisher of the Gomberg-Fredrikson Report. This $16.5 billion in sales can be attributed to wine's growing "positive image," as well as a beneficial Supreme Court decision allowing direct-to-consumer sales from wineries, said Robert P. Koch, President and CEO of the Wine Institute. The sale of all wines in the U.S. increased by five percent in 2005, with Chardonnay, Merlot, White Zinfandel and Cabernet Sauvignon being the top-selling varietals. Not surprisingly, Pinot Noir sales jumped a whopping 70 percent as a side effect of the popular movie "Sideways." However, there was no noticeable increase in the chug-a-lugging of spit buckets.
---
March 27, 2006
Supporting the Troops
To show their support for the military, Ray and Loretta Falkner of Falkner Winery in Temecula, Calif., donated 500 cases of their wine to the Navy League in San Diego for use in Navy functions. The wine, worth more than $87,000, will be used at events such as the All Services Enlisted Ball, the Submarine Ball and the Navy Ball. Ray Falkner described his donation as part of the winery's "continuing commitment to recognize and show our appreciation for the great work provided by all of our fighting forces based in Southern California." This is the third year in a row that the Falkners have donated wine to the Navy League.
---
March 16, 2006
United States and European Union Sign Wine Agreement

The European Union and the United States signed a wine trade agreement on March 10, ending trade talks that began in 1983 over winemaking practices and labeling methods. According to the deal, the EU will accept U.S. wines made using practices currently banned in Europe, including adding oak chips into steel barrels to increase flavor and using grapes from irrigated vineyards. In return, the U.S. promises to limit the use of European wine terms such as Burgundy, Port and Champagne on American labels. Currently, the United States allows wineries to use these terms generically, but only within the country. According to the agreement, existing brands may keep these generic labels, but new brands are prohibited from using them. Many California wineries are pleased with the deal, saying that it provides U.S. wineries with greater opportunities abroad. "This agreement provides our California wineries with long-term access to European markets so we can make marketing investments with greater certainty," said Robert P. Koch, President and CEO of the California Wine Institute. Talks are expected to continue regarding other wine-related disputes between the EU and the United States.
---
March 16, 2006
Israel Plans for First-Ever International Wine Expo
As a result of Israel's continually booming wine industry, the Israel Wine Grapes Board along with the Israeli Ministry of Agriculture and Ministry of Industry, Trade and Labor are sponsoring the country's first ever international wine exhibition, IsraWinExpo 2006. The event will promote wineries from throughout the state and introduce up-and-coming wineries via TerraVino, an international wine contest judged by top experts from around the world. IsraWinExpo will be held in Tel Aviv from June 13-15.
---
March 6, 2006
Famed Napa Valley Winery Switches to the "Screw"
New advances in wine-closure technology have inspired Domaine Chandon of Napa Valley, Calif., to introduce its first high-end premium wine with a screw cap seal. The 2004 Carneros Chardonnay ($19) will feature an aluminum cap manufactured by Stelvin, one of the forerunners of screw cap design. Domaine Chandon joins other wineries such as Beringer, Hogue Cellars and Penfolds in using Stelvin screw caps, which have recently been proven to keep the aromas and flavors of wine better than most corks. "With today's technology, the screw cap seal has demonstrated its ability to preserve the freshness of our Chardonnay's fruit," said James Kress, Domaine Chandon's winemaker. The winery is currently investigating closures for red wines.
---
February 15, 2006
Wine Popularity May Be Due to Better Marketing
The growing popularity of wine among Americans may be attributed to better marketing, according to a recently released study by the Click Wine Group, the U.S. importers of labels such as Fat Bastard. The study states that 51 percent of U.S. wine drinkers find wines with humorous labels appealing, and 81 percent prefer wines with labels that are clear and easy to understand. This study is based on a Gallup poll conducted in July of 2005 which revealed that for the first time, Americans named wine as their preferred alcoholic beverage over beer and liquor. According to the poll, of the 63 percent of Americans who say they drink alcohol, 39 percent prefer wine, 36 percent prefer beer and 21 percent prefer liquor. The preference of wine over beer is only slight, however, and beer still remains the preferred drink with 18-to-49 year olds.
---
Mayo Winery Opens Second Groundbreaking Tasting Room
Mayo Family Winery modernized the wine tasting room experience less than a year ago when it opened its first Reserve Room, a tasting room that allows guests to not only sample wines, but to try them with a chef-prepared tasting menu as well. This week, winery president Jeff Mayo opened another one of his trend-setting tasting rooms in Healdsburg, Calif. This new room will also offer Mayo's well-known $20 tasting menu, which includes seven wine and food pairings created by chef Jeff Mall of ZIN Restaurant. Dishes include gourmet items such as Dungeness crab paired with Chardonnay, lemon and goat cheese mousse with Viognier, and braised lamb with Petite Sirah. Reserve Room Healdsburg, located at 340 Center St., is open Thursday through Monday from 10:30 a.m. to 6:30 p.m. For more information, call 707-433-9400 or visit www.mayofamilywinery.com.
---
February 6, 2006
Sterling Vineyards Selected as Official Wine of the Oscars
For the third consecutive year, Sterling Vineyards of Napa Valley will grace the tables of the Academy of Motion Picture Arts & Sciences' Governors Ball, the official party of the Academy Awards, held on March 5 immediately after the Oscar telecast. In honor of the awards, the winery created the 2004 Gold Standard Reserve Chardonnay, a limited edition white wine that will join last year's special creation, the Red Carpet Reserve, a Cabernet Sauvignon blend. Both wines will complement the cuisine of celebrity chef Wolfgang Puck, who is orchestrating the multi-course gala dinner. For more information on the winery, visit www.sterlingvineyards.com.

More on movies
---
January 30, 2006
Meadowood Hosts 2006 Symposium for Professional Wine Writers
Ten of the country's top wine writers will be gathering at the luxurious Meadowood Napa Valley resort this March to host the second annual Symposium for Professional Wine Writers. The four-day conference will feature writers such as wine writer and editor Antonia Allegra, book author and television host Andrea Immer Robinson, Wine Spectator editor Harvey Steiman, Wine Bible writer Karen MacNeil, and New York Times wine writer Frank Prial. Topics covered include interviewing, writing and taking professional wine tasting notes. The Symposium is open to published editorial wine writers and editors, and is underwritten by Napa Valley Vintners and Meadowood Napa Valley. For more information, visit www.winewriterssymposium.org.
---
January 23, 2006
Bonterra Vineyards Joins Global Warming Effort
Bonterra Vineyards in Mendocino County, Calif., recently became a featured partner on advocacy website StopGlobalWarming.org, a non-political endeavor founded in effort to bring Americans together to discuss climate change and other environmental issues. Bonterra, a certified organic winery, incorporates earth-friendly practices at their vineyards, such as using renewable solar energy and bio-diesel fuel. "It's only natural that we support responsible environmental dialogue," said winemaker Bob Blue. To show their support, visitors can enroll in a "virtual march," which will culminate on this year's Earth Day, April 22. More than a quarter million people have already signed on as marchers, including Gov. Arnold Schwarzenegger of California and Sen. John McCain of Arizona. For more information, visit www.stopglobalwarming.org.
---
January 18, 2006
Illinois Wineries Oppose Distributor-backed Bill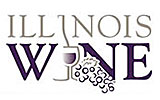 Illinois wineries have found themselves in a legislative battle with state liquor distributors, who recently backed a state bill that would restrict the wineries' rights to sell wine by Internet, mail or telephone. The proposed law would prohibit direct shipments to Illinois consumers unless they first bought the wine in person. After the initial purchase, wineries could ship up to two cases per buyer per year. Associated Beer Distributors of Illinois, a state industry group, pushed for the legislation, a response to last year's U.S. Supreme Court ruling, which said that states could not prohibit direct shipments from out-of-state wineries if it allowed in-state wineries to do so. Proponents of the bill said that restricting direct shipments would help restrict underage sales. The Illinois Grape Growers and Vintners Association vehemently opposed ABDI, saying that the law was an attempt to quash the growth of online sales, a method that removes the role of distributors. The association also worries that this law could severely affect small boutique wineries that depend on online sales for revenue. In response, the Illinois wine industry has helped draft an alternative House bill that would comply with the Supreme Court ruling and prevent sales to minors.
---
January 11, 2006
Paso Robles Grand Tasting Tour
Starting at the beginning of February, the Paso Robles Wine Country Alliance will embark on its "2006 Grand Tasting Tour," a national marketing circuit that will visit five major cities to showcase wines from the well-known American Viticulture Area (AVA). Running from February until May, the grand tour will visit Atlanta, Dallas, Austin, Texas, New York City and San Francisco and will offer wine and food tasting as well as seminars. Participating wineries include Chumeia Vineyards, Eberle Winery, Justin Vineyards, Robert Hall Winery and Tablas Creek, among others. The Feb. 1 Atlanta showcase will also allow wine enthusiasts to view a casting call for a new PBS reality TV series called "The Winemakers," which is to be filmed in Paso Robles wine country this fall. For more information, visit www.pasowine.com.
---