2009 Wine News
Latest wine news
---
December 21, 2009

The Hangover: Whiskey vs. Vodka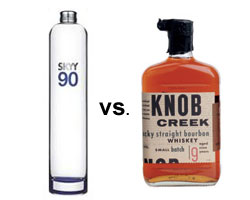 A recent study conducted by a Brown University team suggests that a hangover after a night of drinking whiskey is worse than one caused by imbibing vodka. In the study, volunteers drank either vodka or whiskey---enough to create a hangover. The next night, they drank a "placebo" drink containing just drops of alcohol (to avoid suspicion). The volunteers were tested on concentration ability, hangover symptoms and quality of sleep. Although the effect on concentration and sleep didn't differ much between the groups, results showed that there were far more hangover symptoms for the whiskey drinkers, such as headache, nausea, thirst and fatigue. The research team, led by Professor Damaris Rohsenow, said the reason more symptoms occur, or are worse than those caused by vodka, is because of the number of "congeners" in whiskey versus vodka. Congeners are impurities produced during fermentation containing small amounts of chemicals such as acetone, acetaldehyde and tannins, which can have a toxic effect on the organism. It's a good thing we've compiled a list of the Top 10 Vodkas, so you can enjoy the holidays without the headache!
---
December 8, 2009

Calistoga is Napa's Newest AVA


Napa Valley is home to a new American Viticultural Area (AVA) within its borders, the well-known Calistoga wine region. The Alcohol Tax and Trade Bureau (TTB) recently approved the AVA, meaning that beginning in 2010, winemakers can put "Calistoga" on their bottle labels as long as at least 85 percent of the wine's grapes are from Calistoga. While now Napa's fifteenth AVA, Calistoga's road to official recognition was a long one, having been contested by Calistoga Cellars and Calistoga Estate Vineyards.
These two wineries, which use grapes grown elsewhere, protested the proposed appellation in 2007 because it would make their brand names illegal. The TTB initially considered grandfathering in the two companies but that idea was opposed by organizations such as The Napa Valley Vintners, Sonoma County Vintners, and Oregon Winegrowers Association, all of which felt such a move would compromise the integrity of AVA standards. The bureau's ruling means that these two wineries will have three years to either make wines from mostly Calistoga fruit or change their names.
---
November 23, 2009

Whiskey on the Rocks Since 1909


Some people will go to the ends of the earth for a good drink, which is literally true for a team of New Zealand explorers, who are going to drill out a lost cache of whiskey in Antarctica during January 2010. British polar explorer Sir Ernest Shackleton abandoned two crates of the now defunct "Rare Old" brand of McKinlay and Co. Scotch whiskey during his failed 1907-1909 expedition to the bottom of the world.
Whiskey giant Whyte & Mackay, which now owns McKinlay, has asked for a sample of the century-old Scotch to see if they can reproduce and ultimately re-launch the extinct blend. Workers from New Zealand's Antarctic Heritage Trust found the vintage spirits under the floorboards of an expedition hut in 2006, but the cases were buried too deeply in the ice to reach. Now a team plans to use special drills to reach the whiskey and hopefully extract several bottles, leaving the rest behind for conservation reasons.
---
November 9, 2009

Twitter Launches Its Own Wines


Following up on its success in the micro-blogging world, Twitter is now making its first foray into the winemaking biz with its own wines. The social networking giant recently launched its Fledgling label in partnership with San Francisco's Crushpad, a do-it-yourself winery. The collaboration will benefit Room to Read, a charitable organization that promotes literacy throughout the world by providing books to children living in challenged regions.
Fledgling's first two vintages will be a 2009 Pinot Noir and 2009 Chardonnay. While the wines will be bottled in August 2010, Twitter is currently accepting pre-orders. Both bottles will cost $20, with $5 going to Room to Read. A $240 twelve-bottle case will provide approximately 60 local-language books for kids living in places like Cambodia, India, Vietnam and Zambia. Twitter plans to involve its users in the winemaking process through activities such as a virtual barrel tasting and a possible label design contest. Have your fill of 140-character tweets by checking out Gayot.com's Twitter account.
* Image from Fledgling Wines
---
October 26, 2009

Coaster That Detects Spiked Drinks Leads To Arrest


People having a fun evening out on the town have cause to feel more secure while sipping their wines, beers and cocktails. A special coaster designed to detect GHB and ketamine, two common date-rape drugs, has recently led to an arrest in Texas. Brad Hellums, a reserve Dallas police officer, was arrested after a bartender noticed him slip something into two women's drinks. The bartender called the police and got a DrinkSafe coaster from another bar across the street, which detected that the beverages had been spiked.
Invented in 2002, the DrinkSafe product lineup from Drink Safe USA includes test strips and paper coasters that turn blue after they come into contact with date-rape drugs. On a standard 40-cent coaster, wary imbibers can dab a few drops of their drink onto the dots on the coaster's corners to make sure they are safe to enjoy. Buy a bunch of these smart coasters (and share them with your family and friends) by visiting.
---
October 12, 2009

The Bubbles Have It


Champagne bubbles provide more than just a delightful fizz in the mouth, according to a study recently published in the journal Proceedings of the National Academy of Sciences. Using an ultra-high resolution mass spectrometer, a team of European scientists compared the chemical composition of sparkling wine with the droplets that spray over the drink's surface.
They discovered that the aerosols, resulting from the bursting bubbles, were significantly more concentrated with aromatic chemical compounds than the rest of the effervescent beverage. The researchers credit the carbon dioxide bubbles with attracting these molecules and ferrying them upward to the surface, where they are blasted into the air. Since our sense of taste is primarily driven by our sense of smell, a vino's effervescence contributes to its flavors. The study estimated that a 750 ml bottle of Champagne produces approximately 100 million bubbles. Looks like flute glasses aren't just for show after all!
---
September 28, 2009

100 Years of Black Label


Diageo's popular spirits brand Johnnie Walker recently released a limited Centenary Edition of its Black Label 12-Year-Old Blended Scotch Whisky to commemorate the 100th anniversary of the company's flagship drink. Their 80-proof Black Label was first marketed under the name in 1909 by founder John Walker's grandsons, George and Alexander II.
Each special collector's package comes with an elegant black glass bottle, which is emblazoned with real gold in the lettering and company's Striding Man logo. The box highlights historic milestones in the distillery's nearly 200 years of operation, noting for example, that in 1860 the company introduced its unique square bottles and that in 1934 it was granted a Royal Warrant by King George V to supply the royal household with Scotch. Cheers to another century!

View a short film about Johnnie Walker, The Man Who Walked Around The World.

---
September 14, 2009

France Reclaims the Lead


Coldiretti, Italy's largest farmers' association, recently announced that France is again the world's biggest wine producer, having surpassed Italy which earned the distinction in 2008. Citing information from both French and Italian research, Coldiretti said that for 2009, France has an expected wine output of 4.8 billion liters while Italy trails closely behind with 4.7 billion liters.
According to Italy's farmers' research center ISMEA and wine industry body Unione Italiana Vini, Italian wine production slowed down as a result of farmers digging up their grapevines, encouraged by incentives through European Union wine sector reform. Coldiretti stated that while Italy's harvest didn't grow quantitatively, it did increase in quality with as many as 60 percent of its wines being marketed under one of the country's 477 designations of origin.
---
August 31, 2009

It'd Be A Sin to Tax


Here's the bad news: six states have recently raised taxes on wines, beers and spirits. Illinois, New Jersey, New York and North Carolina all increased their excise tax on alcohol, with the Land of Lincoln leading the pack by raising their tax rate from 15 cents to 28 cents a bottle of wine and 10.4 cents to 13 cents per six-pack of beer.
Massachusetts and Kentucky's alcoholic beverages will also become more expensive as a result of changing their tax codes to apply sales tax to alcohol bought in retail stores. The good news? Eleven states have rejected such proposals this year, and 27 states did the same during 2008. To those lawmakers struggling to balance government budgets with cutbacks and higher taxes who don't put adult beverages in the crosshairs, we raise our glasses and toast.
---
August 17, 2009

Wannabe Winemakers


Oenology and unscripted drama pair together in The Winemakers, an upcoming reality television series—set in California's Paso Robles wine country—featuring twelve wannabe winemakers competing for the opportunity to create their own national wine label. The six-part show, collaborating with San Francisco's do-it-yourself winery Crushpad, is akin to Top Chef and Project Runway and will air on PBS in September 2009. The contestants comprise six men and six women, with backgrounds ranging from law, education and retail.
During each episode, the contestants will be tested on every aspect of winemaking from the vine to the bottle; challenges include harvesting grapes, working shifts at a wine bar and answering wine-related questions from judges. Making the eliminations will be a panel of well-known food and wine personalities, including Leslie Sbrocco, host of the Check Please! Bay Area television series; Mark Oldman, author of Oldman's Guide to Outsmarting Wine; and Doug Frost, Master Sommelier and Master of Wine. Season two of The Winemakers, to be filmed next month in France's Rhône Valley, will air in 2010.
* Image from The Winemakers
---
August 3, 2009

New Midwestern AVA Is the Largest


Napa Valley may be the United States' best known wine region, but the newly established Upper Mississippi River Valley (UMRV) is easily the largest. The country's 193rd AVA, covering 29,914 square miles of land along the Mississippi River, includes 61 counties in Minnesota, Wisconsin, Illinois and Iowa, reaching from St. Paul, MN to Moline, IL. The UMRV is 39 times the size of Napa Valley and 50 times the size of Bordeaux.
Previously the distinction for the largest AVA in the U.S. belonged to the 26,000-square-mile Ohio River Valley. Unlike most of the Midwest, which is characterized by vast plains, the UMRV features hills and well-drained soils. Cold winters, however, mean that the local wineries either import grapes or grow hardier hybrid varieties. The UMRV wine region was created after local officials petitioned the Alcohol and Tobacco Tax and Trade Bureau in 2006, and is big news for Midwestern vintners as the designation provides a vital marketing tool.
* Image from Tabor Home Vineyards Winery
---
July 20, 2009

Wine Literacy Supersized


Luxury publisher Kraken Opus will offer a limited-edition wine book with a delectable twist; not only will the volume require its very own coffee table, it will need cellar space as well. Available in spring 2010 for an estimated $1 million (£600,000), the Wine Opus will complement its hefty retail price with its actual dimensions, measuring 1.5 square-feet and tipping the scales at 66 pounds.
The 850-page educational tome will encompass the world's top 100 wineries, as selected by dozens of leading sommeliers and wine experts representing major wine-producing countries around the globe. Along with the oenological bible, buyers will receive a six-bottle case of wine from each of the book's featured wineries—600 in all—and even special invitations to visit a few. The publisher will only produce 100 copies of Wine Opus, with 25 of them already having been pre-ordered by eager enthusiasts.
---
July 6, 2009

Boxed Wines May Preserve Vino Best


True, boxed wines lack the traditionalist allure of glass bottles sealed with natural corks, but according to a team of Canadian scientists, the oft-disparaged cardboard container may actually have the upper hand when it comes to preserving wine quality. The researchers, led by Gary Pickering of Brock University in Ontario, investigated various packaging options to see how they affect a wine's levels of alkyl-methoxypyrazines, a chemical compound that can in trace amounts, taint vino with unpleasant "green" grass, bell pepper or asparagus scents and flavors.
To monitor the impact, the team added alkyl-methoxypyrazines to an assortment of Rieslings and Cabernet Francs, which were stored for eighteen months using different cartons, bottles and closures. The study, recently published in the Journal of Agricultural and Food Chemistry, found that while cartons let in more oxygen over time, they can reduce alkyl-methoxypyrazines levels up to 45 percent better than bottles. Bottles that were sealed with synthetic cork or screw caps did better than ones sealed with natural cork.
---
June 22, 2009

First U.S. Krug Room Opens at Restaurant Guy Savoy


Restaurant Guy Savoy at Caesars Palace has recently made itself an even more exclusive dining destination in Las Vegas with the opening of the fourth Krug Room in the world, and the first of its kind in the United States. At the restaurant, guests are led down a sleek hallway to a discreet door, which opens to a private dining room featuring Champagne Krug's entire product range and a changing seasonal menu.
For the summer, Restaurant Guy Savoy offers a six-course meal, requiring six people minimum and costing $750 per person. Dishes include caviar, crispy sea bass with delicate spices, and artichoke and black truffle soup, all paired to various Krug vintages between 1985 and 1995. The other Krug Rooms are located at The Dorchester (London), Mandarin Oriental (Hong Kong) and Restaurant Tanga (Tokyo), with each location individually styled to give an intimate ambience.
---
June 8, 2009

Auction Napa Valley Soldiers On


A gloomy economy didn't diminish the fun at the 2009 Auction Napa Valley, which ran from June 4-7, raising more than $5.7 million for regional healthcare, youth and housing-related charities. The Napa Valley Vintners-sponsored weekend encompassed Friday's Taste Napa Valley held at Robert Mondavi Winery, where approximately 2,500 visitors bid on 120 barrels of wine futures, yielding nearly $1.1 million. The online E-Auction—live since May 22—brought bidders from as far away as China who competed in real-time with bidders on site. Attendees enjoyed samplings from dozens of wineries, artisanal food purveyors and local restaurants, such as The French Laundry and Bounty Hunter.
On Saturday was the Live Auction and dinner at Meadowood Napa Valley, where acrobats, dancers, winemakers and a live band entertained the event's 800 guests. The top lot of the night, an offering by Antica Napa Valley-Antinori Family Wine Estate, garnered more than a million dollars. Some of the country's finest chefs prepared the evening's dishes, including Charlie Trotter (Charlie Trotter's), Dean Fearing (Fearing's) and Joachim Splichal (Patina).
* Image from Napa Valley Vintners
---
May 26, 2009

Global Population Drinking Less Wine


According to the upcoming 2008 edition of The Global Drinks Market: Impact Databank Review and Forecast, the world's per-capita wine consumption rate fell for the third consecutive year in 2008 to an average of 3.5 liters, a full liter less than 1990, and is expected to continue to fall over the next several years.
The report, which analyzes trends in the alcoholic beverages industry worldwide, states that wine drinking is at its lowest level in at least 40 years, in part from the global recession and the changing lifestyles of Europeans, who are increasingly opting for juice, bottled water and soft drinks instead of vino. France and Italy, together accounting for 45 percent of global wine consumption in 1980, only accounted for 24 percent in 2008. Likewise, between 1995 and 2008, the European Union's average consumption fell from 30 liters to 28 liters. Americans drank an average of nine liters per-capita in 2008, contrasting with the French's 51 liters and Italians' 44 liters during the same year.
---
May 11, 2009

Bubbly with Leverage


The traditional party-going danger of rocketing Champagne corks (and artful and cumbersome opening acrobatics) may soon be replaced by a safer alternative: an easy-to-open metallic stopper. The device, called Maestro, was recently unveiled by Alcan Packaging Capsules, and consists of a plastic-gripped aluminum crown cap—similar to those on beer bottles—with an attached lever used to pop the top.
Champagne Duval-Leroy will be the first to use the new seal. The family-owned Champagne house, which is celebrating its 150th anniversary this year, will test market reaction by introducing Maestro on a limited number of bottles of its premium cuvée, the 2004 Clos des Bouveries. According to Alcan, the stopper is safe, provides no risk of cork taint and, perhaps most satisfyingly, preserves the usual popping sound when opened. Maestro is the result of a €1 million investment and three years of research and development.
* Image from Champagne Duval-Leroy
---
April 27, 2009

Lunar Libations


Astrologers may not be the only ones convinced that the Moon's influence goes beyond the tides. Two of Britain's largest supermarket chains, Tesco and Marks & Spencer, recently revealed that they schedule their wine tastings for the days rated most favorable according to a lunar-based biodynamic calendar, which has been published for the last half century by a German named Maria Thun.
Her calendar, subscribing to the idea that liquids respond to the rhythms of Earth's largest satellite, divides the days of the year into fruit, flower, leaf, root and unfavorable categories, with the days being ordered from best for drinking wine to the worst. According to the The Scotsman, Tesco has already been arranging its tastings this way for two years. Skeptics point out that a drinker's mood and other factors, such as atmospheric pressure, are a more likely explanation for the differences in a wine's day-to-day expression.
---
April 13, 2009

An Elixir for Every Budget


For people with the means, this recession is yielding real bargains as an increasing number of companies cut special deals to generate sales. Now even spirit enthusiasts with a longing to try some of the world's most expensive Cognacs can catch a break.
Prestigious Cognac house Rémy Martin recently announced that for 2009, it will be offering "The Perfect Pour," a program at 550 select bars, restaurants and hotels nationwide where customers can purchase servings of either the Louis XIII or the Louis XIII Black Pearl Magnum in three different sizes. Bottles of the Louis XIII (750 ml) and Louis XIII Black Pearl Magnum (1.75 L) cost $1,800 and $32,000 respectively. However, through the program, a taste of Louis XIII will sell for $50 a half-ounce, $100 for an ounce, and $200 for two ounces; the Louis XIII Black Pearl Magnum will sell at the same size increments for $750, $1,500 and $3,000.

Read more about The Perfect Pour.
---
March 30, 2009

The Zion Curtain Falls


In a bid to boost its $6 billion tourism industry, Utah lawmakers recently passed a bill to revise the state's liquor laws for the first time in 40 years. The changes, expected to be signed into law by Gov. Jon Huntsman Jr., will do away with Utah's unusual private-club system, which defines bars as private clubs and requires bar patrons to fill out an application as well as pay the establishment an annual membership fee before purchasing alcoholic beverages. Under the current set-up, bartenders also have to serve drinks from behind a glass barrier nicknamed a "Zion curtain," a reference to the state's teetotaling Mormon heritage.
While the bill simplifies the process of buying drinks, it does come with a few stipulations, including the required scanning of IDs for people who appear younger than 35 years old, stricter DUI laws, and obliging bartenders at new restaurants to mix drinks out of the view of children. The changes would go into effect on May 12 for restaurants and July 1 for bars.
---
March 16, 2009

U.S. Wine Exports Exceed $1 Billion


The world's economy may have taken a nosedive in 2008, but U.S. wine exports kept growing, breaking the $1 billion mark for the first time ever. According to The Wine Institute, a San Francisco-based public advocacy association of California wineries, American vino generated a total of $1,008,259,000 in winery export revenues in 2008, a six percent jump from 2007's total of $954,512,000.
The 2008 numbers come after a steady increase of wine exports over the last fifteen years; in 1994, exports brought in $196 million. From 2007 to 2008, volume shipments increased by eight percent to nearly 130 million gallons of wine (55 million cases). California made up 90 percent of 2008's U.S. wine exports by volume. Approximately half of U.S. wines shipped abroad went to the European Union, earning winemakers $486 million. The next leading markets were Canada ($260 million), Japan ($61 million), Hong Kong ($26 million), Mexico ($23 million) and China ($22 million).

---
March 2, 2009

Toast Your Stock Market Losses


Crushpad, a San Francisco-based winery that helps people create custom premium wines, is offering its own stimulus package to combat the gloomy economic forecast. The company is selling futures on its 2007 Bailout, a Napa Valley Cabernet Sauvignon that will be discounted according to the Dow Jones Industrial Average's performance.
Buyers can reserve a bottle of the wine for $39, and for every 100 points that the Dow loses between the purchase date and August 14, 2009, when the wine is bottled, Crushpad will refund the customer $2 (to a minimum total price of $9). Don't worry, though, you won't pay any more than the original $39 if the stock markets actually increase in value. Everyone who buys the Bailout will be entitled to either participate in or watch the wine's springtime blending session, which will consist of combining various amounts of 2007 vintage Cabernet Sauvignon, Cabernet Franc, Merlot, Petit Verdot and Malbec.
* Image from www.bailoutwine.com
---
February 16, 2009

California's Wine Grape Production Shrinks


According to a preliminary report from the California Department of Food and Agriculture, the Golden State's 2008 wine grape crop was 3.05 million tons, a six percent drop from 2007's total. Red varietal yields, accounting for the largest share of the total grapes crushed, fell by nine percent. This decline was owed in part to the Cabernet Sauvignon and Merlot crops, which decreased by 24 percent (85 million bottles) and 26 percent (66 million bottles) respectively. Pinot Noir, however, proved to be an exception with its yields increasing by 17 percent (13.1 million bottles).
Overall, white wine grapes fared better, marked by an only two percent decline. While Chardonnay and Sauvignon Blanc production took a dive, Pinot Grigio production actually increased by 14 percent (9 million bottles). Turrentine Brokerage, a wine grape firm, stated that while the grape crop shrank, wine sales continued to grow, particularly for those costing less than ten dollars.

---
February 2, 2009

Alcohol May Help Bedroom Performance


Good news for men set on sharing a bottle of romantic wine with their partners on Valentine's Day: alcohol's reputation for hampering male sexual performance may be undeserved. According to a study conducted by researchers at the University of Western Australia, men who regularly drink experience erectile dysfunction less often than do those who abstain from alcohol.
In the study, which surveyed more than 1,700 West Australian males, men who consumed between one and twenty standard drinks a week showed the best results, with an up to 30 percent less likely risk of long-term erectile dysfunction than non-drinkers. The study, recently published in the Journal of Sexual Medicine, accounted for typical impotence risk factors such as age, smoking and heart disease.

Read about our Top 10 Valentine's Day Wines.
---
January 20, 2009

Cheers, Mr. President!


The wines served at today's historic luncheon, celebrating Barack Obama's presidential inauguration, were all from California. Alongside the first course comprised of a seafood stew, President Obama and guests enjoyed a 2007 Sauvignon Blanc from Napa Valley. The second course, a brace of American birds (pheasant and duck), served with a sour cherry chutney and molasses sweet potatoes was accompanied by a Goldeneye, 2005 Pinot Noir from Anderson Valley. Finally, the dessert course, an apple cinnamon sponge cake and sweet cream glacé, was washed down with a glass of Korbel Natural Special Inaugural Cuvée. A bipartisan committee, chaired by California Senator Dianne Feinstein, selected the food and the wines.

---
January 19, 2009

Super Bowl Wine Pack


Soda and beer need not be the only beverage choices available at this Super Bowl Sunday's get-together. A Taste of Monterey—a regional wine shop, tasting room and visitor's center—is offering football fans a special party pack featuring a dozen Monterey County wines.
Pairing well with grilled meat, chips and guacamole, the pack's selections include Carmichael Grigio e Bianco, Faun Sauvignon Blanc, Line Shack Chardonnay, La Rochelle Chardonnay, Faun Chardonnay, Arroyo Del Sol Pinot Noir, Baywood Pinot Noir, Mission Trail La Mesa Seca Merlot, Desolation Flats Rustlers' Red, Pot Belly Charlotte's Red, Shale Ridge Merlot and Ventana Rubystone. The wine combo costs $129 for non-wine club members (discounted from its regular combined value of $239). Cheers to an informal wine tasting while watching the Pittsburgh Steelers and Arizona Cardinals pummel each other in Tampa Bay, Florida.

Read more on Super Bowl XLIII.

* Image from www.tastemonterey.com
---
January 5, 2009

Wine Boosts Omega-3 Levels


Enjoy a literal toast to your cardiovascular health. A study published in the January 2009 issue of the American Journal of Clinical Nutrition found a correlation between moderate wine drinking and elevated levels of omega-3 fatty acids in the blood. These fatty acids are typically found in oily fish such as tuna or salmon, and cannot be produced by the body alone.
Researchers led by Dr. Romina di Giuseppe of Catholic University in Campobasso, Italy, discovered that the body can, however, create omega-3 from ordinary vegetable oils with the help of alcohol. The study examined the dietary habits and alcohol consumption of 1,604 adults (between the ages of 26 and 65) in England, Belgium and Italy, and found that people who drank one to two servings of alcohol—particularly wine—had increased levels of omega-3 fatty acids in their body compared to non-drinkers, despite comparable seafood consumption.

---